Chipotle May Have Finally Won Back Diners' Trust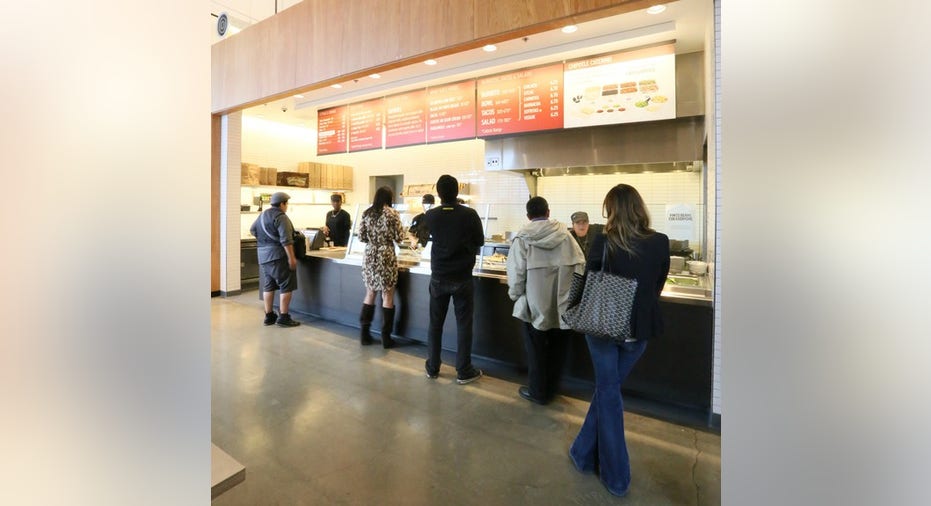 Chipotle (NYSE: CMG) has struggled to win customers back since it had multiple cases of E. coli in its stores more than a year ago.The food safety scandal hurt the chain, sending sales plummeting and the company's share price from approaching $750 in July 2015 to under $380 when 2016 closed.
It was a stunning drop, with comparable sales for all of 2016 down 20.4% while overall revenue fell 13.3%. For December 2016, however, the company did report that same-store sales had bounced back, climbing nearly 15% over the same month a year ago.
That late-year recovery, plus the result of a new consumer study conducted by Market Force Information shows that consumers may have finally forgiven the chain. The research firm, which polled 11,000 consumers for its report, said that Chipotle has reclaimed the top spot for Mexican food.
Chipotle has struggled to win customers back. Image source: Chipotle.
What did the survey find?
Consumers from across the United States were polled for the study, which rated fast-food/quick-serve restaurants (QSR) in eight categories: value, food quality, service speed, staff friendliness, cleanliness, atmosphere, healthy options, and curb appeal, which refers to the attractiveness of the restaurant's exterior. The results were used to create a "Composite Loyalty Index score," and Chipotle beat out rivals in the Mexican category.
"Chipotle once again leads the Mexican food category, a position it shared with Qdoba in the 2015 study before landing second behind lesser-known Taco Bueno in 2016," Market Force wrote. "Moe's Southwest Grill took second place this year, while El Pollo Loco ranked third, Qdoba fourth and Taco Cabana fifth."
It's important to note that Chipotle won the category in 2015 with a score of 59% and it fell to 53% when it came in second last year. Market Force has not released percentages for the 2017 survey, but reclaiming the top spot shows that consumer sentiment about the brand has bounded back.
Chipotle also scored in the top three in every category except value, according to Market Force. It took first place in food quality, curb appeal, and perhaps most notably, cleanliness. It also tied for first with Qdoba and Moe's for service speed, and with El Pollo Loco for healthy options. That's five of eight categories where Chipotle came in first or tied for it, an impressive feat for a company that struggled as much as it did during the past year.
What's next for Chipotle?
While a consumer survey does not guarantee that lapsed customers will actually come back, the company's December increase in same-store sales suggests that the impact of the E. coli scandal has at least begun to fade. Of course, for the next year the company will also be comparing its results with quarters that were all down. That should make it easier for the chain to post gains, show some momentum, and complete its turnaround. CEO Steve Ells laid out his blueprint for the coming year in his comments in the Q4 earnings release.
"Returning to our roots of what originally made Chipotle great has helped refocus all of our strategies toward the guest experience," he said. "In the upcoming year we intend to continue to simplify and improve our restaurant operations, utilize creative marketing to rebuild our brand, and further the roll-out of our digital sales efforts. All three of these strategic initiatives are centered on improving the guest experience and restoring customer affinity for the Chipotle brand, and we are confident in our teams' abilities as we start this new year."
Those efforts, along with the procedural food changes the company made in the wake of the outbreak, plus the passage of time leading to more consumers forgiving or forgetting, should help the company continue its comeback. Chipotle is definitely moving in the right direction.
10 stocks we like better than Chipotle Mexican GrillWhen investing geniuses David and Tom Gardner have a stock tip, it can pay to listen. After all, the newsletter they have run for over a decade, Motley Fool Stock Advisor, has tripled the market.*
David and Tom just revealed what they believe are the 10 best stocks for investors to buy right now... and Chipotle Mexican Grill wasn't one of them! That's right -- they think these 10 stocks are even better buys.
Click here to learn about these picks!
*Stock Advisor returns as of February 6, 2017
Daniel Kline has no position in any stocks mentioned. The Motley Fool owns shares of and recommends Chipotle Mexican Grill. The Motley Fool has a disclosure policy.