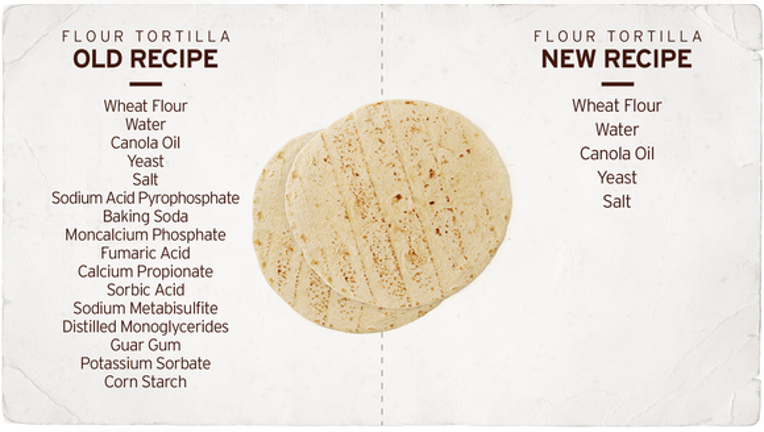 Last week, Chipotle (NYSE: CMG) proudly announced it had removed all artificial preservatives from its tortillas. While maybe trivial to some, the tortilla milestone meant that Chipotle's menu (except for sodas) is now completely free of artificial ingredients or preservatives. Flour tortillas previously contained 16 ingredients (many hard to pronounce), but now contain only five: wheat flour, water, yeast, canola oil, and salt. The market seemed to like the news, as the stock rallied roughly 10% last week, but the questions for investors should be: "How difficult is this for competitors to do?" and "Will consumers care?"
Image source: Chipotle.
Coming off food-safety crises in late 2015, Chipotle is seeking to reestablish itself with the cleanest (and safest) menu in the industry. In conjunction with the milestone, the company also called out competitors McDonald's (NYSE: MCD) and Panera (NASDAQ: PNRA) by name for using buzzwords like "clean" and "all-natural," in a recent interview with Business Insider.
Fast-casual food fight
CEO Steve Ells said that many "natural" preservatives are still created in a lab, only with natural extracts: "... they still have industrial ingredients ... It's not something you buy at the farmer's market -- oh yes, where's the 'natural flavor'?" These "natural flavors" can contain 50 to 100 ingredients in and of themselves. In contrast, Chipotle now boasts only 51 total ingredients on its entire menu.
Chief marketing officer Mark Crumpacker went further, saying of chains like Panera, a fellow fast-casual restaurant that touts itself as clean and natural: "... these menus are still littered with colors, flavors, preservatives, dough conditioners, gums, emulsifiers, humectants."
In response, McDonald's spokesperson Becca Hary said, "Removing high-fructose corn syrup from our buns, serving chicken free of antibiotics important to human medicine, and removing artificial preservatives from our Chicken McNuggets are clear and tangible quality improvements of which we are proud."
Panera's Sara Burnett said the company was working to use more "whole" ingredients instead of natural flavors. The task is more complicated for Panera because its menu is "more extensive than Chipotle's." Panera CEO Ron Shaich was not as diplomatic, calling Chipotle's comments "personally offensive," and saying, "with all of the problems they have had, maybe they shouldn't be throwing bombs." That's throwing some fast-casual shade right there.
Can it be copied?
I actually found the responses rather tepid, and think Chipotle has identified a hole in rivals' claims. It also appears difficult to copy exactly what Chipotle has done. This is because many artificial ingredients maintain texture and consistency in food, and when you are a national chain, keeping perishable menu items intact and consistent is difficult.
As Panera noted, Chipotle has a simpler menu, which means it has an easier task in removing preservatives. Still, the "tortilla journey" was two years in the making. CEO Steve Ells first informed investors about the undertaking back in the second-quarter 2015 conference call:
Will customers care?
Some investors may be turned off by Chipotle calling out other chains specifically, rather than touting its own achievements. Still, I think it's fair to say that many consumers, on their own, wouldn't appreciate differences between "all natural" claims from various chains. It's likely that Chipotle and its new board members feel the same way.
Whether this differentiation is a panacea for Chipotle's turnaround remains to be seen, but it's clear that Chipotle, now a year and a half past its food-safety crisis, is going on offense in 2017. There is also talk of an imminent price increase. Investors should watch to see if the aggressive marketing translates into increased traffic and sales.
10 stocks we like better than Chipotle Mexican GrillWhen investing geniuses David and Tom Gardner have a stock tip, it can pay to listen. After all, the newsletter they have run for over a decade, Motley Fool Stock Advisor, has tripled the market.*
David and Tom just revealed what they believe are the 10 best stocks for investors to buy right now... and Chipotle Mexican Grill wasn't one of them! That's right -- they think these 10 stocks are even better buys.
Click here to learn about these picks!
*Stock Advisor returns as of February 6, 2017
Billy Duberstein owns shares of Chipotle Mexican Grill. The Motley Fool owns shares of and recommends Chipotle Mexican Grill and Panera Bread. The Motley Fool has a disclosure policy.