Chipotle Hopes Its $31 Million Gamble Pays Off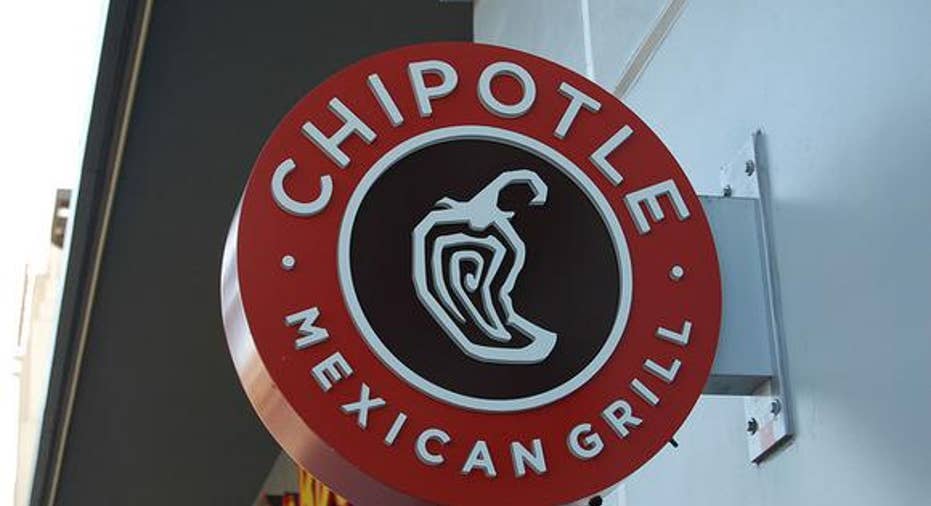 We've been scrolling through some unfortunate firsts inChipotle Mexican Grillhistory these days. The fourth quarter was the first time that the former fast-casual darling posted a year-over-year decline in sales, and by tomorrow, we'll be able to check a quarterly deficit off of a pessimistic investor's bucket list for Chipotle.
This isn't a matter of bearish analyst opinion. Chipotle itself told investors to brace for a loss of $1.00 -- or roughly $31 million -- when it reports financial results shortly after tomorrow's market close.
One can argue that Chipotle wouldn't be in the red if it ran a franchisee-driven concept like so many other players in the quick-service space. It would be collecting a steady trickle of royalties with franchisees bearing most of the burden for the recent plunge in popularity. Then again, being a company-owned operator will make it that much sweeter when the turnaround comes.
Chipotle would've probably posted a loss for the first quarter anyway, but it didn't do its short-term metrics any favors by tackling the fallout of last year's E. coli and norovirus outbreaks aggressively. It didn't have to reformulate its prep process, close down its restaurants during an entire lunch shift in February to retrain its staff, and rattle off a series of promotions for free or nearly free food. These were all investments in owning up to the brand-tarnishing gastrointestinal issues that ravaged the chain, and now it's time to see if doing the right thing was, in fact, the right thing.
The quarter itself will be ugly. Everyone knows that, and with at least three analysts downgrading Chipotle stocklast month, we know where market sentiment rests. It's not a surprise to find the stock trading 11% near its 52-week low and a whopping 42% off of its 52-week high.
The biggest thing that will drive the stock in Tuesday's after-hours trading is the update on how comps have been holding up since mid-March. We know that everything has been hideous until then, and that all that will bleed over into a chunky deficit with horrendous margins. Giveaways don't come cheap.
If it can score enough points by spinning its "food with integrity" mantra into a "crisis with integrity" battlecry, it will become evident in comps for the latter half of March and as far into April as Chipotle is willing to discuss.
We know that the online promotions and direct mail coupons are stirring interest in getting folks to return to Chipotle. A Cowen & Co. survey showed that folks who have received the promotional offers have visited the chain more often and have a more favorable opinion of Chipotle. Could it just be that diehard Chipotle fans are the ones more actively looking for ways to score a discounted burrito? That may be the case, but if it gets lines forming again, it's OK for Chipotle to try to manufacture its own luck.
Even bullish analysts don't see Chipotle returning to 2015's peak performance levels until 2018, but any signs that the negative comps are starting to narrow in recent weeks could turn that sentiment around. Chipotle has always had a lot to prove every quarter as a result of its lofty market valuation, but now it has even more to prove after throwing every promotional trick in the book at the problem.
The article Chipotle Hopes Its $31 Million Gamble Pays Off originally appeared on Fool.com.
Rick Munarriz has no position in any stocks mentioned. The Motley Fool owns shares of and recommends Chipotle Mexican Grill. Try any of our Foolish newsletter services free for 30 days. We Fools may not all hold the same opinions, but we all believe that considering a diverse range of insights makes us better investors. The Motley Fool has a disclosure policy.
Copyright 1995 - 2016 The Motley Fool, LLC. All rights reserved. The Motley Fool has a disclosure policy.