Chipotle Can't Repeat Mistakes With Tasty Made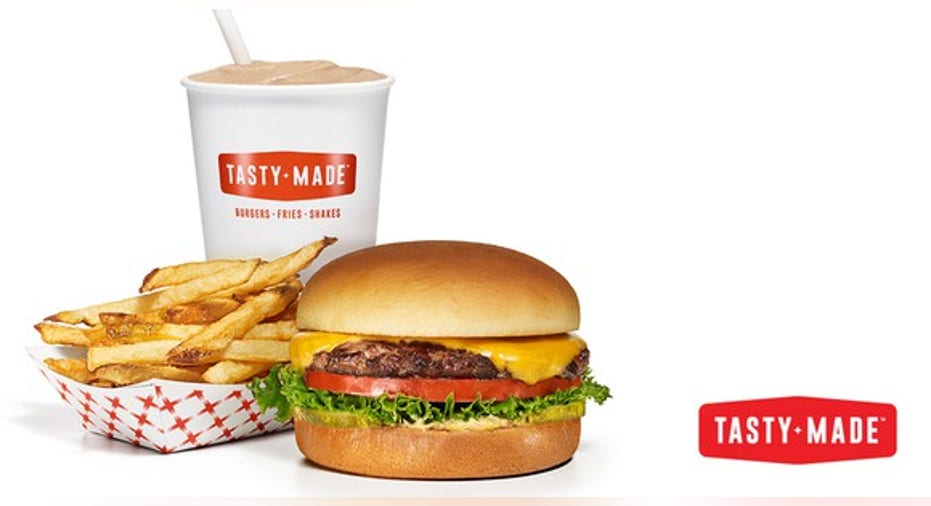 Image source: Chipotle Mexican Grill's Tasty Made.
It's now been a few weeks sinceChipotle Mexican Grill(NYSE: CMG)began flipping burgers. Chipotle opened its first Tasty Made in late October, and reviews have been mixed to slightly negative. This isn't the way a new concept would like to start out of the gate, but it could also be a matter of the difficultly of trying to live up to the pre-opening hype.
The burrito roller chose to open its first location in the modest-sized town of Lancaster, Ohio. Introducing a new concept away from its home turf of Denver makes sense. If it succeeds, it's not because it's a hometown darling.
However, there's a lot that can go wrong for Tasty Made. Chipotle has stumbled with its ShopHouse Kitchen and Pizzeria Locale sister concepts. ShopHouse can no longer be counted on to take the baton from Chipotle and run with it when the eatery operator's namesake chain saturates the market, and time is running out for Pizzeria Locale to be a game changer. The new driver could be Tasty Made, but Chipotle will first have to make sure that it learns from its earlier stumbles.
Chopping and then shopping ShopHouse
Chipotle revealed in its late October earnings call that it will be exploring strategic alternatives for the chain, taking an impairment charge in the process. I checked out the original ShopHouse days after its grand opening in 2011. It essentially gave Southeast Asian cuisine a Chipotle assembly line spin, but it took bold bets on ethnic flavors. This wasn't merely a push for the masses. This wasn't Panda Express with a "Food With Integrity" bent. It took chances with flavor profiles, and perhaps that's why growth stalled at 15 locations before ShopHouse decided to all but throw in the towel earlier this year.
Tasty Made won't have that problem. We're talking burgers, fries, and shakes, the Holy Trinity of fast food. The most exotic offering at Tasty Made is "tasty bacon sauce," which is essentially a creamy condiment option with small chunks of bacon.
Many of the negative reviews have harped on the quality of the food and the menu prices, but no one is arguing that the menu itself isn't accessible. If Tasty Made gets dumped five years from now like ShopHouse, it won't be because it was gunning for foodies on the fringe.
Slow-baked growth at Pizzeria Locale
If Chipotle took its time to expand ShopHouse to 15 locations, that's the pace of a speed demon when pitted against Pizzeria Locale. It's only up to seven locations after three years of ownership.
Chipotle scooped up an interest in Pizzeria Locale to have a concept that gives pizzas a fast-casual spin, but this is a market that's already being carved out by larger players. They're all using quick-bake ovens and high-end ingredients to crank out personal-size gourmet pies.
Tasty Made is obviously jumping into a more established "better burger" market, but that only means that it needs to expand the concept even faster to make up for lost time. ShopHouse aimed too high. Pizzeria Locale is expanding too low. Tasty Made needs to get it right, so next time that Chipotle hits a funk, the parent company will have a strong sister concept to ride through the lull.
10 stocks we like better than Chipotle Mexican Grill When investing geniuses David and Tom Gardner have a stock tip, it can pay to listen. After all, the newsletter they have run for over a decade, Motley Fool Stock Advisor, has tripled the market.*
David and Tom just revealed what they believe are the 10 best stocks for investors to buy right now... and Chipotle Mexican Grill wasn't one of them! That's right -- they think these 10 stocks are even better buys.
Click here to learn about these picks!
*Stock Advisor returns as of Nov. 7, 2016
Rick Munarriz has no position in any stocks mentioned. The Motley Fool owns shares of and recommends Chipotle Mexican Grill. Try any of our Foolish newsletter services free for 30 days. We Fools may not all hold the same opinions, but we all believe that considering a diverse range of insights makes us better investors. The Motley Fool has a disclosure policy.