Chipotle Adds Another $100 Million to Its Buyback Plan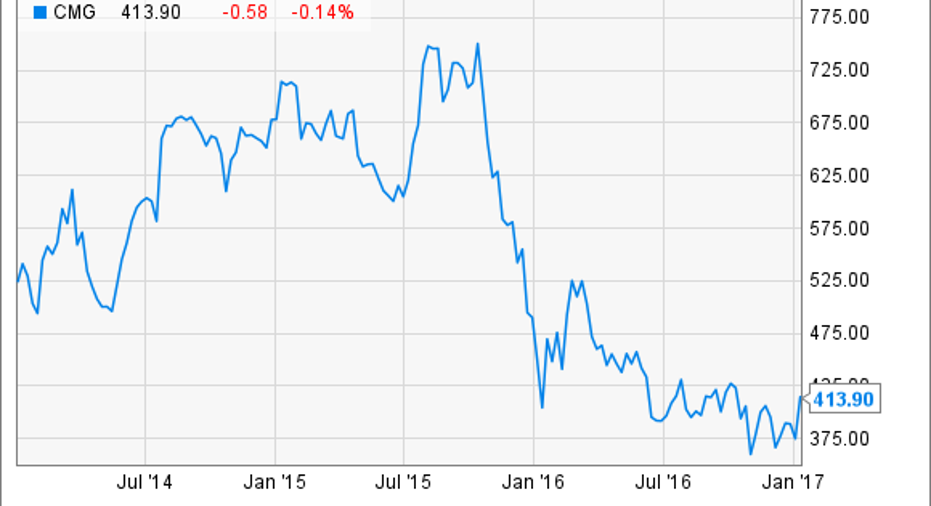 Image source: The Motley Fool.
Chipotle Mexican Grill (NYSE: CMG) is not letting the foodborne-illness outbreaks from last year and the year before go to waste. In the course of pre-releasing its fourth-quarter earnings, the burrito chain announced that its board of directors has added another $100 million to the company's share repurchase authorization.
The move comes on the heels of Chipotle's especially aggressive buyback campaign over the past year. In the 12 months before the chain's stock was pummeled -- which began in the wake of an e. coli outbreak in November 2015 -- Chipotle bought back an average of $16 million worth of stock each month, largely to offset dilution from the issuance of shares to executives.
After Chipotle's stock fell, however, it began gobbling up its own shares. It bought back $100 million worth of stock in November 2015, $211 million worth the following month, and $238 million worth in January of last year.
Data source: Chipotle Mexican Grill. Chart by author.
Chipotle carried on in this vein through March 2016, after which it slowed the pace of its repurchases, as the cash on its balance sheet began to erode. All told, the company has bought back more than $1 billion worth of stock since its foodborne-illness saga first struck. That equates to a 7.5% decline in its outstanding share count.
Going forward, Chipotle has promised to continue buying back stock, but to do so at a moderated pace of around $100 million a quarter. Former co-CEO Monty Moran addressed this on the company's third-quarter conference call:
It's easy to look at this as an irresponsible thing to do. Isn't spending cash in the midst of struggles the worst time to do so? Although this is how it seems, the reality is the opposite.
Assuming that Chipotle goes on to bigger and better things, which it will, as countless other restaurant chains have after experiencing similar setbacks, then buying back stock when it's cheap is exactly the right thing to do. As William Thorndike points out in The Outsiders, an excellent book on capital allocation, using buybacks in this way propelled the extraordinary shareholder returns associated with many of the best CEOs since World War II.
Whether Chipotle will ultimately be applauded for doing the same remains to be seen. But either way, it certainly seems to me that executives at the burrito chain understand and appreciate the value that buybacks at today's prices offer to its shareholders.
10 stocks we like better than Chipotle Mexican Grill When investing geniuses David and Tom Gardner have a stock tip, it can pay to listen. After all, the newsletter they have run for over a decade, Motley Fool Stock Advisor, has tripled the market.*
David and Tom just revealed what they believe are the 10 best stocks for investors to buy right now... and Chipotle Mexican Grill wasn't one of them! That's right -- they think these 10 stocks are even better buys.
Click here to learn about these picks!
*Stock Advisor returns as of January 4, 2017
John Maxfield owns shares of Chipotle Mexican Grill. The Motley Fool owns shares of and recommends Chipotle Mexican Grill. The Motley Fool has a disclosure policy.