China's Xi outlines plans for wide cooperation in trade plan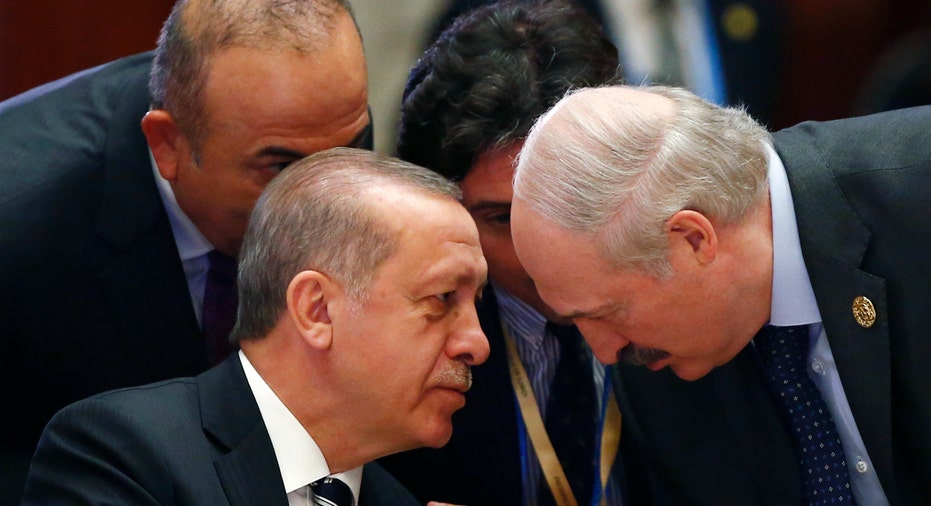 Chinese President Xi Jinping expressed ambitious hopes for Asian and European governments to work more closely on finance, law enforcement and a broad range of other issues as leaders from 30 nations issued a joint endorsement Monday of a Beijing-led trade initiative.
The "Belt and Road" project is China's biggest foreign initiative to date as Beijing looks for global stature to match its economic success. It calls for expanding trade across Asia, Africa and Europe with multibillion-dollar investments in ports, railways and other facilities, but governments including Russia, Washington and India are uneasy Beijing also is using it to gain political influence.
Xi said the project has "no political agenda." But he expressed hope governments taking part in the initiative will coordinate policy in finance, law enforcement, technology and education — areas where China's status as the biggest Asian economy would allow Beijing to dominate.
"It is our hope that through the 'Belt and Road' development, we will unleash new forces for global economic growth," Xi told reporters at a conference center in the hills north of the Chinese capital.
The two-day meeting included Presidents Vladimir Putin of Russia and Recep Tayyip Erdogan of Turkey and presidents or prime ministers from Italy, Hungary, Greece, Kenya and most of China's Asian neighbors but no major Western leaders.
Britain, France and Germany were represented by finance or trade officials. The United States sent a delegation led by the Asia director of President Donald Trump's National Security Council.
A joint statement by the leaders appeared to be crafted to defuse fears Beijing is trying to create a China-dominated bloc and rewrite global trade rules.
It endorsed a "rules-based" system, a possible attempt to reassure Western governments that worry Beijing might try to erode the World Trade Organization system under which all competitors are treated equally.
"We endeavor to promote a universal, rules-based, open, non-discriminatory and equitable multilateral trading system with WTO at its core," the statement said.
Xi acknowledged the initiative is in its early stages and faces daunting obstacles.
"One single feather does not make a bird fly high," he said.
Dozens of "Belt and Road" projects including railways and power plants have been launched since Xi unveiled the initiative in 2013. Most are financed by loans from Chinese state-owned banks but officials have expressed hope projects can attract private investors.
At the start of the gathering Sunday, Xi pledged additional financing for the initiative totaling 780 billion yuan ($113 billion).
The Chinese leader's declaration of plans to pursue cooperation in areas well beyond trade could increase potential obstacles.
Chinese officials insist the initiative is purely commercial, but foreign diplomats and political analysts also see an effort by Beijing to promote its own vision of trade and security arrangements and reduce the U.S. presence in Asia.
Trump's plan to focus on domestic issues and downplay foreign affairs has given Beijing an opening to try to play a bigger leadership role in trade, climate and other global issues.
China is the biggest trading partner for all of its Asian neighbors and a growing investor. But other Asian governments are uneasy about Beijing's strategic ambitions, especially after it built artificial islands and military bases in the South China Sea to enforce its claim to most of the region.
Asian governments that want to use ties with Washington to offset China's growing dominance have been thrown off balance by Trump's decision to withdraw from the Trans-Pacific Partnership, a proposed regional trade pact.
Xi said Beijing wants "Belt and Road" to improve cooperation in making industrial and financial policy, speed up development of infrastructure, make trade and investment flow more easily and improve interaction on education and other "people-to-people ties."
Other governments welcome Chinese investment in a region the Asian Development Bank says needs to spend $7 trillion this decade on ports, railways and other facilities to keep economies growing. But officials have expressed concern Beijing might use "Belt and Road" to promote exports by encouraging its neighbors to adopt China's industrial standards for railways and other goods.
Xi tried to mollify concern about a potential Chinese-dominated bloc by saying "Belt and Road" is meant to be an "open and inclusive platform for development."
Earlier Monday, the Chinese leader appealed in a speech to the visiting foreign leaders to pursue "greater openness and cooperation" and to "reject protectionism."
Beijing has promoted itself as a champion of free trade in response to pressure in the United States and Europe for restrictions on imports, despite complaints by its trading partners that China is the most-closed major economy.
Also Monday, the Philippine defense minister, who attended the Beijing meeting, said he signed a letter of intent with a Chinese military contractor to purchase weapons for Manila's army, navy and air force.
The minister, Delfin Lorenzana, said the Chinese government was offering a loan "at the tune of about $500 million" to finance the purchases. Lorenzana said no decisions had been made about what arms might be bought or how much.