China's trade growth cools in December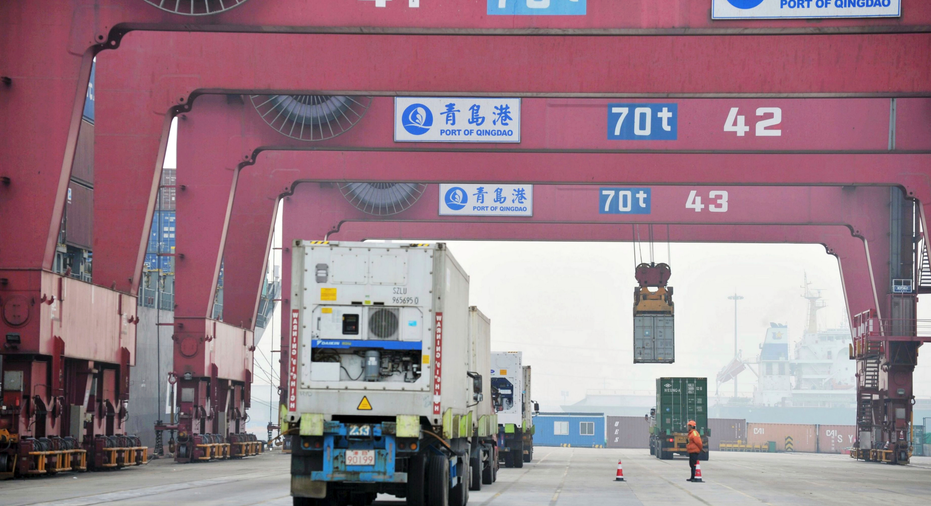 China's trade growth cooled in December in a possible sign of weaker global and domestic demand, but last year's total exports rose 7.9 percent over 2016 while imports were up 15.9 percent.
December exports rose 10.9 percent over a year earlier to $231.7 billion, down from the previous month's 12.3 percent growth, customs data showed Friday. Imports expanded 4.5 percent to $177.1 billion, down from November's 17.7 percent gain.
The politically volatile global trade surplus stood at $422.5 billion, down from $486 billion in 2016.
Beijing faces mounting pressure from Washington and Europe over complaints over trade barriers and that Chinese exports of unfairly low-priced steel and some other goods are threatening jobs abroad.
French President Emmanuel Macron warned this week during a visit to Beijing that Chinese leaders must open their markets wider or face the risk other nations might close theirs.
For its part, the government of U.S. President Donald Trump is investigating whether Beijing improperly pressures foreign companies to hand over technology. Results are expected to be announced this month.
"Downside risks remain, in particular from more forceful U.S. trade restrictions on Chinese exports," Louis Kuijs of Oxford Economics said in a report. Strength in Chinese exports "is bound to add to U.S.-China trade tensions," he said.
Chinese imports grew more slowly than exports for the first time since mid-2016, "reflecting the diverging prospects for growth in China and the rest of the world," said Julian Evans-Pritchard of Capital Economics in a report. They are "a sign that domestic demand may have weakened at the end of last year," he said.
Chinese trade has been unexpectedly strong, contrary to forecasts that economic growth will cool as Beijing tightens controls on credit to slow a rise in debt.
The International Monetary Fund is forecasting 2017 economic growth, due to be reported next week, at just under 6.8 percent. It expects that to decline to 6.5 percent this year, though that still will be among the strongest of any major country.
For the full year, exports rose to nearly $2.3 trillion while imports expanded to $1.8 trillion yuan.
The import slowdown is a blow to China's Asian neighbors, for which it is the biggest market, and countries such as Australia and Brazil that supply it iron ore, oil and other raw materials.
"We have since long expected China's domestic demand and imports to slow in 2018 on gradually tighter monetary and financial policies and slower real estate activity," Kuijs said.
China's trade surplus in December with the 28-nation European Union, its biggest trading partner, stood at $14.6 billion. For the full year, it was $127.2 billion.
The monthly surplus with the United States was $25.6 billion. For the year, it was $275.8 billion.
Data reported by the U.S. government often show a bigger gap with China because Beijing's figures reflect only the initial destination, such as Hong Kong or another port, for exports bound for the United States and other foreign markets.