China's 'Silk Road' stirs unease over its strategic goals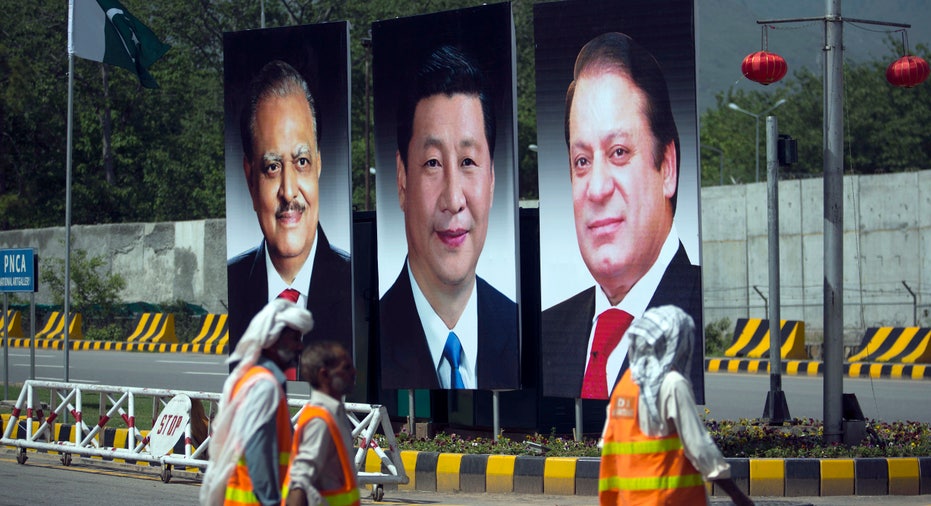 In a mountain valley in Kashmir, plans are under way for Chinese engineers guarded by Pakistani forces to expand the lofty Karakoram Highway in a project that is stirring diplomatic friction with India.
The work is part of a sprawling Chinese initiative to build a "new Silk Road" of ports, railways and roads to expand trade in a vast arc of countries across Asia, Africa and Europe. The Asian Development Bank says the region, home to 60 percent of the world's people, needs more than $26 trillion of such investment by 2030 to keep economies growing.
The initiative is in many ways natural for China, the world's biggest trader. But governments from Washington to Moscow to New Delhi worry Beijing also is trying to build its own political influence and erode theirs.
Others worry China might undermine human rights, environmental and other standards or leave poor countries burdened with debt.
India is unhappy Chinese state-owned companies are working in the Pakistani-held part of Kashmir, the Himalayan region claimed by both sides. Indian leaders see that as an endorsement of Pakistani control.
"We have some serious reservations about it, because of sovereignty issues," said India's finance and defense minister, Arun Jaitley, at an Asian Development Bank meeting this month in Yokohama, Japan. China has previously said its highway work "targets no third country."
China's initiative is ramping up as President Donald Trump focuses on domestic issues, downplaying foreign affairs.
American officials say Washington wants to work with China on infrastructure. But some political analysts say Beijing is trying to create a political and economic network centered on China and push the United States out of the region.
Trump's decision to pull out of the proposed 12-nation Trans-Pacific Partnership deprives China's neighbors of a tool they hoped would counter its rising influence, said Max Baucus, the U.S. ambassador to Beijing until January.
"Southeast Asian countries would tell me 'we want you, we want the TPP, then we can balance China with the United States,'" Baucus told The Associated Press.
Dubbed "One Belt, One Road" after ancient trade routes through the Indian Ocean and Central Asia, the initiative is Chinese President Xi Jinping's signature project.
Details such as financing are vague. But since Xi announced it in 2013, Beijing has launched dozens of projects from railways in Tajikistan, Thailand and Kenya to power plants in Vietnam and Kyrgyzstan.
Countries including Pakistan and Afghanistan welcome it as a path out of poverty. India, Indonesia and others want investment but are wary of Chinese strategic ambitions.
Indonesia's political elite have a "fear of regional hegemony" by China, said Christine Tjhin, senior researcher at the Center for Strategic and International Studies in Jakarta.
Moscow worries Beijing is diluting Russian influence in Central Asia by linking Uzbekistan and other countries more closely to China's more dynamic economy.
Russian President Vladimir Putin has responded by proposing a "Great Eurasia Project," with Beijing leading on economics and Moscow on politics and security.
"This vision enables the Kremlin to maintain an appearance that it retains the political initiative in its neighborhood," said a report by the Center for Eastern Studies, a Warsaw think tank.
In a possible effort to defuse unease, China has invited governments to a two-day forum starting Sunday and led by Xi. Leaders from 28 countries including Russian President Vladimir Putin are due to attend, but none from major Western countries.
Chinese officials reject suggestions the initiative is a power play by Beijing.
"The Chinese government has never wished to control any other country's government," a Cabinet official, Ou Xiaoli, told The Associated Press. "We feel in contacts between countries, we need to talk about studying benefits, studying mutual profit."
The bulk of Chinese financing is to be loans, which Ou said will be mostly on commercial terms based on "market principles." That might add to debt burdens in countries where dealing with Beijing can be politically sensitive.
The state-run China Development Bank announced in 2015 it had set aside $890 billion for more than 900 "One Belt, One Road" projects across 60 countries in gas, minerals and other sectors. The government's Export-Import Bank of China said it would finance 1,000 projects in 49 countries.
In Pakistan, the proposed $1.3 billion effort to expand the Karakoram Highway is part of the China-Pakistan Economic Corridor, which involves dozens of projects including power plants, roads and railways.
Pakistani officials say much of the Chinese money for power projects is investment, not loans but have given few details, raising questions about whether other projects can pay for themselves.
"I feel that our several generations will have to repay these Chinese loans for decades," said Azeem Khalid, a lecturer at the Commission on Science and Technology for Sustainable Development in the South, a non-government group in Islamabad.