China's "Heavenly Palace" Space Station Will Go Down in Flames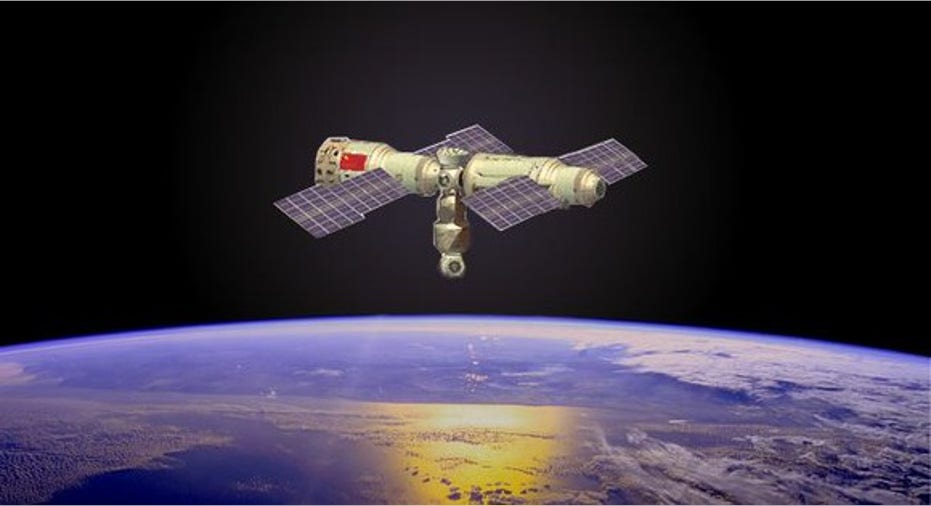 Artist's depiction of China's future "Heavenly Palace" national space station. Image source: Penyulap, via Wikimedia Commons.
"Beijing, we have a problem."
Since it first went up in 1998, the International Space Station has played host to astronauts from more than a dozen countries -- but not one of them was from China. In fact, in 2011, the U.S. Congress passed a law specifically prohibiting Chinese access to the ISS over concerns about "national security."
This, of course, has the Chinese a bit miffed. And as we mentioned last year, China has been planning to build its own, all-made-in-China space station instead. Slated for completion by 2022, the Tiangong 3, or "Heavenly Palace," space station will probably comprise three separate-but-linked modules, with a pair of laboratories flanking a central living habitat. Heavenly Palace is expected to go into service just as America and Russia are preparing to disassemble their International Space Station for obsolescence.
Halt and catch fire
While preparing to build its station, China sent up an orbital test bed (also, confusingly, called "Tiangong") in 2011. Initially designed for a two-year mission, Tiangong 1 was kept in service up until this year, although uninhabited, for research purposes.
It's unclear precisely how long China was hoping to stretch out Tiangong 1's life span. But events have forced its hand: Last month, China confirmed that it has lost all control over Tiangong 1. Various observers say the station is now in a "slow roll," with its solar panels no longer angled to collect sunlight, "drifting out of control," and now on course to enter Earth's atmosphere in an "uncontrolled re-entry."
Upon entering the atmosphere, Tiangong 1 will promptly catch fire. That's actually a good thing, though: The hope is that much of the space station's mass will burn up harmlessly in the atmosphere. The station's denser parts, however, will probably crash to Earth, and right now, no one's quite sure where.
Beijing, we need a (couple of) new space station(s)
Lucky for China, then, that as Tiangong 1 crashes to Earth, it has a replacement ready. Last month, the Tiangong 2 space lab was launched into orbit, awaiting the arrival of two Chinese astronauts later this month.
When that one, too, is all used up, China's space program will culminate in the launch of the ultimate "Heavenly Palace": Tiangong 3. It's this version that will comprise a core module (Tianhe 1) and two labs (Wengtian and Mengtian), massing about 72 tons when all put together. With launches of the various modules slated to take place between 2020 and 2022, it's likely that China will try to keep Tiangong 2 going for somewhere between four and six years before sending it, too, to burn up in the atmosphere.
What it means to investors
Now what import does all of this have for investors? After all, it's not as if China is a publicly traded company that we can invest in. Furthermore, in all three versions, Tiangong is a project run by the China Aerospace Science and Technology Corporation, which, as S&P Global Market Intelligence confirms, is a privately held company.
The answer is that we need to keep an eye on Tiangong not as an investment idea itself, but as a competitor to other potential investments. Recall that the International Space Station -- largely financed by America, built by American companies such as Boeing (NYSE: BA), managed by companies like Lockheed Martin (NYSE: LMT), and serviced by companies including SpaceX and Orbital ATK (NYSE: OA) -- is nearing the end of its life span.
Currently, NASA has no firm plans to build a new space station. But Russia might, and China definitely will. Almost certainly, these new space stations will neither be built by U.S. companies nor provide U.S. companies with lucrative service contracts.
Granted, NASA has floated plans to sell the International Space Station to private investors after 2024. But these plans, too, are far from certain. For one thing, there's no guarantee that America's partners in running ISS will agree to sell it to private interests. For another, we've heard not a peep out of Boeing, Lockheed, or Orbital yet about their interest in paying for ISS, after years of getting paid by ISS.
For that matter, there's also a very real question: Will companies that might otherwise like the idea of running experiments in space choose to pay to run them on an antiquated ISS? If China and/or Russia were to build brand-spanking-new space stations, it might be more cost-effective to hire these countries to perform research on contract rather than take responsibility for ISS and run them "in-house."
The upshot is this: Five years ago, America lost its space shuttle, and was forced to begin paying Russia for rocket rides. And just a little more than five years from now, we may lose our only space station as well -- and begin paying China to use theirs.
A secret billion-dollar stock opportunity The world's biggest tech company forgot to show you something, but a few Wall Street analysts and the Fool didn't miss a beat: There's a small company that's powering their brand-new gadgets and the coming revolution in technology. And we think its stock price has nearly unlimited room to run for early in-the-know investors! To be one of them, just click here.
Rich Smithdoes not own shares of, nor is he short, any company named above. You can find him onMotley Fool CAPS, publicly pontificating under the handleTMFDitty, where he's currently ranked No. 282 out of more than 75,000 rated members.
The Motley Fool recommends Orbital ATK. Try any of our Foolish newsletter services free for 30 days. We Fools may not all hold the same opinions, but we all believe that considering a diverse range of insights makes us better investors. The Motley Fool has a disclosure policy.