China, US sign more business deals during Trump visit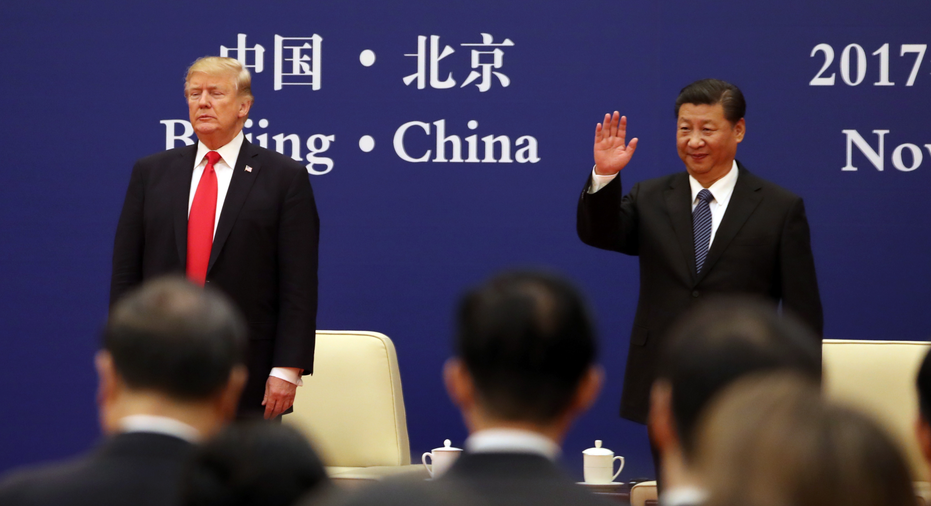 China have signed a series of multibillion-dollar business agreements during President Donald Trump's visit in a tradition aimed at blunting criticism of Beijing's trade policies.
Commerce Minister Zhong Shan said agreements signed Thursday at a ceremony attended by Trump and his Chinese counterpart, Xi Jinping, totaled $253.4 billion, though many were memoranda of understanding or other arrangements that were less than firm contracts. Commercial sales announced appeared to total about $65 billion, many involving goods Chinese companies routinely buy.
Such contract signings are a fixture of visits to Beijing by foreign leaders and are meant to defuse foreign complaints about China's trade surpluses and market barriers. They often represent purchases already made by Chinese mobile phone makers, airlines and other customers that are collected for the visit, which means they have little effect on the trade balance.
The contracts give Trump the opportunity to claim a rare political win following a first year in office marked by little legislative progress on health care and taxes. Trump has made narrowing the U.S. trade deficit with China — $347 billion last year — a priority. Commerce Secretary Wilbur Ross said that was a "central focus" of his talks with Xi.
The American Chamber of Commerce in China said ahead of Trump's visit it welcomed such contracts but expressed concern his focus on trade in goods might mean the president paid pays less attention to equally important issues such as complaints about restrictions on access to finance, health care and other industries in China's state-dominated economy.
Following the signing ceremony, Xi promised a more open business environment for foreign companies after Trump vowed to change unfair trade relations.
"China will not close its doors and will open even wider," said Xi. He promised a "more open, more transparent and more orderly" market.
Previous administrations have celebrated similar market-opening promises only to be left disappointed.
Both governments appeared to be doing their best to report the biggest total for contract signings for political benefit.
The biggest agreements Thursday included a deal to cooperate on a gas project in Alaska valued at $43 billion and a shale gas demonstration project in West Virginia valued at $83.7 billion. There was no indication of how much money, if any, would change hands.
Firmer contracts signed Thursday included the Chinese purchase of 300 Boeing Co. jetliners for $37 billion mobile phone chipsets from Qualcomm for $12 billion, General Electric Co. jet engines for $2.5 billion and soybeans for $1.6 billion.
Ford Motor Co. committed to have its China joint venture import vehicles and auto parts worth $9.5 billion over three years and General Motors Co. made a similar commitment valued at $2.2 billion.
That was on top of agreements signed Wednesday totaling $9 billion. Those included a pledge by China's biggest online retailer, JD.com, to buy American beef and pork worth $1.2 billion and a separate memorandum of understanding on possible soybean purchases worth up to $3.4 billion.
The U.S. Commerce Department said the Alaska gas project would create 12,000 jobs during construction.
Other agreements included memoranda of understanding, or a promise to discuss the possibility of firmer deals, on liquefied natural gas sales and industrial development cooperation.
China's trade surplus with the United States in October widened by 12.2 percent from a year earlier to $26.6 billion. The total surplus with the United States for the first 10 months of the year rose to $223 billion.
China is the No. 3 export market for the United States after Canada and Mexico. U.S. exports to China rose 77 percent from 2007 to 2016 but Washington reported a $347 billion trade deficit with China last year.
Trump's administration also is investigating whether Beijing improperly pressures foreign companies to hand over technology.
Xi said China is willing to expand imports of LNG, crude oil and other U.S. energy products and would explore "the potential" of more imports of American beef, cotton and other agricultural products.
It was also unclear if these pledges extend beyond a U.S.-China trade agreement announced in May that featured LNG and beef exports to China, which trade experts called a modest fulfillment of past assurances made by China.