China Trade Surplus Shrinks After Import Surge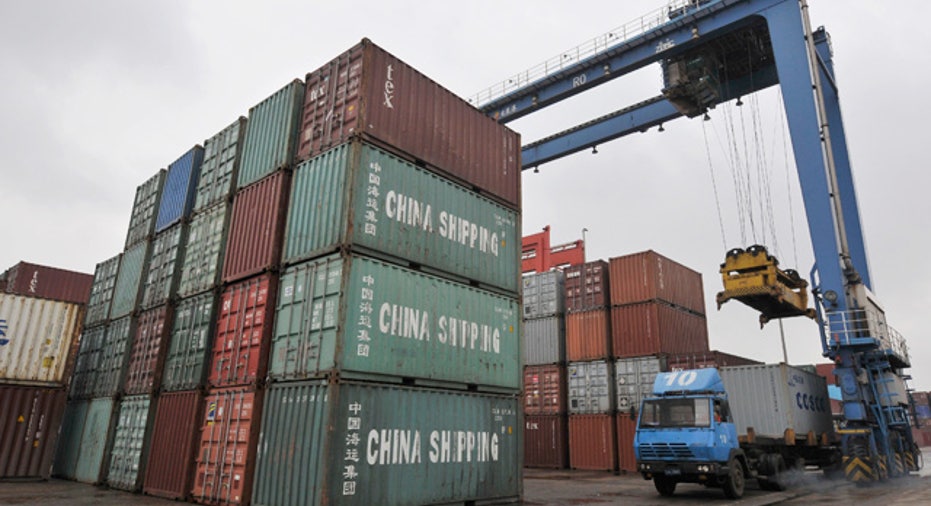 China's trade surplus fell to its lowest in nine months in January after imports surged, supporting the government's case ahead of a G20 meeting that it is doing enough to spur domestic demand without speeding up currency appreciation.
The trade surplus shrank to $6.5 billion from $13.1 billion in December, well short of forecasts for a $10.7 billion gap.
Global stocks and commodity prices climbed higher, with the surprisingly strong imports highlighting China's massive appetite for raw materials and its solid export growth hinting at solidifying recoveries in the U.S. and European economies.
In the past, a weaker surplus would have caused concern for the Chinese government, but it has been trying to shift the economy towards greater reliance on consumption and less on exports, in part to address critics who say that its success has come at the expense of other countries.
It was the third consecutive month of a declining trade surplus, and though not enough to mark a definitive change, that streak provides an important symbolic lift to China before a G20 meeting this week of finance ministers from the world's biggest developed and developing economies.
China's imports rose 51% in January from a year earlier, blowing past market forecasts for a 28% rise. Exports rose 37.7% in January, topping expectations for a 22.4% rise, the customs administration said.
GLOBAL STRENGTH
"There tends to be a seasonal pattern and there is generally a decline in the trade surplus at the beginning of the year," said Jian Chang, an economist with Barclays Capital in Hong Kong. "Exports tend to be weak in the first quarter, while there is no such pattern in imports."
Iron ore prices edged up further to fresh highs after the data, which showed that China was building steel product stockpiles in anticipation of more demand. Asian stocks rallied, snapping five straight sessions of losses.
Yu Song and Helen Qiao, economists at Goldman Sachs, said that the import and export growth reflected well on both the Chinese and global economy.
"The strong exports growth momentum is supported by improvements in economic conditions in China's major trading partners, and strong imports growth momentum is supported by strong domestic demand growth," they wrote in a note.
"Besides, the rise in imported commodity prices likely contributed to strong imports data as well."
Copper and iron ore prices ran near record highs for much of January and oil was also costly, pushing up China's import bill.
Commodity-exporting countries were the clear beneficiaries. Imports from South Africa were up 212.5% year on year, while shipments from Canada and Brazil were up 146.7% and 95.4%, respectively.
But economists also cautioned against reading too much into the January data, because trade performance was probably affected by the Chinese New Year. It fell earlier in 2011 than in 2010, leading firms to rush to make shipments and order goods in the final weeks of January before the holiday.
"The bigger-than-expected numbers may have been distorted by seasonal factors, so growth may be a bit slower in coming months," said Wang Hu, an analyst at Guotai Junan Securities in Shanghai.
CURRENCY CONTENTION
Along with serving as a signal of economic rebalancing, a smaller trade surplus also means that less money is rushing into China, easing the upward pressure on prices that has pushed inflation to its fastest rate in more than two years.
China will report its January inflation data on Tuesday. Analysts polled by Reuters had expected prices to rise 5.3% in the year to January, a 30-month high, but traders said on Monday that the increase was likely to be 4.9%, because adjustments of the consumer price index will have reduced the weight given to fast-rising food prices.
The combination of slower inflation and a narrower trade surplus will embolden Chinese officials who have resisted faster currency appreciation.
The yuan has risen 3.5% against the dollar since it was depegged in June 2010, but it has been largely level this year.
Critics say that China keeps the yuan weak in order to make its goods cheaper in global markets, giving its exporters an unfair advantage. The United States has long voiced these complaints, but in recent weeks Brazil and India, China's fast-growing developing peers, have also expressed frustrations.
The U.S. Treasury, in a long-delayed report, declined to say this month that China manipulates its currency for trade advantage, noting that higher inflation was making its goods more expensive.
"The United States has done the semi-annual (currency) report, so there is more breathing space for now. But the U.S. pressure will stay and one smaller-than-expected trade surplus number won't change that," said Andy Ji, economist with Commonwealth Bank of Australia in Sydney.