China to Continue OLED Investments, Which Bodes Well for Universal Display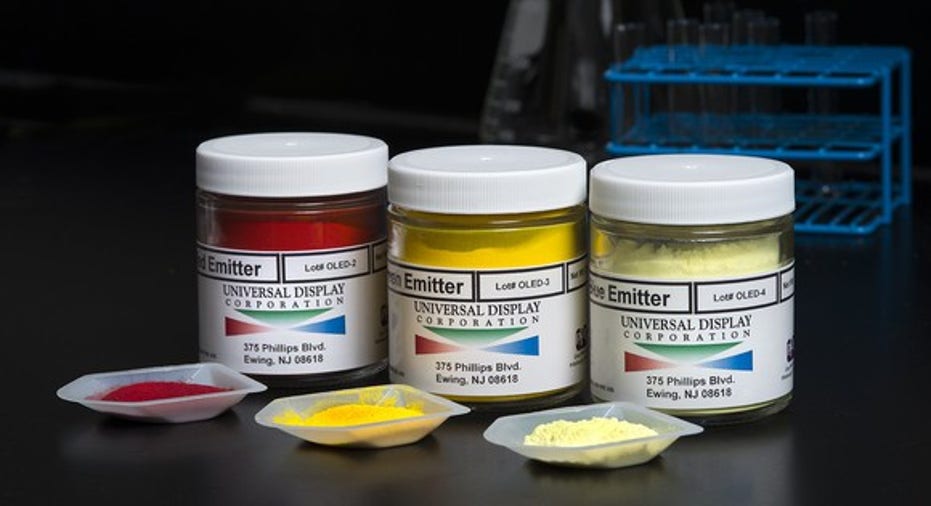 Universal Display (NASDAQ: OLED) has many upside catalysts on the horizon. Beyond the big one, display makers continue to increase their investments in OLED manufacturing facilities. Management already noted a few important developments within the Middle Kingdom on the last earnings call, but Bernstein analysts have just put out a research note (via Tech Trader Daily) that further supports this thesis.
Shares of Universal Display recently tapped fresh all-time highs last month, but it seems like shares may have more room to run.
Emitter materials. Image source: Universal Display
OLED capital spending is soaring
Following a trip to Asia to research the electronics supply chain, the analysts noted that China is driving a precipitous rise in overall investments in OLED technology, noting that manufacturing capacity continues to ramp faster than previously anticipated. A wide range of companies that provide equipment and materials are capitalizing on the increased capital spending; emitter material sales comprised half of Universal Display's total revenue last year.
Panel makers are rapidly shifting away from traditional LCD panels in favor of OLED, which also has some negative implications for glass companies like Corning (which was downgraded to neutral earlier this week by Goldman Sachs for similar concerns). The analysts estimate that total OLED capital expenditures will remain elevated through 2020, and Bernstein has had to upwardly revise these spending estimates on numerous occasions already.
Universal Display is named as one of the top expected beneficiaries of the ongoing OLED transition, along with other companies that supply emitter materials like South Korea's Duksan Neolux, among others.
Supply needs to catch up with demand
On last month's earning call, CEO Steve Abramson noted that the company had inked several new agreements in China in 2016. Customer BOE Technology is investing heavily:
BOE's production isn't expected to ramp meaningfully until 2018. The company was previously rumored to be in negotiations with Apple for the OLED iPhone, although more recent rumors suggest the Mac maker will predominantly rely on Samsung for its OLED fix.
Bernstein also notes that many Chinese smartphone manufacturers have been unable to procure OLED displays because existing capacity remains low and the larger players are gobbling up OLED supply. That's despite the fact that these local original equipment manufacturers (OEMs) are willing to pay double the cost of an LCD display. Clearly, there's demand at the OEM level, and the supply situation needs to improve. As it does in the coming years, Universal Display will be sitting pretty.
10 stocks we like better than Universal DisplayWhen investing geniuses David and Tom Gardner have a stock tip, it can pay to listen. After all, the newsletter they have run for over a decade, Motley Fool Stock Advisor, has tripled the market.*
David and Tom just revealed what they believe are the 10 best stocks for investors to buy right now... and Universal Display wasn't one of them! That's right -- they think these 10 stocks are even better buys.
Click here to learn about these picks!
*Stock Advisor returns as of February 6, 2017
Evan Niu, CFA owns shares of AAPL and Universal Display. Evan Niu, CFA has the following options: long January 2018 $50 calls on Universal Display. The Motley Fool owns shares of and recommends AAPL and Universal Display. The Motley Fool recommends Corning. The Motley Fool has the following options: long January 2018 $90 calls on AAPL and short January 2018 $95 calls on AAPL. The Motley Fool has a disclosure policy.