China Stocks Jump to Start the Week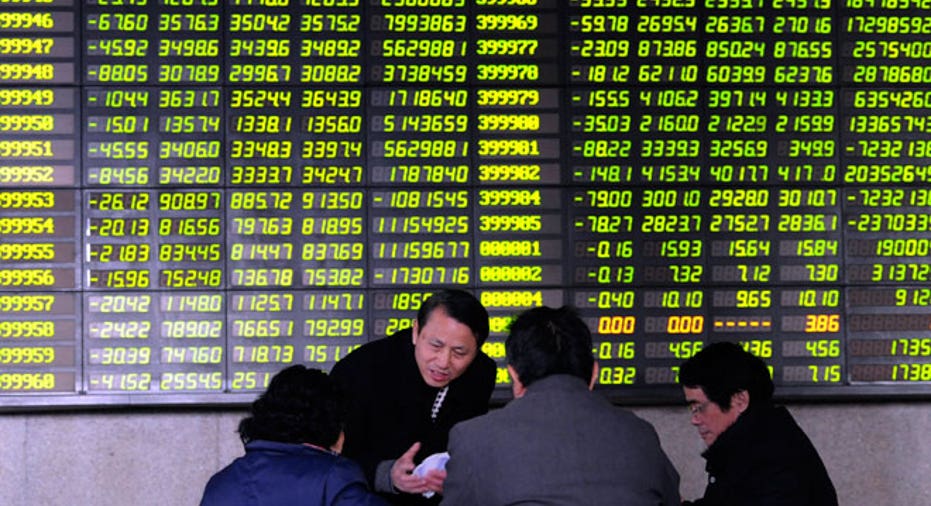 Stocks in China jumped Monday after authorities signaled they may want to make it easier for investors to borrow to buy shares, a practice that took off last year and ultimately led to a bubble in the market.
A surged in brokerage stocks pushed the Shanghai Composite Index to close above the 3000 mark for the first time since January. Shares of Citic Securities, China's biggest broker, were up by the 10% daily limit allowed by authorities, as were Dongxing Securities, Huatai Securities and Haitong Securities.
The Shanghai Composite Index finished up 2.2% at 3018.80, while the Shenzhen Composite Index was up 2.7% at 1886.37.
The gains came after a state-backed company called China Securities Finance Corp. published new interest rates on a range of loans that it gives to brokerages. The lender, which is tasked with providing funds to brokerages so they can lend cash to investors for buying shares, lowered the rate on 182-day loans to 3% from 4.8% previously. That effectively offers support for the market, which is on a nascent recovery.
"The CSF isn't obliged to disclose their rates move in the first place so it's more of an attempt to provide the market with a dose of confidence," said Zhang Xin, an analyst at Guotai Junan Securities.
The statement by China Securities Finance Corp. was widely circulated and appeared to have given the markets that dose of confidence.
Still, the release was no longer available on the lender's website and officials declined to comment on the issue.
The unwinding of the margin loans, which rose to more than 2 trillion yuan, was a key reason why Chinese stocks tumbled so quickly last summer. The Shanghai Composite Index remains off 42% from its peak in June, while the total amount of margin loans had since fallen to 847.4 billion yuan as of last Friday, according to database provider Wind Info.
Even as the amount of margin loans has dropped this year, the Shanghai stock market has been rebounding--it is up 12% since beginning of the month and now on a seven-session winning streak.
Elsewhere in the region Monday, shares were mixed amid a light economic data calendar. A decline in oil prices however weighed on the energy sector, which was off 1% in Australia and in 0.9% in Hong Kong.
Australia's S&P/ASX 200 closed down 0.3% while South Korea's Kospi was off 0.1%. Hong Kong's Hang Seng closed up 0.1% up. Meanwhile, Japan's Tokyo stock exchange was closed for equinox day.
In currencies, China's central bank guided the onshore yuan weaker by 0.3% to 6.4824 yuan to one U.S. dollar. It was biggest one-day weakening of the yuan fixing since Jan. 7, when the bank let the currency depreciate by about 0.5%.
Beijing's daily "fix" of the currency has gotten increasingly more dynamic, in line with movements of other global currencies in a basket that the central bank uses to determine where it wants the yuan to trade.
Chinese authorities had set the yuan 0.5% stronger against the dollar on Friday.
Brent crude oil was last down 1.2% at $40.71 a barrel.
Ewen Chew contributed to this article.
Write to Chao Deng at Chao.Deng@wsj.com