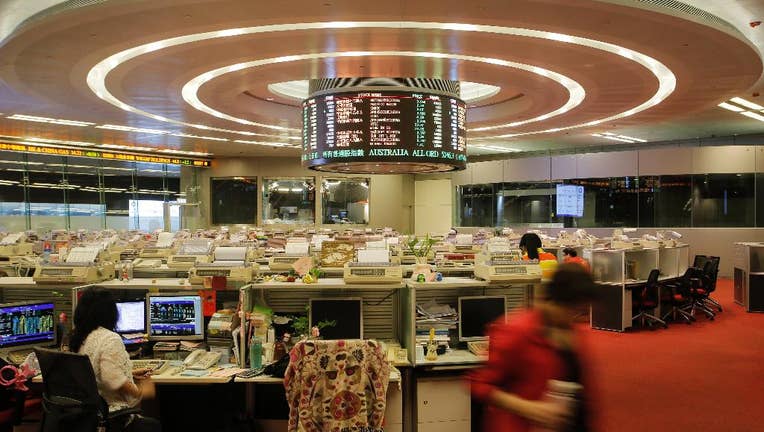 China stocks ended the morning session on Thursday lower amid profit taking in both mainland and Hong Kong shares, and as recent gains prompted China's largest aluminum producer to warn investors of market risks.
The CSI300 index fell 1.0 percent, to 3,693.62 points at the end of the morning session, while the Shanghai Composite Index lost 1.1 percent, to 3,240.69 points.
China CSI300 stock index futures for August fell 1.2 percent, to 3,674.8, 18.82 points below the current value of the underlying index.
The materials sub-index, which had risen more than 30 percent since the beginning of June lost 2.4 percent, weighed down by losses in steel producers.
"In the past several months steel shares have gone straight up, so an appropriate correction is healthy and reasonable," said Huang Xiaobin, an analyst at Huatai Securities in Shenzhen.
Hesteel was off by 3.5 percent at the end of morning trade.
Shares in Aluminum Corp of China were down 5.1 percent from their highest close in more than two years.
In a statement posted on the website of the Shanghai Stock Exchange Thursday, the company warned investors to be aware of market volatility and secondary market trading risks.
Chalco said rises in the price of electricity could increase costs, and that market expectations have changed.
China aluminum prices hit five-year highs on Thursday as investors bet that capacity closures would tighten supply.
The Hang Seng index dropped 1.6 percent, to 27,315.13 points, weighed down by financials and property developers.
The Hong Kong China Enterprises Index lost 2.0 percent, to 10,749.09.
Wharf was the biggest loser in morning trade, falling by 7.2 percent after surging 14 percent on Wednesday to a record high close of HK$79.65 on news that its unit Wharf Real Estate Investment Co Ltd would submit an application for a separate listing on the main board.
Wanda Hotel Development was one bright spot in the Hong Kong market, surging 27.6 percent to HK$1.48, its highest level in more than two years.
The company, a unit of Chinese conglomerate Dalian Wanda Group led by Wang Jianlin, said on Thursday that it would buy assets worth over 7 billion yuan ($1.05 billion) from Wang-controlled companies as part of a restructuring.
The index measuring price differences between dual-listed companies in Shanghai and Hong Kong stood at 127.61.
A value above 100 indicates Shanghai shares are pricing at a premium to shares in the same company trading in Hong Kong.
(Reporting by Andrew Galbraith; Editing by Richard Pullin)