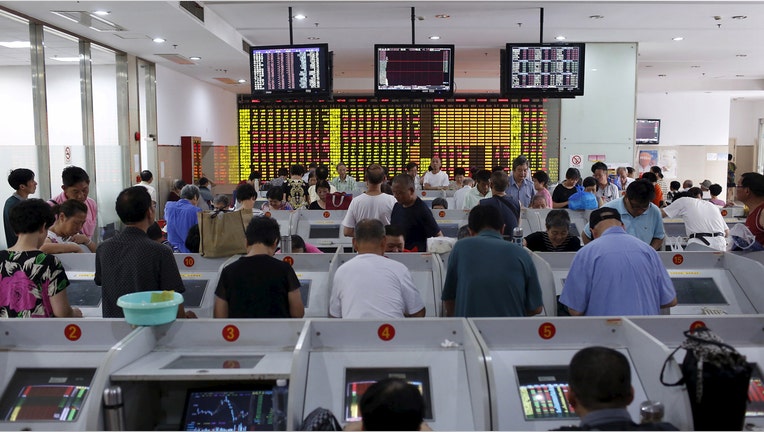 China stocks bounced on Wednesday, led by a surge in resources shares, on hopes that regulators will extend a ban on share sales by major stakeholders as Beijing scrambled to avert a potential repeat of last summer's market crash.
The CSI300 index of the largest listed companies in Shanghai and Shenzhen rose 1.8 percent, to 3,539.81, while the Shanghai Composite Index gained 2.3 percent, to 3,361.84 points.
State media reported that the ban on share sales, due to expire on Friday, will remain in place until new rules to manage the process are promulgated.
The market was also helped by statements from at least 30 companies saying their controlling shareholders or senior executives would not sell shares on the secondary market within the next six or 12 months.
The reports were the latest damage-control measures announced after China's major benchmark indexes plunged 7 percent on Monday, forcing the first-ever nationwide trading halt and roiling global markets.
Many traders largely attributed Monday's sell-off to fears that the expiry of the share-sale ban, imposed at the height of the market rout last year, could see an estimated 1.24 trillion yuan ($190.23 billion) of shares dumped onto the market.
However, some traders say further restricting share sales was not justified, and would only prolong, rather than stop, market volatility.
"It's like the sword of the Damocles overshadowing the market," Shen Weizheng, fund manager at Shanghai-based Ivy Capital said, adding the real worry is that the Chinese economy will remain weak.
Activity in China's services sector expanded at its slowest rate in 17 months in December, a private survey showed on Wednesday, in a further indication that the world's second-largest economy may be losing steam.
On Chinese share markets, all sectors rebounded on Wednesday, with resources and energy surging more than 5 percent.
(Reporting by Samuel Shen and Pete Sweeney; Editing by Richard Borsuk)