China Data Augur More Weakness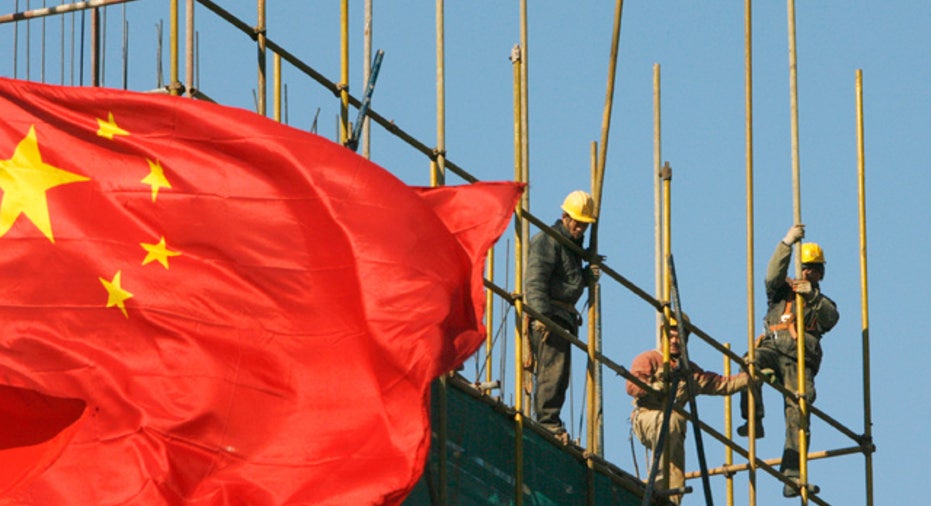 When China's government reports Tuesday on the economy's performance last year, one central question will have already been answered: Growth slowed to its most anemic pace in a quarter century.
The release of 2015 economic data comes after even China's most senior officials have acknowledged that problems built up in the boom years are weighing down the world's second-largest economy. Premier Li Keqiang told Chinese and foreign officials over the weekend that China's $10 trillion economy grew last year by "nearly 7%."
That rate shows a deepening of the slowdown that began in 2011 and continued in 2014, with growth at 7.3%, already then the worst pace since 1990. Many economists question the reliability of China's official data and say actual growth is lower, from 4% to 6%.
With growing debt and too much housing and factory capacity, economists expect the economy to weaken further. The stock markets have stumbled into the new year, erasing gains from an unsteady recovery after a summertime crash. And, economists said, the tools the government traditionally used to revive growth--infrastructure spending, easy credit and ramped-up exports--appear increasingly ineffective.
"They're running out of stimulus space, and the pace of the slowdown continues to be sharper than they think," said Alex Wolf, economist with Standard Life Investments Ltd. Investors. He added that the idea that the government "had control over markets and a long-term plan" has "been a myth for way too long."
The report card out of China is likely to weigh further on international investors, commodity producers and neighboring Asian countries. China accounts for up to a third of global growth in recent years. The World Bank has lowered its global growth estimate twice in the past year, in part because of China's waning vitality.
While fiscal spending gave a shot to end-of-the-year growth, any momentum is likely to dissipate over the first quarter, a usually weak time, as factories and businesses wind down for next month's long Lunar New Year holiday.
Even at a diminished growth rate, China's economy is so large that it throws off sizable opportunities. Consumption is holding up, especially of services and goods purchased through e-commerce. And service industries last year managed to absorb job losses from manufacturing.
But as growth sputters further and the government's ability to prop it up flags, economists and Chinese officials expect more companies to get hit and layoffs to rise.
Guo Xiaogang, a deliveryman for an online store, said competition in Internet commerce has become so intense that he has fewer packages to deliver by electric cart--and a harder time making a decent wage. "Of course I'm concerned," said the 32-year-old, wearing a red uniform and standing in western Beijing. "If I change jobs, maybe I can afford to buy more, but right now it's not really possible."
With the gloomier outlook, Chinese officials have said the government is looking to increase deficit spending this year to generate growth, even if that tactic has limits. Higher spending on infrastructure last year showed signs of kicking in as investment levels grew faster after November and December lending increased, and the government is expected to spend more heavily this year.
But the economic benefits are weaker than in previous years given the continuing drag from factory investment and diminished investment returns.
China's stock market gyrations last year--a massive run-up followed by the spectacular plummet--provided a growth dividend in financial services, adding an estimated 1.5 percentage points in the first three quarters of the year, according to economists. But that is unlikely to continue in the light of significantly lower brokerage activity.
Exports, which accounted for 34.9% of the economy in 2007 but only 22.6% as of 2014, according to the World Bank, aren't likely to produce a kick, given slack demand from developed economies.
China's attempts to export its excess production of steel, glass and other goods are raising tension with its trading partners, who are filing trade complaints. Anti-dumping cases are a worry for many exporters, said Yang He, secretary in the chairman's office of Tianjin Huayuan Industry Group, a metal wire exporter.
"The government needs to better safeguard us against the anti-dumping mechanism," Ms. Yang said. "If not, the company might be forced to reduce production or even stop altogether," she said. The commerce ministry and Tianjin government didn't immediately comment.
Debt, which economists said has continued to rise even as the economy slows, is limiting Beijing's room to maneuver. State-owned enterprises saw profits fall 9.5% year on year during the first 11 months of 2015, while their debt increased 18.2%, said BMI Research Corp.
Total debt equals almost 260% of annual economic output, UBS Group AG estimates, up from less than 160% in 2007. While the official ratio of nonperforming loan in China's banks remained low at 1.6% by the end of the third quarter, analysts and economists said the pace is picking up and many debts are hidden in the books of nonbank lenders while banks roll over many loans.
"If the authorities engage in the 'extend and pretend' game, which we expect, this implies a lack of productive investment in China over the coming years," said Commerzbank economist Zhou Hao.
Increasingly, new lending is being used to service debt rather than fund new ventures and energy-saving technologies. Households and companies now spend the equivalent of 20% of GDP on interest payments, more than the U.S., Japan or the U.K. and equal to Korea, said research firm Gavekal Dragonomics, citing Bank for International Settlements figures.
As the economy slows and the yuan weakens, Chinese are moving their money out of the country, contributing to a loss in investment.
Beijing finds itself in a dilemma: if the government cuts interest rates, more capital flees. If it raises interest rates, more debt-plagued companies risk going bust, fueling joblessness.
"The real challenge is how you reduce the size of nonperforming industry without a real sharp deterioration in the labor market," said Société Générale CIB economist Klaus Baader. "That's the real trick to pull off."
(END) Dow Jones Newswires
By Mark Magnier