Chevy Bolt U.S. Deliveries Decline in February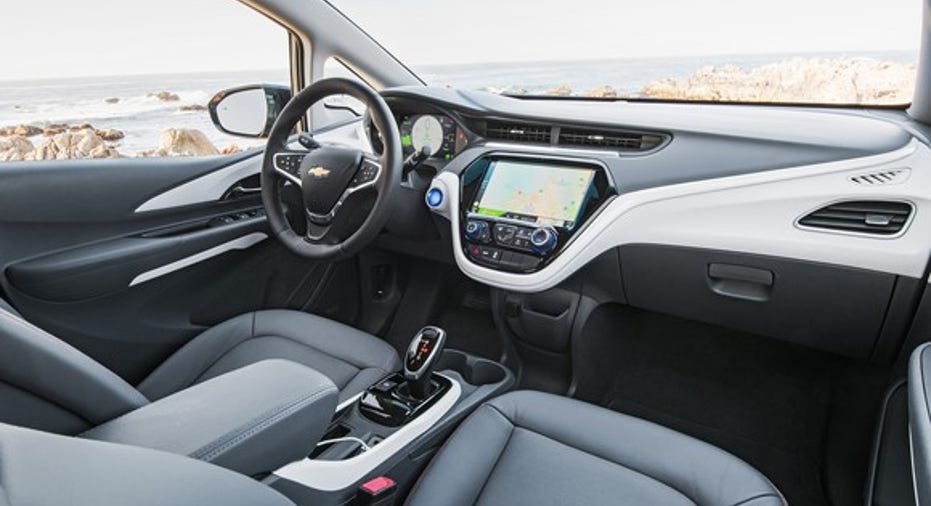 General Motors (NYSE: GM) began deliveries of its all-new, fully electric Chevrolet Bolt in December, and the $37,500 vehicle is a strong alternative to Tesla's (NASDAQ: TSLA) upcoming $35,000 Model 3. As the first affordably priced fully electric vehicle with over 200 miles of range per charge (238 miles of EPA-rated range to be exact) to hit the market, the vehicle is an important foundational step for GM.
But GM's acceleration into the long-range electric vehicle market has not been smooth. Bolt sales in the U.S. pulled back slightly in February compared to January. However, this doesn't mean the new vehicle won't make a splash this year.
Chevy Bolt. Image source: General Motors
Bolt deliveries
The trajectory of Bolt deliveries in 2017 so far isn't showing the sharply rising curve that will be required if GM is to hit the approximately 25,000 to 30,000 deliveries management is reportedly targeting (per Reuters) for the year. Bolt deliveries declined from 1,162 units in January to 952 in February.
In addition, the company's February sales release dropped its January reference to the Bolt's fastest days-to-turn rate in the industry -- a measure of how quickly a vehicle sells to a customer after arriving on a dealer's lot. For January, management boasted of a days-to-turn rate of just seven days for the Bolt.
Bolt. Image source: General Motors
It's not clear how many vehicles GM expects to produce in 2017. In January 2016, GM manager of electrification technology communications Kevin Kelly told HybridCars that the company would be able to fill orders for up to 50,000 customers in 2017 if demand reached that level. But in November 2016, Wall Street Journal author Adrienne Roberts paraphrased GM spokeswoman Michelle Malcho as saying the Bolt "is expected to meet high interest, but will be offered in limited quantities in 2017."
A national rollout is just getting started
All of GM management's comments point to limited production and availability of the Bolt during the first half of the year. Indeed, in February's release, management noted that the "national rollout of the crossover is just under way." Further, when The Motley Fool asked Chevrolet electric vehicle communications spokesman Fred Ligouri for a comment regarding the Bolt's production, he provided this statement:
Even Tesla CEO Elon Musk is arguably bullish on the Bolt's potential. In November, the CEO said he thinks a car like the Bolt should sell in volumes of hundreds of thousands of units per year. His confidence likely stems from the nearly 400,000 deposit-backed reservations he watched come in for Tesla's upcoming Model 3 shortly after its launch.
Of course, GM hasn't indicated it's planning for Bolt production anywhere near that level. But that doesn't mean it won't be bringing a higher-volume electric vehicle to market soon.
GM is entirely familiar with the process of ramping up vehicle production. If demand for the Bolt is high enough to solicit 30,000 deliveries during 2017, it could likely pull off the feat of manufacturing that many in the second half of the year alone. So that will be the period investors interested in the electric vehicle space will want to watch closely. As the Bolt becomes more widely available in markets across the U.S., production and deliveries will likely soar.
10 stocks we like better than General MotorsWhen investing geniuses David and Tom Gardner have a stock tip, it can pay to listen. After all, the newsletter they have run for over a decade, Motley Fool Stock Advisor, has tripled the market.*
David and Tom just revealed what they believe are the 10 best stocks for investors to buy right now... and General Motors wasn't one of them! That's right -- they think these 10 stocks are even better buys.
Click here to learn about these picks!
*Stock Advisor returns as of February 6, 2017
Daniel Sparks owns shares of Tesla. The Motley Fool owns shares of and recommends Tesla. The Motley Fool recommends General Motors. The Motley Fool has a disclosure policy.