Chevron Stock History: The Making of an Energy Giant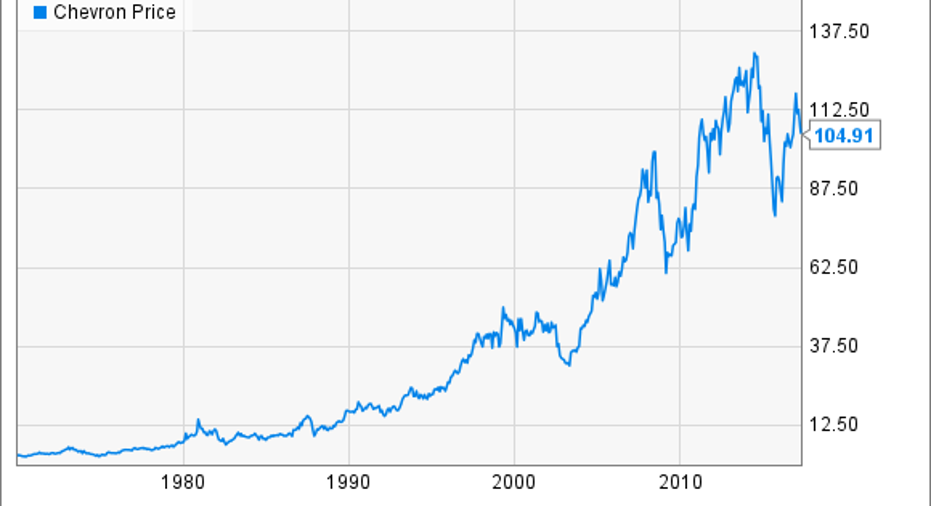 Energy drives the U.S. economy, and Chevron (NYSE: CVX) is in the topmost tier of oil and gas companies across the globe because of its exposure to the oil and gas industry. With upstream exploration and production activities, midstream transportation and storage facilities, and downstream marketing and distribution resources, Chevron gives investors just about everything they could want in an oil company, and the stock has soared over its history as a publicly traded company. Let's look at Chevron stock to see why it has done as well as it has over time and to see what's ahead for the oil giant going forward.
Sources of Chevron's growth
As you can see in the chart above, Chevron has enjoyed substantial price appreciation throughout its history. Going back 45 years, the oil giant has produced average annual total returns of almost 12%, and volatility in the share price has been less than what energy investors have seen from smaller companies.
A substantial part of Chevron's performance over time has come from its dividend policies, by which the company returns capital to shareholders. Not only does Chevron have a high current yield of about 4%, but the oil giant has also committed to raising dividends repeatedly over time. In fact, Chevron has put together a 29-year streak of boosting the amount of dividends it pays each year, finding ways to reward shareholders during good times and bad in the energy industry. That makes Chevron a Dividend Aristocrat, and dividends have made up a substantial portion of the overall gains that longtime shareholders have seen.
Chevron's Gorgon project. Image source: Chevron.
Stock splits have also been part of Chevron's success. With splits consistently over the years, Chevron has given shareholders who've stuck with the company through thick and thin a lot more than they started with.
| Date of Split | Split Ratio |
| --- | --- |
| Feb. 14, 1951 | 2 for 1 |
| May 18, 1956 | 2 for 1 |
| Nov. 9, 1973 | 2 for 1 |
| Feb. 6, 1981 | 2 for 1 |
| May 11, 1994 | 2 for 1 |
| Aug. 19, 2004 | 2 for 1 |
Data source: Chevron investor relations.
Finally, consolidation in the energy industry has been extreme, and Chevron has played its part in the trend. As Standard Oil of California, the company merged with Gulf in 1984 and adopted the Chevron name. Thereafter, the subsequent merger with Texaco in 2000 created the fourth-largest oil company in the world.
How Chevron stock grew
Chevron enjoyed its best returns during a couple of key periods. Bouncing back from weakness in oil prices in the early 2000s following the second Gulf War, Chevron benefited dramatically from the ascent of crude to almost $150 per barrel. That boom period ended abruptly in 2008, when the financial crisis slammed the entire global economy and led to a $100-per-barrel drop in crude.
Within just a few years, though, oil was back above $100, and that sent Chevron shares to fresh new highs. Then, a longer-lasting drop in crude prices punished the industry. Yet although many companies took much larger hits, the damage to Chevron stock has been less severe, and subsequent stabilization in the crude market has helped Chevron regain a more positive footing lately.
Can Chevron keep climbing?
In the past, Chevron has been able to weather periodic cyclical moves and keep to a long-term strategy. Having a vertically integrated business has been helpful, as Chevron doesn't have all of its fortunes tied to the volatile exploration and production arena. Refining and midstream operations haven't done as badly as E&P companies, and Chevron has benefited from the stability that its more extensive operations have provided.
Over the long haul, Chevron has always taken steps to ensure the success of its business, and recent moves to emphasize unconventional production activity and liquefied natural gas projects have the potential to pay off over time. Given its foresight and determination to find good projects, Chevron is in position to remain a key leader in the global energy industry well into the future.
10 stocks we like better than ChevronWhen investing geniuses David and Tom Gardner have a stock tip, it can pay to listen. After all, the newsletter they have run for over a decade, Motley Fool Stock Advisor, has tripled the market.*
David and Tom just revealed what they believe are the 10 best stocks for investors to buy right now... and Chevron wasn't one of them! That's right -- they think these 10 stocks are even better buys.
Click here to learn about these picks!
*Stock Advisor returns as of April 3, 2017
Dan Caplinger has no position in any stocks mentioned. The Motley Fool recommends Chevron. The Motley Fool has a disclosure policy.