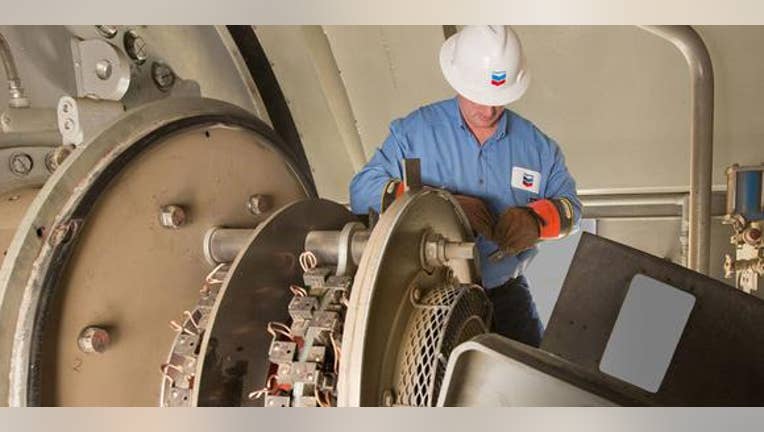 Stocks rose as the bull market crossed into its seventh year today. The Dow Jones Industrial Average rebounded from yesterday's slight decline to tick higher by 35 points or 0.2%, while the S&P 500 gained 10 points, or 0.5%.
Indexes are still in solidly negative territory for the year, but they've recovered most of the double-digit losses they had booked last month (the Dow and S&P are up 160% and 194% in the last seven years, respectively).
Meanwhile, individual stocks on the move today included Chevron and Blue Buffalo Pet Products .
Chevron's dividend priority Energy titan Chevron was the Dow's best-performing stock today, jumping 5% on heavy trading volume. Shares crossed back into positive territory for the year after having fallen by as much as 11%.
Source: Chevron.
Today's pop came following mostly positive reviews from Wall Street regarding the company's analyst day presentation on Tuesday. Citigroup reiterated their "buy" rating on the stock, arguing that Chevron can expand its profitability through cost cuts even if oil prices stay stuck at their current range. Meanwhile, the business is "well positioned to enjoy almost all the upside from higher oil prices," analyst Alastair Syme argued.
On Tuesday Chevron told investors that its priority is protecting its dividend while working to improve free cash flow through a mix of cost cuts, higher sales volumes, and improving profit margins. "Preserving and growing the dividend is important to our shareholders and to management," CEO John Watson said. "All of our actions are aligned with this objective," he explained.
The stock also likely benefited from another spike in oil prices: Crude oil jumped 5% to finish at nearly $40 per barrel, or about 40% above the low it touched in early February. Chevron's earnings outlook is closely tied to oil prices, which suggests the stock will remain volatile as long as crude prices keep making historic swings.
Blue Buffalo's profit surprise Natural pet food specialist Blue Buffalo soared 24% after posting surprisingly strong fourth-quarter earnings results. Sales spiked higher by 11% to $256 million as adjusted earnings improved by 35% to reach $0.16 per share. Consensus estimates had been calling for $251 million of sales and EPS of $0.14.
Source: Blue Buffalo.
In addition to the healthy sales growth, Blue Buffalo reported a solid expansion in profitability: Gross margin jumped to 42% of sales from 38% a year ago. The bounce came courtesy of lower supply chain costs from a new production facility.
"Blue Buffalo delivered a strong finish to a strong year," CEO Kurt Schmidt said in a press release. "We continued to gain [market] share, improve our margins, and invest in new legs of growth," he said.
Executives issued an aggressive outlook for 2016 that targets sales of $1.13 billion and adjusted EPS of $0.73 per share. If they hit those goals, it would translate into roughly 10% higher revenue and 18% higher profits (right in line with management's long-term plan).
That bright forecast wasn't enough to put shareholders who bought in around the September IPO back in the black, but it sparked a significant jump from yesterday's $19 per share closing price. On an adjusted basis, the stock is now valued at 29 times expected net income for the year, not exactly a huge stretch for a business that's seeing such robust sales and profit growth.
The article Chevron and Blue Buffalo Pet Products Inc. Soar as Stocks Rise originally appeared on Fool.com.
Demitrios Kalogeropoulos has no position in any stocks mentioned. The Motley Fool recommends Chevron. Try any of our Foolish newsletter services free for 30 days. We Fools may not all hold the same opinions, but we all believe that considering a diverse range of insights makes us better investors. The Motley Fool has a disclosure policy.
Copyright 1995 - 2016 The Motley Fool, LLC. All rights reserved. The Motley Fool has a disclosure policy.