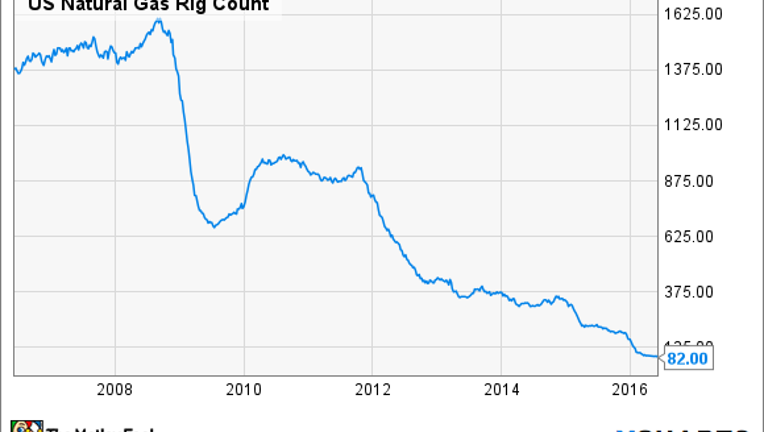 Source: Chesapeake Energy Corp
The company that was the face of the United States horizontal shale gas revolution was Chesapeake Energy . No company embraced the opportunities being presented by combining horizontal drilling with multi-stage fracturing more aggressively.
Source: Natural Gas Supply Association
The debt that was used to finance the aggressive shale land grab for the past several years has resulted inChesapeake being forced to be equally aggressive in fixing its balance sheet. A big part of doing that is a reduction in spending on drilling and completing new wells.
The news on that spending reduction front from Chesapeake's Q1 earnings release is very bullish for natural gas prices. While Chesapeake's actions are good for natural gas Range Resources is the better way to profit from that.
A major scaling back of activity
An unusually warm winter in the United States put a big dent in natural gas demand. It has also put a very big dent in the price of natural gas. What it has also done is overshadowed the fact that natural gas production growth has finally ceased and has started to decline.
Source: Range Resources
If we had experienced a normal winter heating season natural gas prices would be considerably higher and there would be some optimism about the fact that production growth had leveled off.
Instead all we have had is a big build of natural gas in storage over the winter because of the extremely low demand.
Source:EIA
The pressure on natural gas prices that this low level of demand has created has done something else. It has caused natural gas companies to dramatically curtail drilling levels. You can see that in the natural gas rig count chart below the incredible decline. From a high of 1,600 before the 2008 financial crisis the natural gas rig count chart has fallen to just 82.
US Natural Gas Rig Count data by YCharts
Chesapeake's Q1 2016 results provide very stark evidence of this. The company's total capital investments in the first quarter of 2016 were $365 million which is down from $1.5 billion in the first quarter of 2015. The tap has been almost completely shut.
Source: Chesapeake Energy Corporate Presentation
Further perspective of this can be gained by looking at some of Chesapeake's operating data (below). Note that not only are the drops from Q1 2015 enormous but the decrease in activity level between Q4 2015 and the first quarter of 2016 are also large.
| | | | |
| --- | --- | --- | --- |
| Chesapeake Energy Rig and Well Data | Q1 2015 | Q4 2015 | Q1 2016 |
| Rigs Operated | 54 | 14 | 8 |
| Gross Wells Completed (Fracked) | 261 | 85 | 57 |
| Gross Wells Spud (Started) | 244 | 66 | 41 |
| Gross Wells Connected (Put On Production) | 262 | 100 | 80 |
Source: Chesapeake Energy Q1 Earnings Release
The important thing to note is that U.S. natural gas production declined in the first quarter of 2016. The big reductions in activity that took place in the first quarter (from Q4 2015 levels) won't show up in production until the second and third quarters (there is a lag between drilling and putting a well on production).
Those production declines are going to increase.
Chesapeake has leverage to a rebound but Range is a safer bet
There is certainly a lot of leverage to natural gas prices to be had by owning shares of Chesapeake. There is also a lot risk given Chesapeake's poor balance sheet. A better option to take advantage of a natural gas rebound would be a higher quality company like Range Resources.
Range has a premier land position in the Marcellus shale in Pennsylvania, which positions the company as one of the lowest cost producers in the country. You can see in the slide below that Range has a huge amount of acreage in the areas of the Marcellus that have been shown to contain the largest amount (the deep red shading) of stacked natural gas in place.
Source: Range Resources Presentation
What makes the economics of the acreage that Range owns so compelling is that there are multiple producing formations on the same land and the wells being drilled in this section of the Marcellus come on at extremely high rates of production. This land contains opportunities in the Upper Devonian, Marcellus and Utica. The benefit of multiple formations is that investments made infrastructure can be used to develop all of the formations.
Chesapeake has some high quality acreage too, but it doesn't have the balance sheet that Range does to underpin it.
Range has no debt maturities until 2021 and its back facility is not subject to renewal until 2019. Chesapeake meanwhile has that 2017 maturity looming on its bank line. That bank facility was just unanimously reaffirmed by Range's banking group and will have its next scheduled redetermination date on May 1, 2017. Chesapeake meanwhile did not have its banking line reaffirmed until it agreed to pledge asset to fully collateralize it.
The message is clear from the banking groups of the two companies. The banks aren't comfortable lending to Chesapeake without additional collateral while Range is able to maintain operating with an unsecured bank line. While Chesapeake would have more upside if natural gas rebounds quickly, Range is operating on much more secure footing and will also do well for investors as natural gas prices improve.
The article Chesapeake Energy's Q1 Earnings Are a Bullish Sign, but Not for Chesapeake originally appeared on Fool.com.
TMFWolfpack has no position in any stocks mentioned. The Motley Fool has no position in any of the stocks mentioned. Try any of our Foolish newsletter services free for 30 days. We Fools may not all hold the same opinions, but we all believe that considering a diverse range of insights makes us better investors. The Motley Fool has a disclosure policy.
Copyright 1995 - 2016 The Motley Fool, LLC. All rights reserved. The Motley Fool has a disclosure policy.