Cheniere Energy Partners' Stock Jumped 10% in November, Here's Why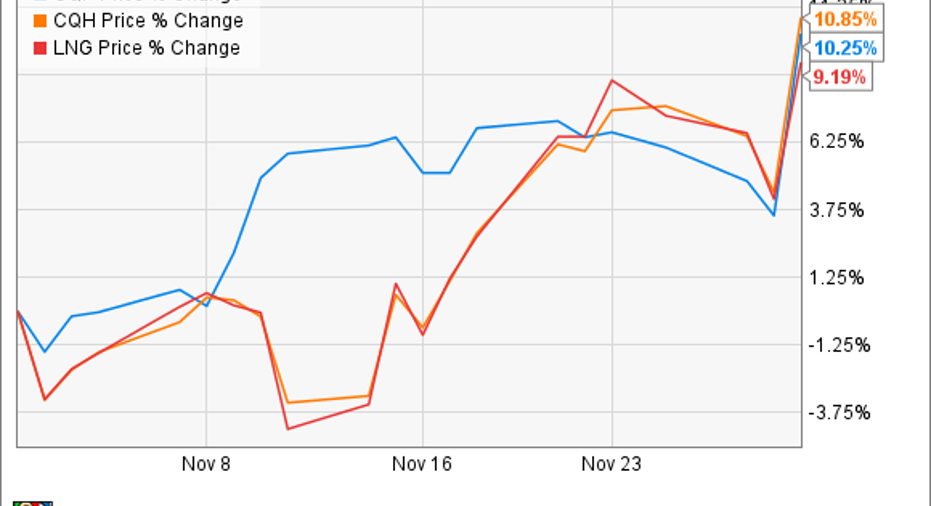 Image source: Cheniere Energy Partners annual report
What happened?
Shares of Cheniere Energy Partners (NYSEMKT: CQP) and Cheniere Energy Partners Holdings (NYSEMKT: CQH) gained more than 10% in November. The biggest news that caused the jump was the announcement that OPEC was cutting production. Shares of parent company Cheniere Energy (NYSEMKT: LNG) also saw a significant boost.
So what?
Sometimes the tide lifts all boats, and that certainly seems to be the case with Cheniere Energy Partners stock this past month. The company did post rather encouraging results at the beginning of the month that showed its Sabine Pass LNG terminal was on schedule and that it was making progress on some new initiatives. Still, the thing that seemed to get everyone excited about Cheniere's stock this past month was the announcement that OPEC was curtailing production.
Stepping back and surveying the landscape, it's hard to see why Cheniere will benefit from an OPEC oil cut unless you play the six-degrees of separation with the oil market. As a company that processes U.S. natural gas and exports it via LNG, there is actually little direct correlation between Cheniere Energy and oil prices.
One thing that you could possibly point to is that as oil prices increase, it could make natural gas a little more cost competitive in places where a large amount of electricity is generated using oil. Although crude oil and petroleum based electricity production is a relatively small player in the electricity market.
Another way that you might be able to link oil production to Cheniere is that a lot of LNG sales outside of the United States are based on prices that are indexed to the price of oil. Cheniere has the benefit of sourcing natural gas in the United States, where natural gas has its own separate trading price and is much lower than most indexed prices. As oil prices rise, so too does the price of LNG from places like Australia and the Middle East, making Cheniere's offering more attractive.
Still, this is pretty convoluted logic when you consider the business structure of Cheniere. Close to 90% of all LNG sold at its facility is sold under long term, take or pay contracts that have little commodity price risk. The customer pays 115% of the spot price of natural gas -- covers gas procurement and transportation costs -- and a fixed fee for the processing that Cheniere does.
So really the only thing that the boarder market can influence is that 10% or so of un-contracted LNG sales, which hardly seems enough to significantly move the company's stock.
Now what?
As it has been for years, investing in Cheniere Energy is an exercise in patience. The company continues to make steady progress, but it is still a long ways off from becoming the profit generating machine that investor presentations have been promising for years. Even when it does start to generate strong positive earnings, it still has a rather large debt load that needs to be paid down.
While shares of Cheniere Energy Partners will pay you for being patient -- today the stock has a distribution yield of 5.8% -- shares of Cheniere Energy do not and it is about to buy all outstanding shares of Cheniere Energy Partners Holdings in order to simplify the business.The recent change in OPEC policy doesn't really change the outlook for any of the ways to invest in Cheniere Energy, so investors shouldn't read into this too much.
10 stocks we like better than Cheniere Energy Partners When investing geniuses David and Tom Gardner have a stock tip, it can pay to listen. After all, the newsletter they have run for over a decade, Motley Fool Stock Advisor, has tripled the market.*
David and Tom just revealed what they believe are the 10 best stocks for investors to buy right now... and Cheniere Energy Partners wasn't one of them! That's right -- they think these 10 stocks are even better buys.
Click here to learn about these picks!
*Stock Advisor returns as of Nov. 7, 2016
Tyler Crowe has no position in any stocks mentioned.You can follow himat Fool.comor on Twitter@TylerCroweFool.
The Motley Fool has no position in any of the stocks mentioned. Try any of our Foolish newsletter services free for 30 days. We Fools may not all hold the same opinions, but we all believe that considering a diverse range of insights makes us better investors. The Motley Fool has a disclosure policy.