Check Out the Weird Ways Sears Holdings Wants to Save Itself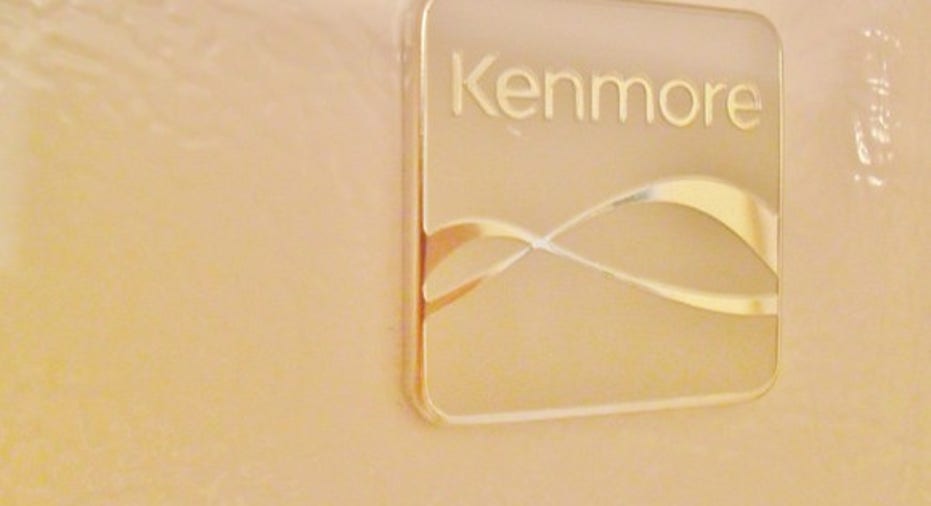 Kenmore is almost synonymous with kitchen appliances, but Sears Holdings may be stretching to think consumers will buy a TV with the brand name slapped on it. Image source: The Motley Fool.
What the heck is Sears Holdings thinking? We knew Chairman Eddie Lampert was considering how best to extract value from the retailer's remaining brands -- Kenmore, Craftsman, and DieHard -- but most of the ideas seemed to center around spinning them off, selling them, or at the very least putting them in stores other than Sears or Kmart. This new plan seems ... different.
It's true those brands do still retain a store of value, even if they've been diminished over the years because of Lampert's penchant for ignoring the nuts and bolts of his retail operation in favor of financial gimmicks, but this latest attempt to cash in on the consumer goodwill that still attaches to them looks like the result of having thrown a bunch of ideas at a whiteboard and choosing those that stuck.
What's in a name?
Sears announced it will be using brand extensions of Kenmore, Craftsman, and DieHard to infuse them with growth. By itself that's not a bad idea; many companies use brand extensions to incrementally increase revenues, but such moves really do need to be aligned with how consumers view the brand.
For example, Harley-Davidson has run with its outlaw biker reputation andproduceda series of ancillary revenue streams, such as an apparel line featuring leather jackets, shirts, jeans, and more. Its partnership with Ford to produce a limited-edition F-150 pickup truck is another example of a smart blending of two iconic American brands that complemented each other's strengths. Last year, Harley-Davidson generated $1.2 billion from parts and accessories, or 17% of the nearly $6.5 billion in sales it made in total, and that's including its financial services division.
But sometimes companies go off the rails in imagining just how far afield their brands can go. Colgate-Palmolive , for example, had a short-lived experiment in frozen dinners, but it had trouble getting consumers to think of its brand in connection with something other than toothpaste, while the maker of Bic ballpoint pens and lighters tried an underwear line. Harley-Davidson also got caught up in the moment when it offered cake decorating kits. (Nothing says "The Wild One" like exposing your inner Martha Stewart)
Sears Holdings seems to be taking cues from both groups. Soon you'll be able to buy Kenmore TVs, Craftsman internet-connected tool storage units, and DieHard Bluetooth speakers and earbuds, as well as tires. Some of these seem like good ideas; others, not so much.
Literally, the kitchen sink
Kenmore, of course, is a leading brand of appliances. From dishwashers and stoves to refrigerators and clothes dryers, the brand is synonymous with our kitchens and laundry rooms. Although the leap to the living room doesn't seem much of a stretch, it does require consumers to think about the brand in a whole new way. It also means Sears is entering a space that is thick with competition, and Kenmore isn't bringing anything new or different other than its name.
Moreover, because the Kenmore brand has fallen in the estimation of consumers over the years, this move may not bolster its reputation as hoped. More than a decade ago, Kenmore held the top spot in appliances with an estimated 27% share of the market, but under Lampert's tutelage, its share has crumbled to just 12.7%.
Better thought out brand extensions, however, include connected home products like refrigerators, washers, and dryers.
The Craftsman wifi enabled garage door opener seems more of an incremental change rather than a radical new product, and is part of Lampert's larger effort to emphasize the connected home. But people have been buying Craftsman-branded garage door openers for years, so this is akin to adding a few bells and whistles to an existing product, much like the tool storage unit that you can lock and unlock with your smartphone.
The DieHard brand extensions are the real mixed bag here. Because car batteries have an obvious affiliation with automobiles, DieHard tires seem like a good extension, and a survey of consumers about the brands they liked best found DieHard tires ranked third (even though they don't exist). Tapping into that latent demand is a smart move.
But Bluetooth speakers and earbuds don't necessarily ring any bells when it comes to the DieHard name. They're a commodity and there's nothing distinguishing about them. They're likely not going to hurt the brand, but they're not going to help either.
Head back to the whiteboard
There are definitely things Sears can do in this vein that will further enhance the reputation and sales of the various brands, and this may be a better option than spinning them off as Lampert has previously done. It would seem a little more care and thought could go into the best extensions for the products rather than just slapping the brands on every item in the connectedhouse.
The article Check Out the Weird Ways Sears Holdings Wants to Save Itself originally appeared on Fool.com.
Rich Duprey has no position in any stocks mentioned. The Motley Fool owns shares of and recommends Ford. Try any of our Foolish newsletter services free for 30 days. We Fools may not all hold the same opinions, but we all believe that considering a diverse range of insights makes us better investors. The Motley Fool has a disclosure policy.
Copyright 1995 - 2016 The Motley Fool, LLC. All rights reserved. The Motley Fool has a disclosure policy.