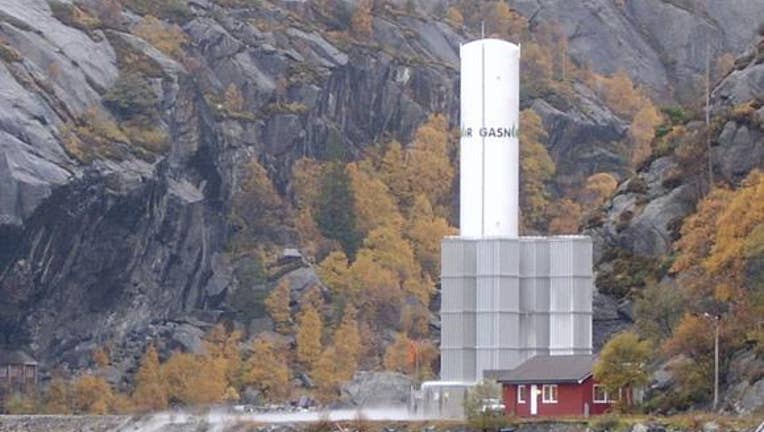 Chart expects muted energy industry demand for now, but growth in others. Source: Chart Industries.
Chart Industries, reported fourth quarter and full-year 2015 earnings on Feb. 25, and the best way to sum it up is that 2015 was a year of transition, where the company largely focused on reducing costs, and positioning itself to ride out the down cycle in several of the industries it supplies, and be ready when the market turns again.
Here's a closer look at the company's results, and what to expect going forward.
The numbersFourth quarter:
| Metric | Q4 2015 | Q4 2014 | Change |
| --- | --- | --- | --- |
| Revenue | $260.8 | $326.1 | (20%) |
| Net income | ($230.1) | $26.9 | (955.4%) |
| EPS | ($7.54) | $0.89 | (947%) |
| Adjusted EPS | $0.19 | NA | |
Revenue and net income in millions. Source: Chart Industries.
Full-year 2015:
| Metric | 2015 | 2014 | Change |
| --- | --- | --- | --- |
| Revenue | $1,040.2 | $1,192.0 | (12.7%) |
| Net income | ($203.0) | $81.9 | (347.9%) |
| EPS | ($1.49) | $2.67 | (156%) |
| Adjusted EPS | $1.25 | NA | |
Revenue and net income in millions. Source: Chart Industries.
It's worth noting that Chart's significant GAAP loss in the fourth quarter and full year was a result of $253.5 million in non-cash asset and goodwill impairment charges, not a cash loss. Those assets go all the way back to Chart's acquisition by private equity firm First Reserve in 2005, before it was taken public again in 2006, and were largely required to be carried by Chart as goodwill. Of the impairments, $184 million were in the BioMedical segment, and $69 million were in the Energy and Chemicals segment, with the balance in the Distribution and Storage segment.
And while this isn't a cash loss, it does reduce the book value of the company, since its assets are now worth $253.5 million less.
But on an adjusted basis, the company's operating business still produced solid cash flows, with positive adjusted earnings per share, and is on track to generate plenty of free cash flow in 2016, even with the expected decline in revenue.
What happened in the quarter and yearIn short, Chart's management took a number of very hard steps back to make sure the company was prepared to ride out a downturn in demand that could last several more years:
It has achieved $60 million in annualized cost reductions since late 2014.
Of that amount, 15% is sales, general, and administrative expenses.
About half of the savings are tied to cuts in its E&C segment, with the majority of Chart's 21% global workforce reduction in this segment.
It closed and consolidated several U.S. manufacturing facilities to lower costs and improve margins in the current environment.
Results by segment:
E&C revenue declined 33%, though gross margin improved 90 basis points to 32.1% because of several short-lead-time projects that result in higher profitability. Without these projects, gross margin would have been closer to 25% in the quarter.
D&S revenue declined 18%, primarily because of lower LNG sales volume in Asia and foreign currency exchange impact. However, gross margin improved in this segment as well, but in this case because of favorable product mix.
BioMedical sales were flat, with foreign exchange playing a role in reducing revenue by $2.2 million on a constant currency basis. Gross margin fell to 27% from 43.1% in the quarter, though Q4 of 2014's gross margins were inflated because of a one-time $5 million settlement related to an acquisition. Without that settlement, the comparable gross margin would have been 34.2%.
What management saidWhile energy remains an important industry for Chart, CEO Sam Thomas pointed out that it was far from the company'sonlybusiness, and that Chart's operations remains strong and cash-flow positive:
Thomas also stressed that the company's balance sheet remains strong, and that the management will be focused on making the right investments going forward:
"We have a solid balance sheet with significant liquidity, and we'll continue to pursue profitable investments, including acquisitions to add long-term value."
Chart ended the year with $124 million in cash, $216 million in low-cost long-term debt, $420 million in available debt on its revolver, and no issues with any of its debt covenants.
Looking aheadThe company is forecasting sales between $900 million and $1 billion in 2016, with adjusted earnings per share between $0.50 and $1.00 per share. CFO Michael Biehl also noted that earnings will be more weighted toward the second half of the year.
While China -- particularly demand for LNG projects -- has weakened significantly over the past year, management is relatively positive on its U.S. energy business. But as CEO Thomas pointed out, the energy industry now makes up less than half of Chart's revenues, and management expects flat to moderate growth in the other industries it serves in 2016.
Put it all together, and Chart isn't likely to blow the doors off this year, but the hard choices (like cutting 21% of your workforce and closing facilities) have been largely made, and the company is now in a better position to ride out the energy downturn, which could take a couple of years to circle back to growth in the segment that Chart supplies.
The article Chart Industries, Inc. Makes Progress in 2015, Ready to Ride Out the Downturn originally appeared on Fool.com.
Jason Hall owns shares of Chart Industries. The Motley Fool owns shares of and recommends Chart Industries. Try any of our Foolish newsletter services free for 30 days. We Fools may not all hold the same opinions, but we all believe that considering a diverse range of insights makes us better investors. The Motley Fool has a disclosure policy.
Copyright 1995 - 2016 The Motley Fool, LLC. All rights reserved. The Motley Fool has a disclosure policy.