Chart Industries, Inc. Holds Steady; Investing in Eventual Recovery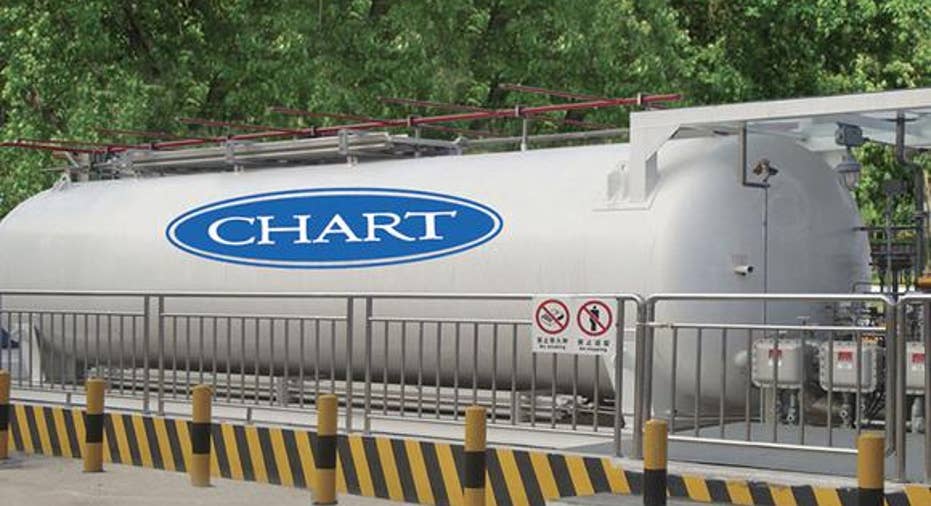 Chart is positioned to ride out the worst, and recover fast when demand picks up. Image source: Chart Industries.
Chart Industries has seen its revenues fall sharply over the past year-plus as the expectations for big demand for natural gas around the world have stalled. And while the stock has fallen sharply from its highs (though it's up more than double from January's lows), the business itself continues to hold its own.
Let's take a closer look at Chart Industries' first-quarter financial results, reported on April 28. It may not be pretty, but it's far from ugly.
The numbers
| Metric | Q1 2016 | Q1 2015 | Change |
| --- | --- | --- | --- |
| Revenue | $193.8 | $245.1 | (20.9)% |
| Net income | $(4.7) | $5.2 | (188.7)% |
| Earnings per share | $(0.15) | $0.17 | (188.2)% |
| Operating cash flow | $38.2 | $0.9 | 4144.4% |
Revenue, net income, and operating cash flow in millions. Data source: Chart Industries.
Chart Industries did report a GAAP loss in the quarter, but the company's lower operating costs, effective capital management, and timing on payments allowed it to produce positive operating cash flow in the period.
The company also saw its balance sheet hold steady over the quarter, ending with $159 million in cash and equivalents, up from $123.7 million at the start of the quarter. This largely offset a $43 million decline in accounts receivable. Inventories increased slightly, while debt and other liabilities were up about $5 million.
What happened in the quarter
Energy & Chemicals segment sales declined 57% because of the energy downturn. CEO Sam Thomas said this same trend happens every energy downturn and is followed by a robust recovery of orders when the cycle turns.
Distribution & Storage sales increased 2% thanks to strong ongoing demand in North America, despite weakness in Asia. D&S's backlog increased $33 million as well, largely on the strength of North American demand.
Biomedical sales decreased 8%, due to what has remained a weak North American respiratory sales business. New life sciences products partially offset the decline in respiratory therapy sales.
Total backlog increased to $382 million, up from $375 million at beginning of quarter. This was essentially driven by D&S demand.
The company formed Chart Lifecycle, an aftermarket service business that should drive high-margin recurring revenues. This move could add real value for the long term, helping provide better recurring revenues through all demand cycles.
What management saidCEO Sam Thomas commented on the importance of balancing short-term cost-cuts in a downturn with retaining key employees for the long-term health of the business:
Here's Thomas again, this time on the value of the company's diversity of operations and geography to support the company today while positioning it for the recovery:
Thomas also commented on the reality that it's impossible to predict exactlywhenthe energy market will recover, and how Chart's leadership approaches it:
Looking aheadManagement held firm on its guidance for $900 million to $1 billion in sales this year, and it emphasized that the first two quarters will be weaker than the second half of the year. Thomas also emphasized that he's not comfortable with their ability to accurately predict quarterly results, and that margins will be "bouncy" in coming quarters, largely because the company is committed to retaining key employees for when the market does start to recover, and this will impact profit margins in the near term.
He also said on the earnings call that the company continues to take other steps to improve its cost structure and is starting a consolidation of multiple facilities near Tulsa into a single facility as one example. Though there are no facilities lined up for closure at this time, they will reassess that strategy based on how the cycle plays out.
Management also said that operating cash flows for the full year will likely outpace GAAP profits all year, similar to what we saw this quarter, where cash flow was positive even with Chart reporting a net loss. This is a positive, since cash flows are critical to any company that's riding out a weak spell in demand.
It's also an indication that the steps management has taken to ride out the downturn are working. Investors should also approve of the move to hang onto highly skilled employees over the downturn, focusing on the long-term value they bring versus managing to quarterly expectations. As Thomas alluded to, it's impossible to know what next quarter will bring, or when the recovery will start. But it's clear that Chart's management is positioning the company to ride out the uncertainty, and to bounce back strong when demand does return.
The article Chart Industries, Inc. Holds Steady; Investing in Eventual Recovery originally appeared on Fool.com.
Jason Hall owns shares of Chart Industries. The Motley Fool owns shares of and recommends Chart Industries. Try any of our Foolish newsletter services free for 30 days. We Fools may not all hold the same opinions, but we all believe that considering a diverse range of insights makes us better investors. The Motley Fool has a disclosure policy.
Copyright 1995 - 2016 The Motley Fool, LLC. All rights reserved. The Motley Fool has a disclosure policy.