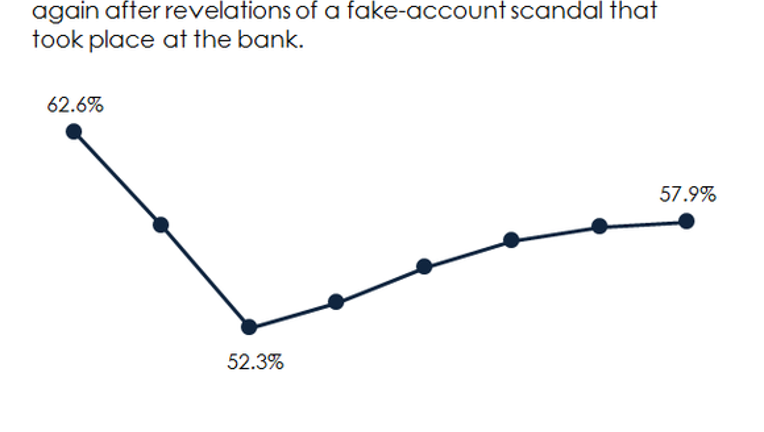 Few people would be surprised to hear that Wells Fargo's (NYSE: WFC) fake-account scandal, revealed last year by the Consumer Financial Protection Bureau, negatively impacted the bank's customer loyalty scores. What might come as surprise, however, is how quickly the downward trend reversed course.
Before the scandal came to light last September, Wells Fargo's internal estimate of customer loyalty was 62.6%. It isn't entirely clear exactly what the percentage refers to, but it's safe to say that higher is better. And, for our purposes, it's the trend in the score that matters most.
You can see the trend in the chart below. From August through October, customer loyalty waned at Wells Fargo, dropping from 62.6% down to 52.3%. That equates to a decline of more than 10 percentage points.
Data source: Wells Fargo. Chart by author.
Since bottoming out, Wells Fargo's customer loyalty score has been on the mend. By March, it was back up to 57.9%. According to this measure, Wells Fargo has already made up roughly half the distance it lost with customers in the immediate wake of the scandal.
"Wells Fargo continued to make meaningful progress in the first quarter in rebuilding trust with customers and other important stakeholders, while producing solid financial results," noted CEO Tim Sloan in prepared remarks issued with the bank's first-quarter earnings release. "We have taken significant actions throughout the company to date and we are committed to building a better bank as we move Wells Fargo forward."
Among other things, Wells Fargo has:
Parted ways with its former CEOand clawed back tens of millions of dollars of his compensation.
Paid hundreds of millions of dollars in fines and settlements related to the sales scandal.
Revealed the findings of an internal investigation of the scandal by the bank's independent board members.
And eliminated product sales goals for its retail bankers.
Image source: The Motley Fool.
The question for investors to decide is this: Will Wells Fargo emerge from its scandal as a better and stronger company, as the best types of institutions do when confronted with adversity, or rather as a less profitable shell of its former self?
Holding all else equal, it's almost certain that the scandal will cause Wells Fargo's growth rate to at least nominally drop. After all, according to its own estimates, new checking account and credit card applications are down by between a third and a half compared to before the scandal.
That doesn't impact short-term results because neither of these are revenue generators in and of themselves. However, once a bank gets a customer and cross-sells them additional financial products, they do become profitable. It's by missing out on those sales where the impact will be felt quantitatively, albeit probably by a relatively immaterial amount.
But the scandal could also cause Wells Fargo to reassess certain ways in which its culture had evolved for the worse whether that was by giving its business units too much autonomy or by refusing to entertain critical feedback, even if offered by a large number of employees. Addressing the latter could help the bank avoid similar mistakes in the future.
For current and prospective investors in Wells Fargo, in turn, it's worth pondering which of these two outcomes is the most likely.
10 stocks we like better than Wells FargoWhen investing geniuses David and Tom Gardner have a stock tip, it can pay to listen. After all, the newsletter they have run for over a decade, Motley Fool Stock Advisor, has tripled the market.*
David and Tom just revealed what they believe are the 10 best stocks for investors to buy right now... and Wells Fargo wasn't one of them! That's right -- they think these 10 stocks are even better buys.
Click here to learn about these picks!
*Stock Advisor returns as of May 1, 2017
John Maxfield owns shares of Wells Fargo. The Motley Fool has no position in any of the stocks mentioned. The Motley Fool has a disclosure policy.