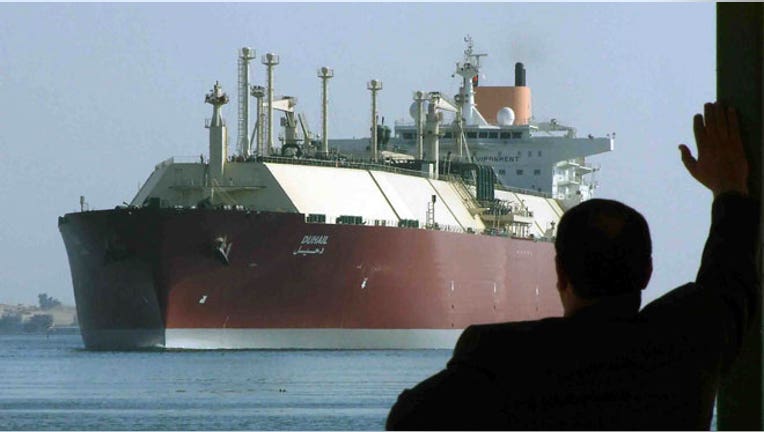 Global investors are once again setting their sights on chaos in the Middle East.
Even though Egypt is a minor player on the oil production front, the crisis-ravaged country plays a key role in the energy market because it controls two pivotal transit points: the Suez Canal and the Sumed Pipeline.
While a disruption to the free flow of oil through Egypt appears unlikely at this point, investors are clearly monitoring the latest developments in Cairo for signs the situation is spiraling any further out of control or could spread to neighboring countries.
"In addition to the human toll, the violence and political turmoil in Egypt is beginning to affect investor sentiment," Russ Koesterich, global chief investment strategist at BlackRock (NYSE:BLK), told clients in a note on Monday.
On the heels of disruptions in Libya, the Egyptian mayhem helped boost crude oil prices in six-straight sessions before cooling off this week, although gasoline prices appear to be somewhat insulated from the global-price spike.
Investors are also cognizant of the key strategic role that Egypt plays in the hot zone of the Middle East and the fallout of the latest civil strife on the country's $538 billion economy.
Key Transit Points Eyed
The nightmare scenario for the energy markets is an outright closure of the 101-mile Suez Canal, where 7% of all seaborne-traded oil and 13% of liquefied natural gas traveled through last year, according to the Energy Information Administration. A closure of the canal, which links the Mediterranean and the Red Sea, could send oil prices rising further.
Another possible negative event would be acts of sabotage along the Suez Canal or along the 200-mile Sumed pipeline, a key strategic route for oil and gas shipments to Europe and North America that has a carrying capacity of 2.5 million barrels a day, according to EIA.
""We all would like to see a good outcome in Egypt and the Middle East, but I don't think we should fear waking up one morning and seeing $4 gas."
Energy companies will also be on the lookout for acts of violence against their installations inside Egypt that could force them to pull out their employees. It's also possible that a strike by canal workers could disrupt the transit of oil.
With those concerns in mind, Stifel Nicholas downgraded Apache (NYSE:APA) to "hold" from "buy" this week due to the energy-exploration company's significant exposure to Egypt.
Worries the past two years about Egypt centered around changes to contract terms of new profit taxes, Stifel said, but the recent "pickup in civil strife" means the risk of not having enough local personnel to properly manage the assets and/or a possible disruption "cannot be ignored."
'Would Have to Get Much Worse'
While the situation in Cairo worsened last week, reports about deadly clashes have ebbed this week, lessening the chances that any of these worst-case scenarios will occur in the short term.
"You'd have to have an outright civil war for there to be major disruptions in the flow of oil," said Cedric Leighton, a former U.S. intelligence officer who was stationed in the Middle East and has helped train Egyptian military officers. "It would have to get much worse than it currently is."
Leighton said he believes there is a "very good chance the government will succeed here," but he warned "it will probably get worse before it gets better."
"You would need the Egyptian military to close the Suez Canal and they're not going to deprive Egypt of that hard currency and further antagonize the West. We think the Suez will remain open, but you do have to worry about one-off attacks," Helima Croft, senior geopolitical strategist at Barclays (NYSE:BCS), told FOX Business.
Contagion Concerns
Still, the Egyptian chaos highlights concerns about unrest spreading across the volatile and oil-rich region more generally.
"The growing violence in that country is symptomatic of the rising geopolitical instability we're seeing in much of the Middle East and North Africa," said Koesterich.
The BlackRock exec pointed to significant disruptions to oil production and exports in a number of countries in the past year, including Iran, Iraq, South Sudan, Libya, Nigeria and Syria.
"You do have to be worried about other oil-producing countries potentially destabilizing because of what's going on in Egypt," said Croft.
Oil traders have zeroed in on the situation in Libya, where strikes by oil workers have caused  a 900,000 barrel-per-day shortfall in export capacity, according to Goldman Sachs (NYSE:GS).
"The disruptions in Libyan oil supplies have lasted far longer than we initially thought with no near-term resolution in sight," Jeffrey Currie, global head of commodities research at Goldman, wrote in a note on Monday boosting the bank's oil-price forecasts. "Geopolitical risk remains high and oil demand is running above expectations."
This summer alone outages in OPEC countries like Iraq and Libya have caused about 33 million barrels of oil to be taken off the market, Goldman said.
Shale Boom Helps Insulate U.S.
Despite the Middle East turmoil and higher oil prices, American drivers have avoided painful gasoline prices, eliminating one possible headwind for the recovery U.S. economy.
According to GasBuddy, the average price of a gallon of gas fell to $3.567 in the U.S. on Tuesday, down from $3.574 a week ago and well below $3.703 a year ago.
The moderate gas prices at home are linked to the oil shale boom in the U.S., which boosted monthly crude oil production by 39% between the beginning of 2007 and the end of 2012, according to the Energy Information Administration.
Just four or five years ago, the violence in Egypt might have sent crude oil prices soaring by another $10 to $20 a barrel, energy analysts estimated.
"We all would like to see a good outcome in Egypt and the Middle East, but I don't think we should fear waking up one morning and seeing $4 gas," said Tom Kloza, chief oil analyst at GasBuddy, adding that he believes $3-a-gallon gas is more likely in the coming months than $4.
Egypt's economy, which receives about 11% of its gross domestic product from tourism, is surely licking its wounds amid the latest chaos.
"Tourism is basically dead in Egypt right now," said Leighton. "They're not going to Egypt because they see the violence on TV. The effect on the economy is huge."
The deteriorating tourism outlook threatens to exacerbate soaring unemployment, further erode foreign-exchange reserves and even incite more unrest.
"They are going to be in a world of hurt. I see that as having significant effects and could increase the unintended consequences of the unrest that is plaguing Egypt," said Leighton.