Chaos Forces Egypt to Shut Down Banks, Stock Exchange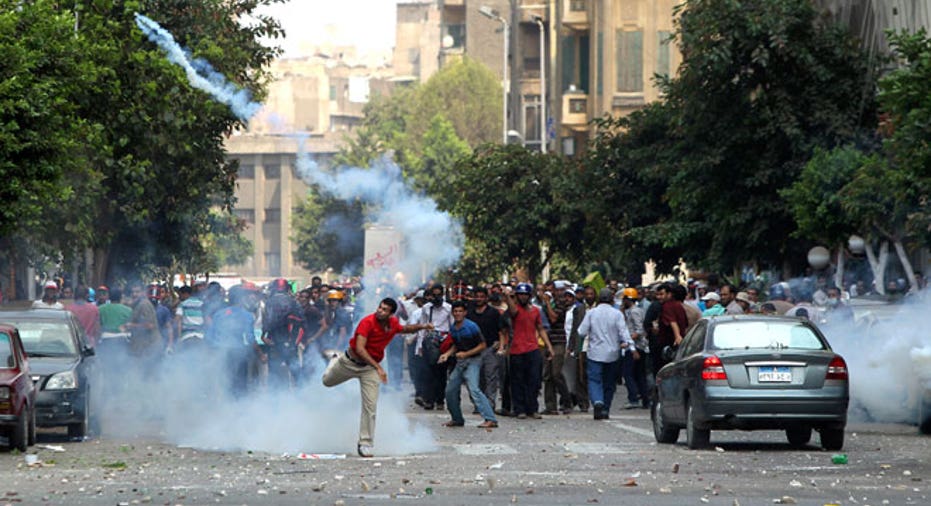 Egypt's stock exchange and banking system will reportedly be shuttered on Thursday as the tumultuous Middle Eastern country was rocked by violence that officials say has led to the deaths of more than 50 people.
The latest unrest was sparked by Egyptian troops cracking down on antigovernment sit-ins in Cairo, throwing Egypt and its $583 billion economy back into chaos just weeks after the ouster of former president Mohammed Morsi.
The Egyptian Health Ministry reported that 56 people were killed and 526 injured in nationwide clashes, according to The Associated Press.
However, the Freedom and Justice Party, the political arm of Morsi's Muslim Brotherhood, said field hospitals have recorded more than 300 deaths, according to reports.
According to Reuters, Egyptian officials have decided to shut down the country's stock exchange and banks on Thursday following the outbreak of violence.
The Egyptian EGX 30, the country's benchmark stock market index, dropped 1.70% to 5549.19 on Wednesday.
The deepening violence in Egypt threatens to further hurt the country's economy by dragging down its pivotal tourism industry and depleting its foreign-exchange reserves.
Among the dead in Egypt on Wednesday is Mick Deane, a 15-year veteran cameraman for Sky News. Deane, 61, who was covering the violence in Cairo for Sky, was shot and killed in Egypt Wednesday morning.
Tim Marshall, Sky's foreign affairs editor, called Deane "a friend, brave as a lion but what a heart…what a human being."
Sky is owned by BSkyB, which FOX Business parent 21st Century Fox (NASDAQ:FOXA) holds a 39% stake in.