Chao, lawmakers tangle over Hudson River rail tunnel project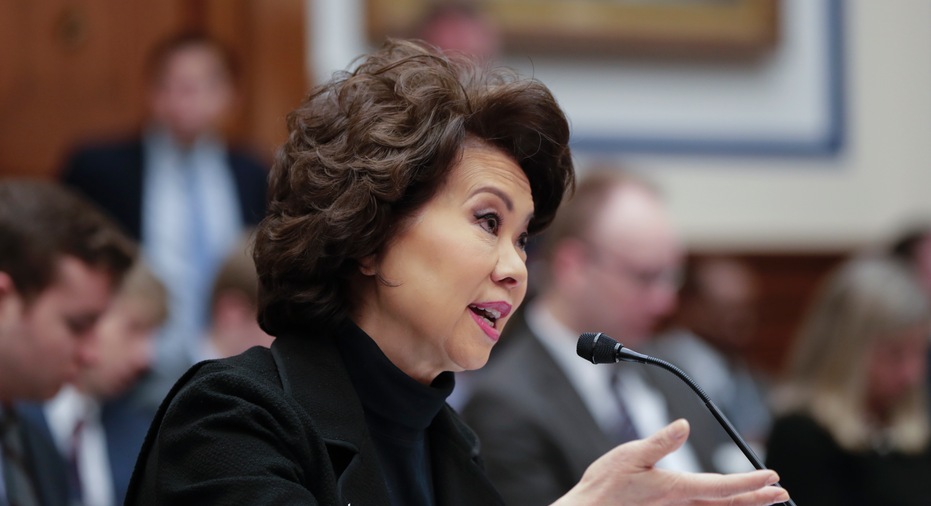 Secretary of Transportation Elaine Chao acknowledged Tuesday that President Donald Trump is maneuvering to block funding for a multi-billion-dollar railway tunnel project that's a top priority of the Senate's top Democrat.
In contentious exchanges with several lawmakers, Chao told a House committee that Trump is intervening to try to kill a pending effort to start the project. She said New York and New Jersey "have no skin in the game" and need to pony up more money to help pay for the "Gateway Project," which would build a new tunnel under the Hudson River and make other critical improvements to ease rail and transit congestion in the heavily trafficked region.
But New York Democrat Chuck Schumer, the Senate's minority leader, is firing back, saying he personally helped broker an agreement in which the two states pledged to cover 50 percent of Gateway's cost. The project has widespread backing in Trump's native New York.
"I don't think anyone should play politics with a project like this, plain and simple," Schumer told the Associated Press. "Many people in the real estate and business community in New York know how vital this is, and they've told him."
At a Capitol ceremony last week honoring the Rev. Billy Graham, Trump urged House Speaker Paul Ryan, R-Wis., to block funding for the project, GOP aides said. The Washington Post first reported the unusual Trump-Ryan exchange, and the news took Schumer by surprise.
On Tuesday, Chao cast the move as one of fairness, saying New York and New Jersey "need to step up and bear their fair share."
But Democrats and some Republicans say Trump's real motivation is to knock Schumer, who — among other battles with the president — is opposing Trump's long-sought wall along the U.S.-Mexico border. Like Gateway, the border wall is a contentious issue in ongoing talks on a $1.3 trillion catchall spending bill on which Schumer is a key negotiator.
Trump, whose home is in Manhattan, appeared to support Gateway at a friendly White House meeting last fall attended by New York Gov. Andrew Cuomo, Schumer and others.
"In the meeting he was good," Schumer said.
"The president made a commitment on Gateway. This isn't some New York project. This is the entire country and it would be really disastrous not to go ahead with it — especially if it's based on some vendetta against Chuck Schumer," said Rep. Peter King, R-N.Y.
The House has approved $900 million for the project, which is also a top priority of House Appropriations Committee Chairman Rodney Frelinghuysen, R-N.J. Schumer is also playing a strong hand in talks on the measure, but Trump's signature is required to enact it. The measure is slated for a vote later in the month.
The existing tunnel was damaged during Superstorm Sandy in 2012 and is nearing the end of its useful life. The Obama administration supported the project and the Trump team acknowledges that it is much needed.
"They are two of the richest states in the country. If they absorb all these funds there will be no other funds for the rest of the country," Chao said.
The New York and New Jersey delegations say the states are willing to put up half of the project's cost.
"Here are the facts: New York and New Jersey have agreed — because I helped get them to do it — to put up 50 percent of the funding for the project," Schumer said. "So the states have really stepped up to the plate. It's the feds who haven't."
Chao, however, says there's no documentation for such a deal. Her agency says the states have discussed ways to use other federal funding to cover the project's cost.
Sen. Susan Collins, R-Maine, chair of a key Senate panel with responsibility to fund transportation projects, says she supports putting enough money into the budget to pay for Gateway but not explicitly "earmark" the money. So-called earmarks have been banned, though Frelinghuysen found a way to do so without explicitly running afoul of the rules.
"Our approach is to avoid earmarks but fully fund accounts now that we have some additional funding and then the competitive process will go forward," Collins said.