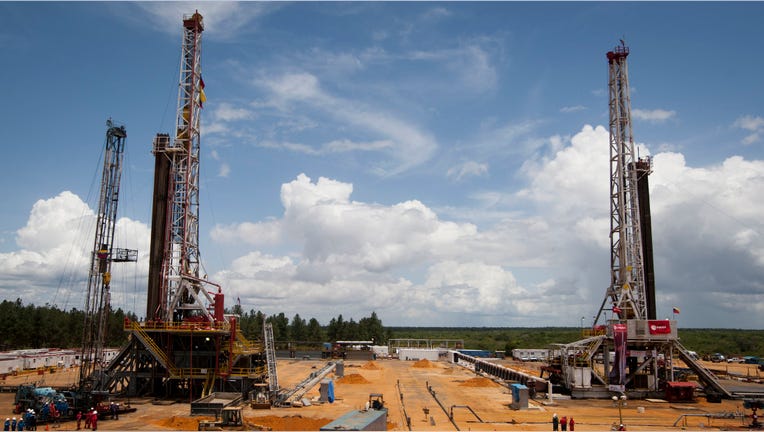 A funny thing happened on the way to the OPEC meeting.  In a pre-meeting between Saudi Arabia, Russia, Mexico and Venezuela where it was expected that the countries were on the way to finalize a deal to cut production it all somehow fell apart. The announcement that no deal was forthcoming was made by non-other Venezuelan OPEC representative Rafael Ramirez, the one that was most desperately calling for a production cut in the first place. Ramirez said that while all the countries were worried about the price, they had no agreement on a production cut. Rosneft CEO Igor Sechin said that Russia would watch price and react to market demand but for now they could withstand lower oil prices. The big question is why the change of heart. There were many signals going into this meeting that a cut was planned but perhaps the  Saudi Oil Minister Ali al-Naimi who said he expected the oil market "to stabilize itself eventually", like stabilize in the 60's or maybe 50's was persuasive enough to have the other players look at the big picture. The reason of course is that the enemy was not in that room, it is out there, shale oil, cutting off their air. The Saudi's have been against a cut and Saudi Oil Minister Ali al-Naimi said that oil producers should continue to pump oil. Besides, as Rosneft CEO Igor Sechin says that while the market is over supplied it is not critical. What is 2 million barrels a day of overproduction between friends? Yet, is this just a case of the cartel and non-OPEC members testing the market reaction to not cut. I mean while Rosneft CEO Igor Sechin talks tough and says that Russia could stand oil below $60 a barrel, Russian President Vladimir Putin is on record as saying that the oil price drop was a catastrophe. Venezuela's Ramirez warned that prices were not good for producers. Sure it is easy to talk tough now but how tough will you be if oil prices drop into the sixties?  Even Iraq's oil minister Adel Abdul-Mehdi complained that current oil prices "aren't acceptable", of course not and called for "a means should be used to raise the prices," he said. The market should laugh off any pledge to rigididly comply to existing quota's because the NON-OPEC players have no quota.  It seems that the market is not buying into the fact that this decision is final as they agreed to monitor market conditions and keep in touch if say perhaps emergency measures may need to be taken. They may need to be taken in if we get a very bearish Energy Information Administration report. The expectations are for a slight build in crude supply. Yet, if the American Petroleum Institute is any indication we might get a bearish surprise. The API report that crude supply increased by 2 .8 million barrels. Distillates dropped on the gold but gas supply rose. Demand was poor due to bad weather or perhaps because the excitement of lower gasoline prices is wearing off just a bit. So for OPEC it is not going to be over until the turkey is cooked and if they fail to please the market their goose will be cooked. Natural Gas rebounded into December Expiration! The EIA releases its report today and the average expectations could be 150 bcf. Price Links Video series gives insight across the financial spectrum. https://www.youtube.com/playlist?list=PLDq9JQANqxRxCBaHqunzBT4Frxitjw-XV
Past results are not necessarily indicative of future results. Investing in futures can involve substantial risk of loss & is not suitable for everyone. Trading foreign exchange also involves a high degree of risk. The leverage created by trading on margin can work against you as well as for you, and losses can exceed your entire investment. Before opening an account and trading, you should seek advice from your advisors as appropriate to ensure that you understand the risks and can withstand the losses.
The information and data in this report were obtained from sources considered reliable. Their accuracy or completeness is not guaranteed and the giving of the same is not to be deemed as an offer or solicitation on our part with respect to the sale or purchase of any securities or futures. The Price Futures Group, its officers, directors, employees, and brokers may in the normal course of business have positions, which may or may not agree with the opinions expressed in this report. Any decision to purchase or sell as a result of the opinions expressed in this report will be the full responsibility of the person authorizing such transaction. Reproduction and/or distribution of any portion of this report are strictly prohibited without the written permission of the author. Trading in futures contracts, options on futures contracts, and forward contracts is not suitable for all investors and involves substantial risks.