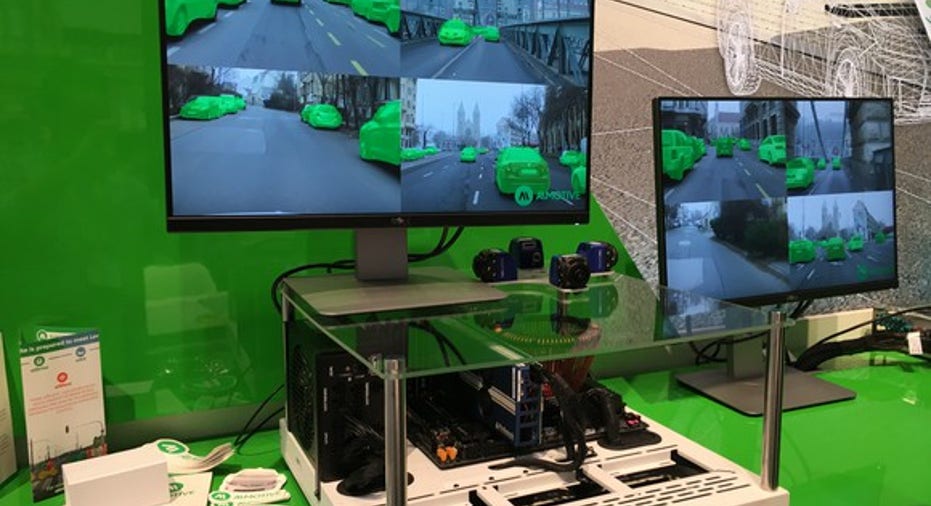 Thursday was our second day at CES 2017 in Las Vegas, NV, and our crew of Fools was back on the front lines to get a deeper understanding of the biggest trends and technologies we should be watching as investors.
Self-driving cars
NVIDIA's (NASDAQ: NVDA) keynote on Wednesday evening set the tone for CES this year, and self-driving cars have been one of the event's biggest focuses. On Thursday, we had a chance to meet with AImotive, a European start-up that is developing software to make self-driving cars a reality. Interestingly enough, NVIDIA was a seed investor in AImotive, and the two companies continue to have a relationship today. NVIDIA's bread and butter is computer hardware -- such as the supercomputers that power autonomous vehicles, big data analysis, PC gaming, and more -- while players like AImotive are focusing on the software side of the equation.
Another company making a splash in this space is Baidu (NASDAQ: BIDU), which is commonly referred to as the Google of China. Baidu is well known as a popular search engine, but it's also making a serious push into providing software for autonomous vehicles. The company formed a new division -- Baidu IV (Intelligent Vehicle) -- in Sep. 2016, which is already staffed with 150 employees, all working on Level 3 autonomous driving technology.
There are six "Levels" to autonomous driving, from Level 0 (absolutely no self-driving capability, so a human must always be in control) up through Level 5, which requires no human control at any point in the driving process. Level 3 (the focus of Baidu's new IV division) still requires some control from a human driver but enables a car to safely take over for a human in certain situations.
An interesting note: even before Baidu launched its Level 3 division in September, the company also had a Level 4 division in place. This is a clear sign that companies like Baidu are not only dreaming big but are also making incremental progress on the path to fully autonomous vehicles. CES 2016 -- which I attended last year -- brought a lot of hype surrounding self-driving cars. There is still significant excitement this year, but the trend is focusing more on these smaller, decisive steps.
Baidu has already partnered with more than 60 auto manufacturers, with its "intelligent vehicle" software being integrated into over 150 car models so far -- including both consumer and commercial models. Through its HD Map service, Baidu is the largest mapping provider for autonomous vehicles in China. This means that no company knows China's roads better than Baidu from the perspective of autonomous vehicles, which packs a powerful punch when Baidu is looking to form partnerships. Baidu partnered with NVIDIA in September to develop its software platform for autonomous vehicles. Its "Baidu Brain" software is powered by NVIDIA's hardware.
Media and eSports
Barry Diller -- the media heavyweight who currently serves as chairman of IAC/InterActiveCorp and Expedia -- had some words of caution about the movie and TV business. Due to the growing popularity of on-demand and streaming services like Netflixand Amazon, Diller says a "profound dislocation" is coming in the industry over the next five to 10 years. For example, more people are increasingly opting for commercial-free television -- paying a monthly fee to companies like Netflix, HBO, and Amazon -- rather than suffering through commercials on linear TV. This is a troubling trend for TV advertisers, says Dillard, because eventually the people who are still watching linear TV in future years won't have money to buy the goods being advertised.
Diller was particularly critical of the business of making movies in this evolving media landscape, with the notable exception of one movie studio: Disney. Put another way: In a world where movies serve as tentpoles for brands, characters, and franchises, Disney reigns supreme above all other movie studios.
eSports is another area where we are seeing media companies direct their resources. Yesterday, NVIDIA co-founder and CEO Jen-Hsun Huang said it is "very, very likely" eSports will one day become bigger than all other traditional sports combined -- we're talking football, basketball, baseball, hockey, soccer ... everything. Even established broadcasting companies like Turner Sports -- the company behind sports broadcasts on TNT, TBS, and TruTV -- are bringing eSports under their umbrella. I spoke with Christina Alejandre, Vice President of eSports at Turner Sports, who says Turner Sports is treating eSports the same way it treats any other sport.
Alejandre says the biggest misconception people have about eSports is that it is still just a lot of kids playing video games for fun in their mom's basement. In reality, eSports is a full-time job for these players, who spend 40 to 60 hours each week practicing, reviewing replays of themselves and competitors, and perfecting their craft. The main difference between eSports and traditional sports is the technical issues that can arise with eSports -- such as a computer server going down in the middle of a tournament -- but they are otherwise approached in a very similar manner by players, fans, and broadcasters alike.
Alejandre says the games that resonate most with audiences are the ones that are simple and straightforward. She used Counter-Strike as an example, a shooter game where the competition is made up of two teams of five. The first team to annihilate the other team wins. Simple, straightforward, and easy to follow.
As for what investors should be watching for over the next several years, Alejandre says we should pay attention to non-endemic sponsorships. If you are like me, you have no idea what that means at first mention. Let me explain non-endemic sponsorships are and why they're important. "Endemic" sponsors are the group of advertisers directly connected to a sport. In the case of basketball, for instance, endemic sponsors would include Nike, Under Armour (NYSE: UA) (NYSE: UAA), Spalding, and so forth. "Non-endemic" sponsors would be outside advertisers that aren't at all connected to the sport, such as Home Depotor McDonald's.
Alejandre says these non-endemic sponsors are just starting to come on the eSports scene. As more non-endemic sponsors allocate their advertising dollars to eSports, Alejandre expects that to uplift the entire eSports ecosystem. This makes non-endemic sponsors a useful tool for investors to measure the rise of eSports.
Embracing the connected world
In a world where more devices are getting connected to the internet, Skyworks Solutions (NASDAQ: SWKS) is a key provider of the technology that enables that connectivity. I spoke with Skyworks' CEO Liam Griffin, who explained that what Skyworks does best is craft individual solutions for each of its customers. In other words, Skyworks builds customized hardware solutions for its customers -- something that can only be done if the company forms close and long-standing relationships. This gives the company a competitive advantage that can't be easily replicated by its peers and helps explain its strong (and improving) margins and cash flow production, despite operating in the competitive semiconductor industry.
The bulk of Skyworks' revenue has long come from smartphones, but its "broad markets" segment now accounts for about 25% of total sales. This includes everything from connectivity solutions in autonomous vehicles, the Internet of Things, headsets, WiFi routers, and more.
As consumer demand for faster and more reliable data continues to increase, don't be surprised if you hear more about 5G in the years ahead. Griffin explained that 5G connectivity will vastly expand the data pipe (meaning higher data speeds and less lag time) and expects 5G solutions to account for 20% or more of the company's overall revenue within the next three to five years.
Under Armour
We also stopped by Under Armour's booth on Thursday to find any clues for what might be coming in the company's keynote presentation on Friday. The company is plugging its ecosystem of connected fitness apps and apparel (especially its shoes with sensors built in), as well as a new line of sleepwear that is supposed to help people sleep better. This sleepwear line is backed by Under Armour athlete Tom Brady, and we saw another Under Armour athlete -- Bryce Harper -- swing by to talk about the importance of rest and sleep, among other things.
We're excited to see if Under Armour's keynote tomorrow can match -- or top -- NVIDIA's presentation and slew of announcements. Maybe Under Armour founder and CEO Kevin Plank will unveil new products, or perhaps offer more details on the company's vision with wearable technology and connected fitness. But if fancy PJs are the extent of the company's announcements, I'll be more than disappointed. Don't let us down, Under Armour!
Foolish bottom line
And thus wraps up another packed day for us at CES. We have more interviews and presentations lined up for Friday, and you can bet we'll be on the ground learning and reporting our findings back to you. Thank you for following along with us thus far -- the Fool crew is just getting started!
David Kretzmann owns shares of Amazon.com, Baidu, Home Depot, Netflix, Nike, Skyworks Solutions, Under Armour (A Shares), Under Armour (C Shares), and Walt Disney. The Motley Fool owns shares of and recommends Amazon.com, Baidu, Netflix, Nike, Nvidia, Skyworks Solutions, Under Armour (A Shares), Under Armour (C Shares), and Walt Disney. The Motley Fool has the following options: short January 2017 $75 calls on Skyworks Solutions. The Motley Fool recommends Home Depot. The Motley Fool has a disclosure policy.