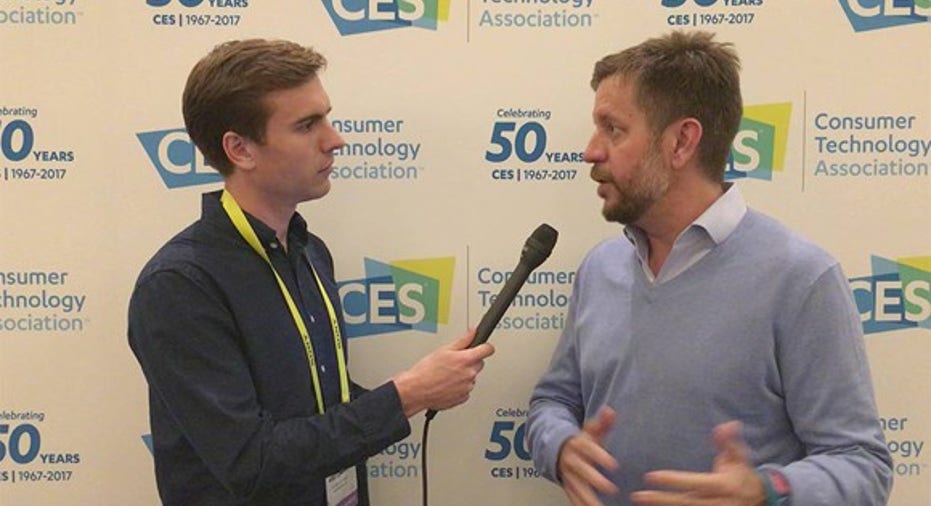 Friday was the third and final day of CES 2017 for us at The Motley Fool. We have been on the front lines talking to CEOs, engineers, and other industry experts to gain insights that investors can use to reap rewards over the long-term. We continued those explorations today -- featuring, among other things, a wrap-up keynote from Under Armour(NYSE: UA) (NYSE: UAA)CEO Kevin Plank -- and didn't leave disappointed.
The Internet of Things
As expected, the Internet of Things (IoT) was on everyone's minds here at CES. Businesses are looking for ways to connect more devices to the internet in an effort to help people automate and enhance various daily tasks. Gartner estimates that the number of connected "things" will grow from 6.4 billion in 2016 to nearly 21 billion by 2020. As investors, the exciting part is identifying which companies are likely to lead the pack in enabling the number of connected devices to more than triple over the next several years.
One of the businesses supporting this growing wave of mobile connectivity is Skyworks Solutions. Another company blurring the lines between hardware and software to create a back-end technology platform for IoT is NXP Semiconductors(NASDAQ: NXPI). NXP's platform powers the voice activation of a wide array of devices, including the Amazon Echo. Like other semiconductor businesses, NXP is also making inroads into developing the computers and sensors necessary for autonomous vehicles.
In October, it was announced that Qualcomm (NASDAQ: QCOM) plans to acquire NXP for the cool sum of $39 billion. Qualcomm set the standards for mobile communication with 3G and 4G data speeds, and acquiring NXP would diversify Qualcomm into other areas like automotive, mobile payments (through NXP's near field communications, or NFC, technology), security, and more. Qualcomm made waves of its own at CES, particularly by sharing its vision for the next stage of mobile communication with 5G -- meaning far faster data speeds and much slower lag times (or latency) -- and what it means for the IoT. As reported by CNET:
"5G will have an impact similar to the introduction of electricity or the automobile, affecting entire economies and benefiting entire societies," says Qualcomm CEO Stephen Mollenkopf. This shift toward 5G won't happen overnight -- the infrastructure still needs to be developed and put into place -- but large players like Qualcomm and Intelare both testing the waters with 5G technology starting later this year. In our conversation yesterday with Liam Griffin, CEO of Skyworks Solutions, he says he expects 5G solutions to make up 20% or more of the company's total revenue within the next three to five years.
As more devices come online and cars increasingly become computers or robots with four wheels, the behind-the-scenes companies mentioned here are among the ones investors should watch closely to get a sense for how the IoT is taking shape.
Bringing education online
Innovation can happen in unexpected places, and when it does, we want to be ready as investors. The traditional model of higher education could be one of those spaces slated for some major changes in the coming years. I spoke with Chip Paucek, co-founder and CEO of 2U (NASDAQ: TWOU), which partners with top universities to build quality online degree programs.
When you think of online college education, says Paucek, most people think of University of Phoenix, not Yale. 2U, however, is working with top universities like UC Berkeley, UNC Chapel Hill, and yes, Yale, to bring their curriculums online. This means that students can still get a quality education from a reputable university without having to uproot their lives. It's an attractive proposition for universities: 2U provides funding to get the program going and the online platform itself, and universities can admit more students online than they would otherwise have in their classes.
Paucek says the sleeping giants of higher education are awake, with more and more nonprofit schools coming online. UNC Chapel Hill's MBA program alone has over 1,000 students going through its courses via the web. 2U's model is attractive, because it aligns its success with both the universities and the students. The company signs a 10-year contract to share student tuition with the university, so 2U only succeeds if students successfully complete their online degrees. When students drop out, 2U takes a financial hit.
When 2U went public three years ago, it was adding new programs at a pace of about four per year. Today, the company is on pace to add 10 new programs each year. Paucek says 2U investors should pay close attention to the new universities it brings into its portfolio, since that is the main growth catalyst for the company in the coming years. Innovation can happen in hidden places, and 2U is a prime example of a young company bringing an innovative new approach to a long-established industry.
Under Armour
Kevin Plank, founder and CEO of Under Armour, was greeted on Friday with high expectations for his keynote presentation. It might seem strange for what is supposedly an apparel and shoes company to be giving a keynote at a tech conference, but Plank made the case that Under Armour is -- and always has been -- a technology company. "We are not just a logo slapped on a shirt or shoe," says Plank.
Plank is one of the most competitive business leaders in the world today, and he has his eyes set on Under Armour surpassing Nike as the leading athletic brand in the world. That's no small order: Nike generated $33.5 billion in revenue over the past four quarters, compared to $4.7 billion for Under Armour. Plank used a colorful metaphor to distinguish his competitive spirit. To create fire, says Plank, some people rub sticks and others hit rocks to try to create sparks. Plank says he lights a match and dumps 100 gallons of kerosene on it.
One way Under Armour is working to change how apparel is designed and manufactured is through its local-to-local manufacturing initiative, where the company aims to manufacture apparel in the respective countries in which it is sold (Brazilian goods will be manufactured in Brazil, U.S. goods in the U.S., and so forth). Up until now, says Plank, apparel and shoes have been manufactured the same way for 80 or 100 years. Plank calls that "criminal". Under Armour's new 70,000 square foot Lighthouse -- an innovation and design lab of sorts based out of its Baltimore HQ -- is one of the company's early steps to shift to the local-to-local model.
Under Armour has taken big steps into the connected fitness space over the past several years. The company collectively spent $710 million acquiring three different fitness and nutrition apps (MyFitnessPal, Endomondo, and MapMyFitness). Plank made it clear that Under Armour's platform will remain hardware agnostic, meaning the apps can be used on an Apple Watch, a FitBit, or any other device. Except in certain instances where hardware can be integrated into its apparel and shoes, Plank says Under Armour plans to stay out of the hardware game.
What these three apps -- which collectively have more than 194 million registered users with nearly 100,000 new users joining each day -- do very well is collect massive amounts of data. Whether users are logging the meals they eat, runs they take, or other fitness and wellness preferences and habits, Under Armour is gaining direct insights into the behavior and preferences of its customers. Plank showed the crowd an example of "user heat maps" in four major worldwide cities, where Under Armour can segment out different users based on whether they are walking, running, or using a bicycle. More than anything else, Under Armour's push into connected fitness is a way for the company to gather more data and better understand the needs and habits of its users -- and hopefully sell more apparel and shoes as a result.
Plank says Under Armour strives to solve problems that people never knew they had. One of these oft-overlooked problems, according to Under Armour, is getting ample time for rest, sleep, and recovery. Plank announced a new line of Under Armour connected fitness sneakers which are equipped with UA Record -- an app that brings together all of Under Armour's connected fitness tools. Not only do these shoes automatically track data for athletes, but coming in February, Under Armour is launching a new feature where athletes can go through tests with the shoes to determine how hard (or not) they can/should push their body for that workout. Olympian swimmer Michael Phelps joined Plank on stage to showcase this new feature and explained how this data is vital for helping athletes both rest and perform better.
Plank then dug deeper into explaining the important role that sound sleep plays in maximizing performance, whether as an athlete or throughout life. Like exercise and sleep, explained Plank, sleep also needs a strategy. Arianna Huffington, founder of the Huffington Post and author of The Sleep Revolution, joined Plank to expand on an exciting new partnership with Under Armour. The company also connected with John Hopkins medical scientists to study and unlock the science of sleep, leading to a new product line of sleepwear (backed by Under Armour athlete Tom Brady) packed with technology that is supposed to lead to a better night's rest.
It remains to be seen whether Under Armour's new PJs are indeed a product we didn't even know we needed or if this is a case of the company pushing its luck with its brand power. This move into sleepwear makes sense to me, because Under Armour is now able to capture a wide array of data on people's sleeping patterns and habits and should be able to see whether certain products help improve the quality of sleep and subsequent performance.
In any case, this goes to show the power at Under Armour's fingertips as it looks to do to the connected fitness category what Facebookdid for social, Amazon did for online retail, and LinkedIn did for job search. Data is a powerful tool, and Under Armour just might be getting the data it needs to maintain its impressive growth trajectory in the years to come.
Foolish bottom line
And with that, our time at CES 2017 is a wrap. I hope you have found these reports useful and come away from our reports with a better sense of what trends, companies, and technologies to watch in the months and years ahead.
Thank you for following along with us!
10 stocks we like better than Under Armour When investing geniuses David and Tom Gardner have a stock tip, it can pay to listen. After all, the newsletter they have run for over a decade, Motley Fool Stock Advisor, has tripled the market.*
David and Tom just revealed what they believe are the 10 best stocks for investors to buy right now... and Under Armour (C Shares) wasn't one of them! That's right -- they think these 10 stocks are even better buys.
Click here to learn about these picks!
*Stock Advisor returns as of January 4, 2017
Teresa Kersten is an employee of LinkedIn and is a member of The Motley Fool's Board of Directors. LinkedIn is owned by Microsoft. David Kretzmann owns shares of Amazon.com, Facebook, Nike, NXP Semiconductors, Skyworks Solutions, Under Armour (A Shares), and Under Armour (C Shares). The Motley Fool owns shares of and recommends Amazon.com, Apple, Facebook, Fitbit, Gartner, Nike, Qualcomm, Skyworks Solutions, Under Armour (A Shares), and Under Armour (C Shares). The Motley Fool owns shares of LinkedIn and has the following options: long January 2018 $90 calls on Apple, short January 2018 $95 calls on Apple, and short January 2017 $75 calls on Skyworks Solutions. The Motley Fool recommends 2U, Intel, and NXP Semiconductors. The Motley Fool has a disclosure policy.