Cerner Corporation Meets Expectations in Q4 Despite Lower System Sales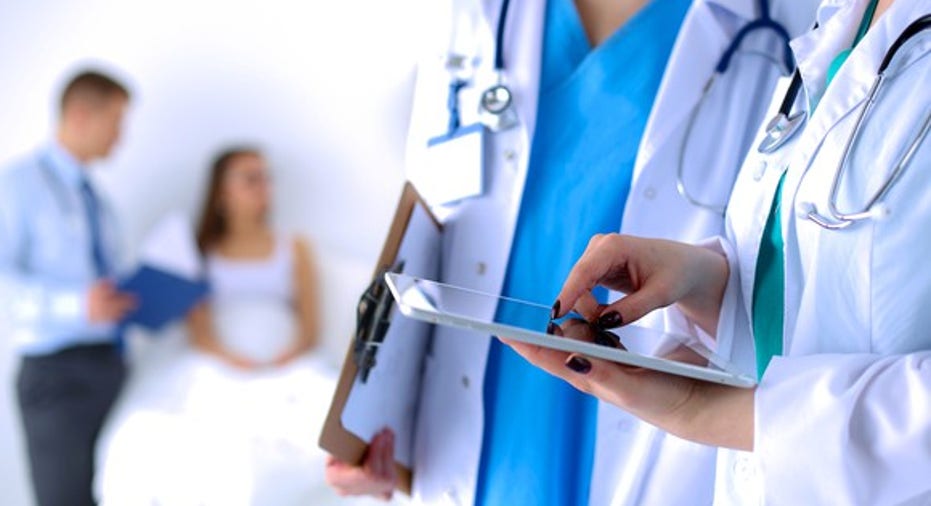 Weak system sales hurt Cerner Corporation (NASDAQ: CERN) when the healthcare technology company reported its third-quarter results three months ago. The company missed its guidance, causing shares to drop.
Cerner announced its fourth-quarter and full-year 2016 results after the market closed on Thursday. System sales didn't improve, but the company received help from other sources. Here are the highlights from Cerner's update.
Image source: Getty Images.
Cerner results: The raw numbers
| Metric | Q4 2016 | Q4 2015 | Year-Over-Year Change |
| --- | --- | --- | --- |
| Sales | $1.3 billion | $1.2 billion | 7% |
| Net income from continuing operations | $149.7 million | $166.1 million | (9.9%) |
| Adjusted EPS | $0.61 | $0.61 | 0% |
Data Source: Cerner.
What happened with Cerner this quarter?
Cerner's guidance provided in November called for fourth-quarter revenue between $1.225 billion and $1.300 billion. The company hit the upper end of that range. Cerner also projected adjusted earnings per share (EPS) of $0.60 to $0.62 in the fourth quarter. The actual result came in right at the midpoint.
As was the case in the third quarter, Cerner's systems sales dropped significantly from the prior-year period. The company reported fourth-quarter systems sales of $352 million, down nearly 8% year over year.
However, Cerner more than offset that decline with its support, maintenance, and services. Revenue from these areas increased 13.5% year over year, to $880 million.
Cerner's GAAP (generally accepted accounting principles) earnings fell in the fourth quarter, though, because of higher operating expenses. One big driver of this higher spending was the company's sales and client services expenses, which climbed to $537 million -- up almost 10% from the prior-year period. Cerner's general and administrative costs soared nearly 33% year over year, to $125 million.
The company reported full-year 2016 revenue of $4.8 billion, an 8% increase from the prior year. Adjusted earnings per share for the year were $2.30, up 9% from 2015.
What management had to say
Cerner president Zane Burke said, "I am pleased with our results in the fourth quarter, with all of our key metrics in our expected ranges." He added, "Our results included particular strength in new client wins, and we enter 2017 with a strong competitive position, a significant pipeline, and a solid growth outlook."
Looking forward
Cerner expects 2017 first-quarter revenue will be between$1.200 billion and $1.275 billion. That's down from the fourth quarter of 2016, but it reflects a year-over-year increase of 8.6%. First-quarter adjusted earnings per share are projected to bebetween$0.57 and $0.59. This guidance is also lower than the fourth quarter of 2016, but it is in line with consensus estimates.
For full-year 2017, Cerner thinks revenue will be between$5.100 billion and $5.300 billion. The midpoint of this range represents an 8% increase from 2016.
This guidance doesn't reflect the larger picture for Cerner's future prospects. The company reported a backlog in the fourth quarter totaling$15.927 billion. This backlog is 12% higher than the prior-year period. Because Cerner's systems can take a long time to implement, though, the company won't see that amount of revenue in 2017.
The gravy-train days when hospitals and physicians scrambled to implement electronic health-record systems to obtain federal incentives are over. Cerner's results in 2016 and its guidance for 2017 reflect this reality.
However, the company has a strong market position and can rely on recurring revenues from maintenance fees. Cerner appears to be in solid shape to navigate the changes in the healthcare landscape.
10 stocks we like better than CernerWhen investing geniuses David and Tom Gardner have a stock tip, it can pay to listen. After all, the newsletter they have run for over a decade, Motley Fool Stock Advisor, has tripled the market.*
David and Tom just revealed what they believe are the 10 best stocks for investors to buy right now... and Cerner wasn't one of them! That's right -- they think these 10 stocks are even better buys.
Click here to learn about these picks!
*Stock Advisor returns as of February 6, 2017
Keith Speights has no position in any stocks mentioned. The Motley Fool recommends Cerner. The Motley Fool has a disclosure policy.