CenturyLink Has Its Head in the Clouds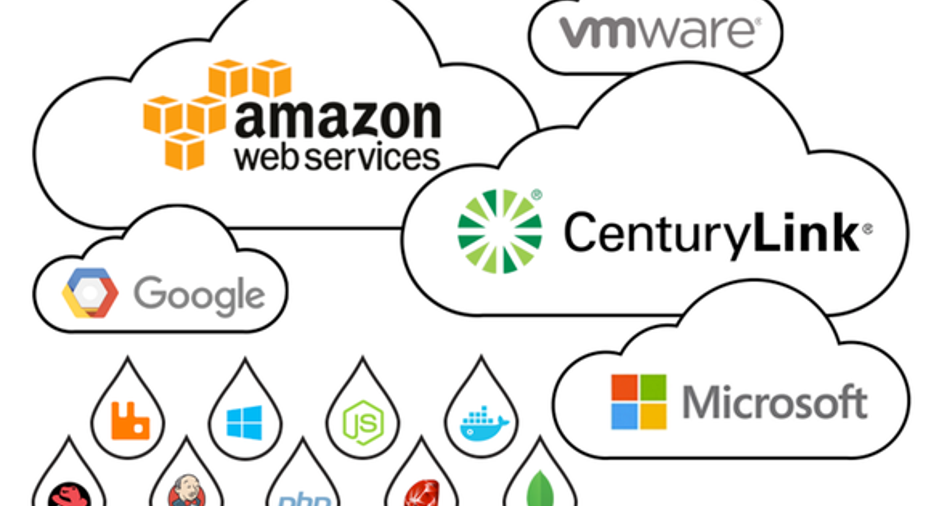 If there's one thing that's certain in the world of technology, it's change. And so it goes for telecommunications giantCenturyLink (NYSE: CTL), which continues to foster its strategic revenue streams to offset declines in its legacy businesses.
Of course, CenturyLink also has its hands full ensuring its impending acquisition of Level 3 Communications (NYSE: LVLT) closes as planned later this year. But in the meantime, one intriguing strategic growth opportunity for CenturyLink lies with its budding status as an IT services and enterprise cloud solutions provider.
To that end, CenturyLink recently launched its new Cloud Application Manager, a "cloud-agnostic management platform" designed to simplify enterprise customers' deployment of workloads, managed services, and third-party cloud resources across hybrid hosting environments.
CenturyLink's Cloud Application manager helps automate and manage multiple clouds from a single interface. Image source: CenturyLink
One cloud platform to rule them all...
According to David Shacochis,CenturyLink VP of Hybrid IT product management:
Better yet,CenturyLink is offering customers the flexibility to use Cloud Application Manager through either a self-service model with their own IT staff, or as one actively managed by CenturyLink's team. Cloud Application Manager also comes in either a cloud-based software-as-a-service (SaaS) version, or in a "data center version" with a virtual appliance that runs on-premises in the customer's data center.
If all of this sounds familiar, it's likely because Cloud Application Manager leveraged CenturyLink's $20 millionacquisition of multi-cloud platform specialistElasticBox this past June. At the time, CenturyLink CTO Aamir Hussain noted their acquiree's compelling platform supported over a dozen different cloud providers, including Amazon Web Services, IBM's SoftLayer, Microsoft Azure, and VMware, as well as Google Compute Engine, OpenStack, and of course CenturyLink Cloud.
As Hussain further elaborated, ElasticBox's platform freed "businesses to focus on issues that are central to their organization rather than spending time and resources managing multiple clouds."
Better days ahead?
So what does this mean for CenturyLink's business? For perspective, during CenturyLink's quarterly conference call last month, management explained that lower-than-expected managed hosting and IT services revenue was one culprit for the company arriving near the low end of its fourth-quarter 2016 guidance.
To be fair, the bulk of the blame still sat with slower growth in both CenturyLink's consumer broadband and consumer video revenue. But those obviously troublesome segments come with their own challenges. And any relative success CenturyLink can garner through current and forthcoming products like Cloud Application Manager could serve to not only drive incremental revenue themselves, but also afford the company a perfect segue into CenturyLink's other complementary IT consulting and managed services solutions.
Prior to Cloud Application Manager's formal launch, for example, CenturyLink had already launched other new and expanded solutions in recent months spanning managed security services, Managed SAP and HANA, enterprise cloud and managed big data, and Big Data-as-a-Service products. CenturyLink CEO Glen Post insisted they "have all been very well received by industry analysts and are beginning to show good traction with our customers."
In the end, then, I think investors would do well to keep a close eye on any similar signs of early traction for CenturyLink's Cloud Application Manager when the company next reports quarterly results in early May. If it proves successful, it could mean better days ahead for patient CenturyLink shareholders.
10 stocks we like better than CenturyLinkWhen investing geniuses David and Tom Gardner have a stock tip, it can pay to listen. After all, the newsletter they have run for over a decade, Motley Fool Stock Advisor, has tripled the market.*
David and Tom just revealed what they believe are the 10 best stocks for investors to buy right now... and CenturyLink wasn't one of them! That's right -- they think these 10 stocks are even better buys.
Click here to learn about these picks!
*Stock Advisor returns as of February 6, 2017
Teresa Kersten is an employee of LinkedIn and is a member of The Motley Fool's board of directors. LinkedIn is owned by Microsoft. Steve Symington has no position in any stocks mentioned. The Motley Fool owns shares of and recommends Amazon. The Motley Fool recommends VMware. The Motley Fool has a disclosure policy.