Central Bank Action Outweighs Economic Woes; Futures Jump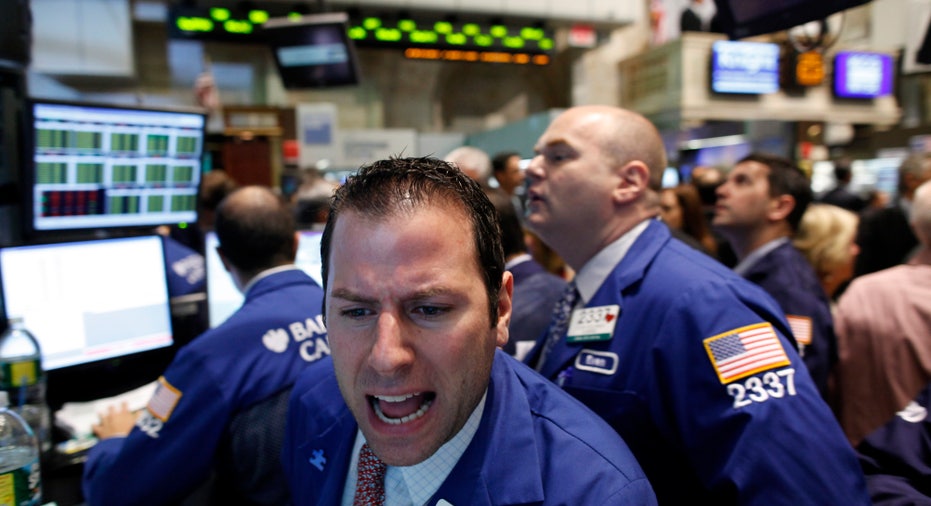 FOX Business: The Power to Prosper
Traders shrugged off another round of weak economic data after the European Central Bank, in conjunction with several major global central banks, revealed it would take additional measures to relieve the strain on euro zone banks resulting from the euro zone debt crisis.
Today's Markets
As of 9:22 a.m. ET, Dow Jones Industrial Average futures 99 points to 11,273, S&P 500 futures gained 12.8 points to 1,195 and Nasdaq 100 futures rose 25.5 points to 2,272.
The European Central Bank, along with the U.S. Federal Reserve and other major central banks, is going to roll out three new liquidity operations between October and December aimed at helping euro zone banks secure funding amid the regional sovereign debt crisis.
"This event is an attempt to prevent a run on some European banks in terms of funding, especially dollar based funding," said Peter Boockvar, managing director at Miller Tabak + Co., wrote in a note to clients.
Lending between banks, key to supporting the financial system, has lessened considerably, according to various metrics, because of worries about the banks' exposure to sovereign debt. French banking stocks, which had been hit particularly hard because of these worries soared on the news.  Indeed, BNP Paribas skyrocketed 22%.
The American economy is expected to come squarely into focus on Thursday morning, as market participants will receive several important data points.
The labor market has been one of the weakest components of the broader economy as unemployment has remained stuck above 9%, and the jobs market essentially stalled last month. Creating employment in America has also become a major political flashpoint in Washington, with President Barack Obama unveiling a sweeping job-creation proposal last week.
New claims for unemployment benefits rose last week to 428,000 from 417,000 the week prior. Economists had expected a drop to 410,000. Weekly jobless claims are forecast to have fallen slightly to 410,000 from 414,000 in the prior week. The number of individuals filing for first-time unemployment benefits has been hovering about the 400,000-level for weeks, which has added to worries about the jobs market:
Prices at the consumer level climbed 0.4% last month, a bigger gain than the 0.2% economists anticipated.  Excluding the more volatile food and energy components, prices were up 0.2%, which was in line with expectations. Monetary policymakers watch the inflation situation closely, as expansionary policy such as the Federal Reserve has embarked on often increases the chances of boosting the rate of inflation.
The New York Federal Reserve's gauge of manufacturing activity fell slightly to -8.8 this month from -7.7 in August -- a weaker reading than the -4 economists forecast. Readings below 0 point to contraction while those above 0 point to expansion.
Later in the morning, the markets are expected to get the more closely-followed Philadelphia Federal Reserve report, which is also expected to show contraction in the manufacturing sector there as well.
The markets have been driven sharply higher and lower by developments on Europe's sovereign debt crisis in recent days.  Indeed, the blue chips traded in a nearly 400-point range on Wednesday as traders reacted to a constant flow of headlines.  However, hopes that Europe would be able to keep the crisis under control pushed the Dow higher by 141 points by the end of the trading session.
On the corporate front, UBS (NYSE:UBS) said a rogue trader will cost the company $2 billion, resulting from unauthorized trades. Shares of the Swiss banking giant were down sharply in pre-market trading.
Energy markets were in the green tracking a weaker dollar and hopes Greece will be able to avert a default on its debt.  Light, sweet crude climbed 58 cents, or 0.64%, to $89.47 a barrel.  Wholesale RBOB gasoline rose 4 cents, or 1.5%, to $2.77 a gallon.
As equity markets have rallied, traders have fled safe-haven assets. Gold tumbled $20.20, or 1.1%, to $1,806 a troy ounce. The yield on the benchmark 10-year Treasury note climbed to 2.05%.
Foreign Markets
The English FTSE 100 jumped 2% to 5,329 and the German DAX soared 2.4% to 5,468.
In Asia, the Japanese Nikkei 225 gained 1.8% to 8,669 and the Chinese Hang Seng rose 0.71% to 19,182.