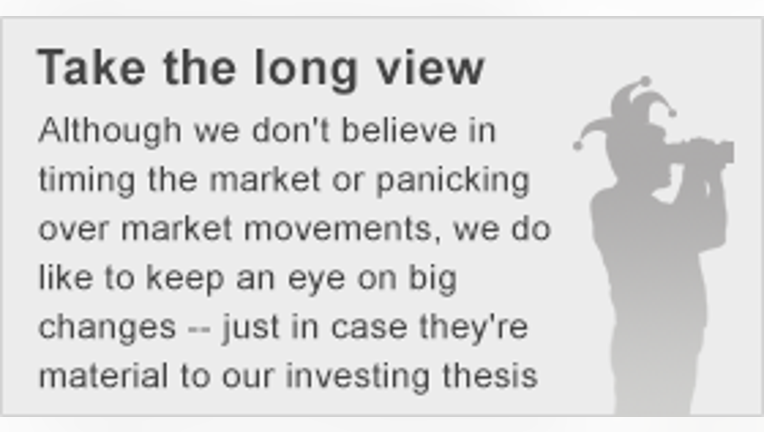 Source: Wikimedia
What: Shares of the clinical-stage biotech Celldex Therapeutics are getting hammered Monday due to the failure of its late-stage brain cancer vaccine Rintega. Specifically, the drugmaker's shares immediately dropped by more than 50% in premarket trading after the company announced that a preplanned interim analysis showed that the vaccine will not reach statistical significance in terms of improving overall survival in newly diagnosedEGFRvIII-positive glioblastoma patients.
So what: This form of brain cancer has proven to be particularly difficult to treat. Yet, Celldex looked like it was onto something special with Rintega after the vaccine did significantly improve overall survival in the second-line setting in a midstage trial. As this experimental vaccine failed to outperform the control arm in this pivotal-stage trial, however, the company has decided to cease its development for newly diagnosedEGFRvIII-positive glioblastoma patients.
Now what: The good news is that Celldex does have other clinical assets to fall back on. For example, Celldex's antibody-drug conjugate, glembatumumab vedotin, is presently in an ongoing trial as a potential treatment for triple-negative breast cancer. The biotech's human monoclonalagonist antibody,varlilumab, is also being assessed as a potential therapy for a host of solid tumor indications -- including some studies pairing the drug withBristol-Myers Squibb's breakthrough checkpoint inhibitor Opdivo.
So, while this clinical update for Rintega is certainly disappointing, Celldex does have the firepower to eventually bounce back from this setback.
The article Celldex Therapeutics' Stock Is Getting Crushed Today -- Here's Why originally appeared on Fool.com.
George Budwell has no position in any stocks mentioned. The Motley Fool recommends Celldex Therapeutics. Try any of our Foolish newsletter services free for 30 days. We Fools may not all hold the same opinions, but we all believe that considering a diverse range of insights makes us better investors. The Motley Fool has a disclosure policy.
Copyright 1995 - 2016 The Motley Fool, LLC. All rights reserved. The Motley Fool has a disclosure policy.