Celgene Corporation Short-Term, Long-Term Guidance Up. Medium-Term? Not So Much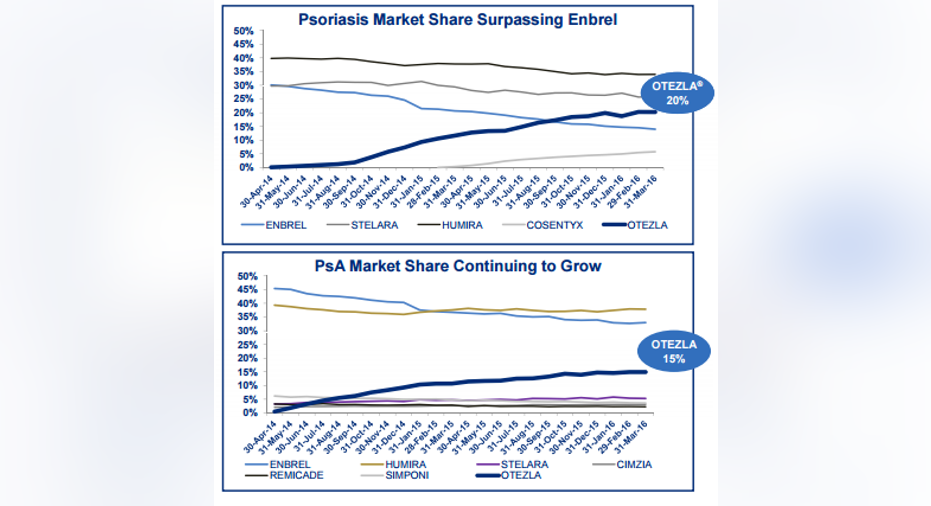 Celgene reported solid first-quarter earnings on Thursday, raised the low end of its 2016 guidance, and made a widely anticipated pullback to its 2017 guidance.
Two positives cancel out one expected negative announcement, especially since the biotech left 2020 guidance intact.
For the first quarter, revenue increased 21% year over year. Sales of top-selling Revlimid set the base rate of 17% growth, which was boosted by Pomalyst, which increased 38% year over year, and Otezla, which increased 224% year over year. Sales of Abraxane were only up 1% year over year, dragging on the overall growth, but that's not a big surprise since the drug has seen new competition in the U.S. breast cancer and lung cancer markets.
Of Celgene's four drugs, Otezla is the most important for the biotech's long-term future. Pomalyst sold $274 million in the first quarter while Otezla sales came in at $196 million, but management is guiding for "greater than $1.0 billion" in revenue from both drugs this year. Pomalyst is already on pace to reach that goal while Otezla has to grow 17% quarter over quarter to reach blockbuster status. For reference, sales increased just 7% quarter over quarter in the first quarter.
Fortunately the company continues to see an upward trend in U.S. market share, with Otezla capturing 38% of psoriasis patients switching brands or starting therapy and 42% of psoriatic arthritis (PsA) patients switching or starting therapy. But even after capturing a large percentage of new-to-brand patients, Celgene only has a fraction of the overall market for both diseases, leaving plenty of opportunity left. In the psoriasis market, Otezla passed Amgen's Enbrel last year and has its sights set on catching Johnson & Johnson's Stelara.
Image source: Celgene.
The bigger near-term growth opportunity for Otezla comes from Europe and Canada, where the drug was launched after the U.S. Otezla sales outside the U.S. amounted to just $21 million in the first quarter, compared to $175 million in the U.S., but that ratio should change with the drug now being reimbursed in 14 European countries.
Looking forwardWith a solid quarter under its belt, management increased the low end of its sales guidance from $10.5 billion to $10.75 billion while leaving the top end of the range intact at $11 billion. It did the same for adjusted earnings, which are now expected to fall in the range of $5.60to$5.70 per share, up $0.10 on the low end. At the midpoint of the ranges, revenue and adjusted earnings per share would be up 19% and 20%, respectively.
For 2017, management lowered guidance but noted that the change was entirely due to changes in the currency rates. Even at the lowered guidance, sales are expected to go up 18%, and adjusted earnings are expected to increase 22% based on the midpoints of guidance for 2016 and 2017.
Importantly, management left 2020 guidance intact, hinting that the guidance was conservative even with the stronger dollar hurting overseas sales when they're converted to dollars.
The article Celgene Corporation Short-Term, Long-Term Guidance Up. Medium-Term? Not So Much originally appeared on Fool.com.
Brian Orelli has no position in any stocks mentioned. The Motley Fool owns shares of and recommends Celgene and Johnson & Johnson. Try any of our Foolish newsletter services free for 30 days. We Fools may not all hold the same opinions, but we all believe that considering a diverse range of insights makes us better investors. The Motley Fool has a disclosure policy.
Copyright 1995 - 2016 The Motley Fool, LLC. All rights reserved. The Motley Fool has a disclosure policy.