Cavium Inc. Talks Chip Manufacturing Tech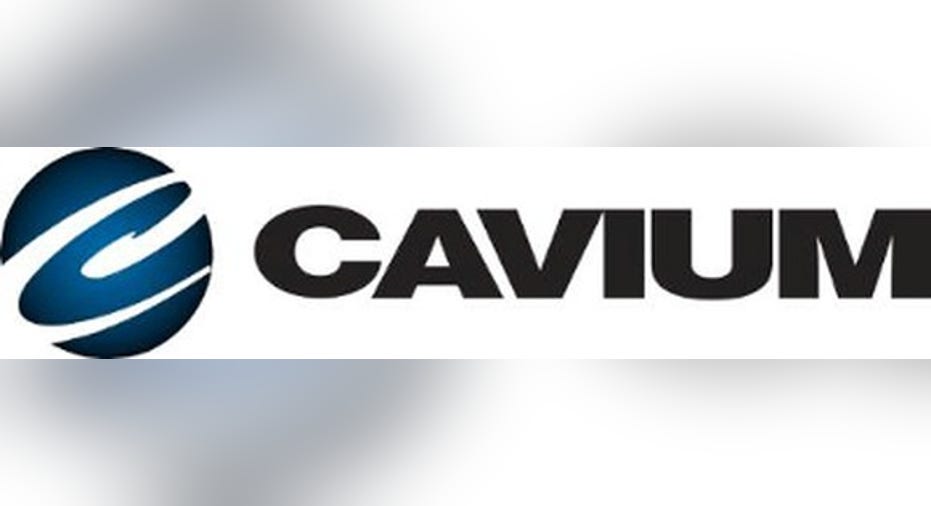 Cavium (NASDAQ: CAVM) is emerging as one of the two major ARM-based server chip vendors alongside wireless giant Qualcomm (NASDAQ: QCOM). Indeed, Cavium CEO Syed Ali boasted on the company's Feb. 1 earnings call that Cavium is "the only shipping ARM server vendor in production today."
The chips that Cavium is shipping today, known as ThunderX, is manufactured in a relatively dated 28-nanometer chip manufacturing technology. Its next-generation product, called ThunderX2, is expected to be built on a foundry 14-nanometer technology (meaning either Samsung (NASDAQOTH: SSNLF), GLOBALFOUNDRIES, or both will manufacture it).
Image source: Cavium.
On that same earnings call, though, one analyst pointed out that fellow ARM server processor vendor Qualcomm plans to start shipping chips manufactured in a foundry 10-nanometer technology (more advanced than what Cavium's ThunderX2 will be built in) in the second half of this year.
The analyst then asked Cavium management to comment on its plans vis-a-vis manufacturing technology migration going forward.
In this column, I'd like to go over the answer that Ali provided.
Node isn't everything, but...
Ali began by explaining that with respect to ARM-based servers, "software ecosystem readiness has probably had a bigger effect on the ramp of ARM servers than being on any particular node because, again, in servers, you have a lot of different performance points."
He then went on to say that for companies looking to "hit the highest performance points," the underlying manufacturing technology "would be important."
"But when you are going to the mid-range and lower end, there's still a healthy market, [and] the node is not the most significant aspect of the equation," the executive continued.
Although the answer that Ali gave is consistent with what one would expect a company that didn't plan to migrate aggressively to new manufacturing technologies, he did say that the company "will probably be a little bit more aggressive as [Cavium] move[s] forward."
"And as our products get more into the higher end, we will probably be more aggressive on the node side of the equation, too," Ali finished.
Implications for Cavium and others
If Cavium is serious about becoming a broad competitor in the server market, I expect that it will need to migrate its parts to next-generation manufacturing technologies rather quickly, even as the low end and mid-range of the market.
Intel (NASDAQ: INTC), the market leader in server processors, has expressed its intention to more aggressively migrate its server processor portfolio to its latest-generation manufacturing technologies than it traditionally has.
I also expect Qualcomm, which appears to drive its manufacturing partners to new manufacturing technologies quite hard, to push to newer manufacturing technologies as soon as practicable.
Newer manufacturing technologies generally deliver better performance/power characteristics (important part of the total cost of ownership equation) and they allow chipmakers to put more functionality into a given chip area than they could otherwise on older technologies.
What this'll mean for Cavium -- if I'm right that it'll need to transition to newer technologies in this market quickly -- is potentially increased research and development expenses as it's believed that each new manufacturing technology requires more R&D effort to utilize.
Additionally, it's not clear if Cavium will be able to have the kind of early access to newer technologies that Intel and Qualcomm do. Intel develops its own manufacturing technologies and owns its own manufacturing plants, and Qualcomm -- by being the leader in the premium smartphone processor market -- has a lot of influence at the top contract chip manufacturers.
Cavium, on the other hand, isn't a large consumer of leading-edge manufacturing technologies today. Whether it will be able to achieve time to market with Qualcomm and Intel on the latest manufacturing technologies remains to be seen.
5 Simple Tips to Skyrocket Your Credit Score Over 800!Increasing your credit score above 800 will put you in rare company. So rare that only 1 in 9 Americans can claim they're members of this elite club. But contrary to popular belief, racking up a high credit score is a lot easier than you may have imagined following 5 simple, disciplined strategies. You'll find a full rundown of each inside our FREE credit score guide. It's time to put your financial future first and secure a lifetime of savings by increasing your credit score. Simply click hereto claim a copy 5 Simple Tips to Skyrocket Your Credit Score over 800.
Ashraf Eassa owns shares of Intel and Qualcomm. The Motley Fool owns shares of and recommends Qualcomm. The Motley Fool recommends Intel. The Motley Fool has a disclosure policy.