Casey's General Stores Inc Reports Solid Quarter With More in the Oven for Next Year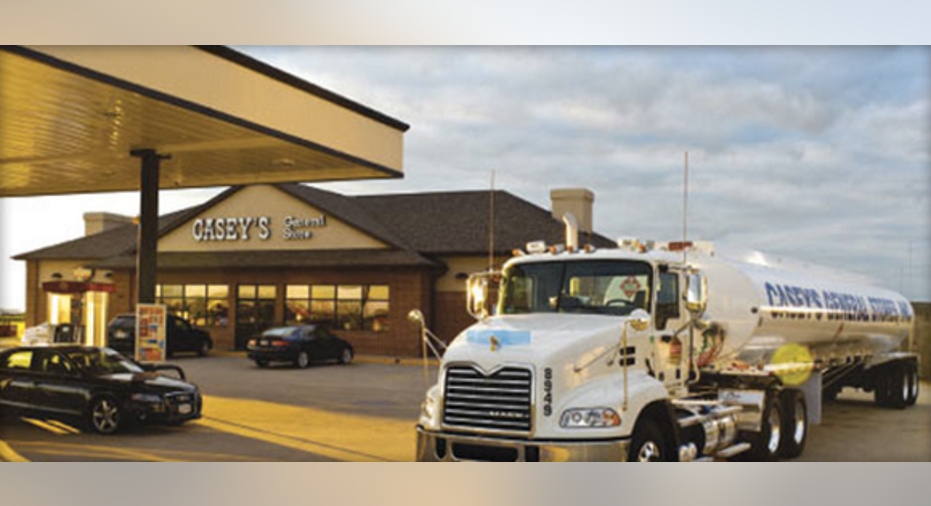 This sight is familiar to many middle-America citizens. Photo: Casey's General Stores
People who have never been to a so-called "flyover" state are probably unfamiliar with Casey's General Stores , but the chain has become ubiquitous in small towns across the Midwest and Great Plains. And as Casey's has continually shown, its stock is much more exciting than the sleepy small towns it operates in.
With the release of earnings this week, we have more proof that the future remains bright for the company and its investors.
Just the numbers
Source: Casey's General Stores
While the revenue dip may seem alarming -- and the company fell short of analyst expectations of $2 billion in revenue -- much of it was already factored into the company's stock price and has to do with lower costs for gasoline. By and large, this kind of dip is not a serious long-term concern.
What's impressive is that Casey's investments in both its grocery and prepared foods businesses are paying off nicely. Gross margins expanded 574 basis points to roughly 23%, and profit margins almost doubled, expanding 178 basis points to 4.1%.
Breaking it down by segmentCasey's operates in three segments: fuel, grocery, and prepared foods. While the fuel brings in customers, it's the grocery and prepared foods that are making this an exciting stock to own. To get an idea for how important each segment is, be sure to click on both the revenue and gross profit contribution from each segment:
Clearly, "prepared foods" is the big story. The category has accounted for only 11% of all revenue so far this fiscal year, but it contributes one-third of all gross profit.
In terms of same-store performance -- which is one of the best measures for the overall health of any company like Casey's -- here is how each segment has performed during the quarter, and thus far in the company's current fiscal year.
Source: Casey's General Stores
What management had to sayWith prepared foods being so important, the most poignant comment from management came when CEO Robert Myers addressed what he expects from prepared foods moving forward:
Clearly, the rollout of this service is what management is focused on, and it's what investors are most eager to see.
Looking forwardWhile the rollout of the online ordering system is big news, there are other metrics worth watching, too. Here are the overall goals for the company's 2016 fiscal year -- which is now halfway over.
Source: Casey's General Stores
If you compare this with the year-to-date results from earlier, a few things stick out: Fuel sales could slump meaningfully, and the company would still hit its target. The same could be said for grocery sales, although management would like to improve its margins. And most importantly, same-store growth in prepared food should be coming in well north of 10% over the next two quarters, even if margins suffer somewhat.
Investors should stay keenly aware of the potential behind online-ordering and how successful the company is launching the service.
The article Casey's General Stores Inc Reports Solid Quarter With More in the Oven for Next Year originally appeared on Fool.com.
Brian Stoffel has no position in any stocks mentioned. The Motley Fool owns shares of and recommends Casey's General Stores. Try any of our Foolish newsletter services free for 30 days. We Fools may not all hold the same opinions, but we all believe that considering a diverse range of insights makes us better investors. The Motley Fool has a disclosure policy.
Copyright 1995 - 2015 The Motley Fool, LLC. All rights reserved. The Motley Fool has a disclosure policy.