Carter's, Inc. Turns in Another Beat, Invests for the Future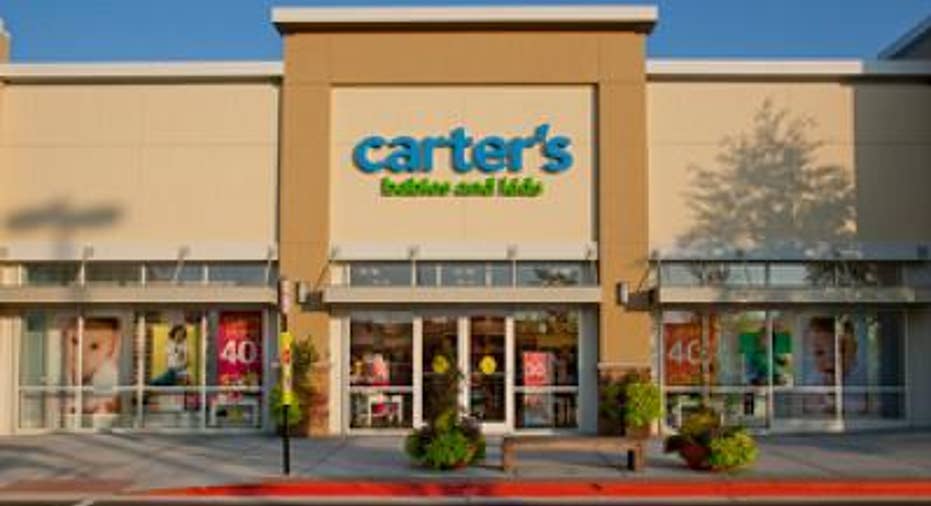 IMAGE SOURCE: CARTER'S INC.
Carters released first-quarter 2016 results Thursday morning, and shares were little changed on the day. But that doesn't mean investors in the children's clothing retailer shouldn't be happy with its latest performance. In fact, Carter's managed to exceed quarterly earnings expectations for the 11th consecutive time.
More specifically, Carter's quarterly revenue climbed 5.7% year over year, to $724.1 million. That translated to 8.4% growth in net income, to $54 million, and 11% growth in earnings per diluted share, to $1.04. On an adjusted basis, which excludes an unusual charge of around $0.6 million related to amortization of acquired trade names, earnings per diluted share climbed 7.9% year over year, to $1.05.
By comparison, Carter's guidance called for revenue to climb 4% year over year, to $712.2 million, and for adjusted earnings to remain flat over the same period, at $0.97 per share. Of course, that's not to say analysts weren't anticipating Carter's habit of under promising and over delivering. But even then -- and with the caveat that we don't lend much credence to Wall Street's near-term demands -- consensus estimates predicted adjusted earnings of just $1.00 per share on revenue of $716 million.
"We saw increased demand for our brands and achieved a record level of sales and earnings in our first quarter," added Carter's CEOMichael Casey. "We achieved good growth in our wholesale, retail and international businesses, and meaningfully increased the distribution of capital to our shareholders."
On buybacks, segment resultsCarter's bolstered its per-share earnings by repurchasing and retiring 722,364 shares of common stock for $71.6 million during the quarter. And those repurchases have continued so far into the second quarter; year to date through yesterday, Carter's has bought back a total of 1,241,174 shares for $125.5 million, or an average price of $101.09 per share. That leaves $449 million remaining under Carter's recently increased repurchase authorization.
Carter's top line was once again driven by growth from its core namesake brand. More specifically, Carter's retail segment revenue climbed 5.7% year over year, to $272.3 million, thanks primarily to new units.
Carter's retail comparable sales fell 0.1%, as 15.2% growth in e-Commerce comps was offset by a 4% decline in stores comparable sales. Based partly on analysis of credit-card transactions during the quarter, Carter's believes the strong dollar once again deterred international consumers from shopping in its U.S. locations and websites -- a problem that should resolve itself in time as currency headwinds inevitably revert to the norm.
Next, Carter's wholesale segment grew revenue 4% year over year, to $280.1 million, driven by a combination of higher product demand, timing of orders, and a new playwear initiative. Meanwhile, Carter's OshKosh retail segment delivered 11.9% growth in revenue, to $81.8 million.
This result was driven by both new locations and a 2.7% increase in retail comps, as 19.8% growth in OshKosh eCommerce sales was only partially offset by a 1.9% stores comparable-sales decline. But similar to Carter's, OshKosh retail suffered dampened demand from international shoppers, given the strong dollar. OshKosh's wholesale segment revenue fell 25.8% year over year, to $11.9 million, primarily driven by lower seasonal bookings.
Finally, Carter's international businesses grew sales 13.9%, to $77.9 million, as foreign-currency pressure was more than offset by continued strength for the brand in Canada -- which turned in impressive 14.9% comps, including 46.6% e-Commerce comps, and stores comparable-sales growth of 12.8% -- as well as new e-Commerce sales in China. On a constant-currency basis, international revenue would have risen 20.1%.
On guidanceLooking forward, Carter's anticipates second-quarter revenue will increase 3% to 4% year over year, or to a range of $631.1 million to $637.3 million,while adjusted earnings per share are expected to decline 10% to 15%, or to a range of roughly $0.62 to $0.66. By comparison, analysts' consensus called for second-quarter earnings of $0.80 per share on revenue of $651.6 million. During the subsequent conference call, however, Carter's CFO Richard Westenberger explained the company is implementing significant investment spending in the first half of the year to support longer-term growth and planning across the business, notably in marketing, technology, and improving the supply chain.
Finally, for the full-year 2016, Carter's reiterated its guidance for revenue to increase in the range of 6% to 7% over 2015, or to a range of $3.18 billion to $3.21 billion. But it also raised guidance for the bottom line, calling for 2016 adjusted earnings per share to increase 10% to 12% (up from previous expectations for 8% to 10% growth), or to a range of $5.07 to $5.16.
In the end, there were really no big surprises in Carter's latest report -- just more of the same modest outperformance from this promising company as it works to supplement steady growth with generous capital returns.
The article Carter's, Inc. Turns in Another Beat, Invests for the Future originally appeared on Fool.com.
Steve Symington has no position in any stocks mentioned. The Motley Fool owns shares of and recommends Carter's. Try any of our Foolish newsletter services free for 30 days. We Fools may not all hold the same opinions, but we all believe that considering a diverse range of insights makes us better investors. The Motley Fool has a disclosure policy.
Copyright 1995 - 2016 The Motley Fool, LLC. All rights reserved. The Motley Fool has a disclosure policy.