Carl's Jr., Hardees Now Have a Budweiser Cheeseburger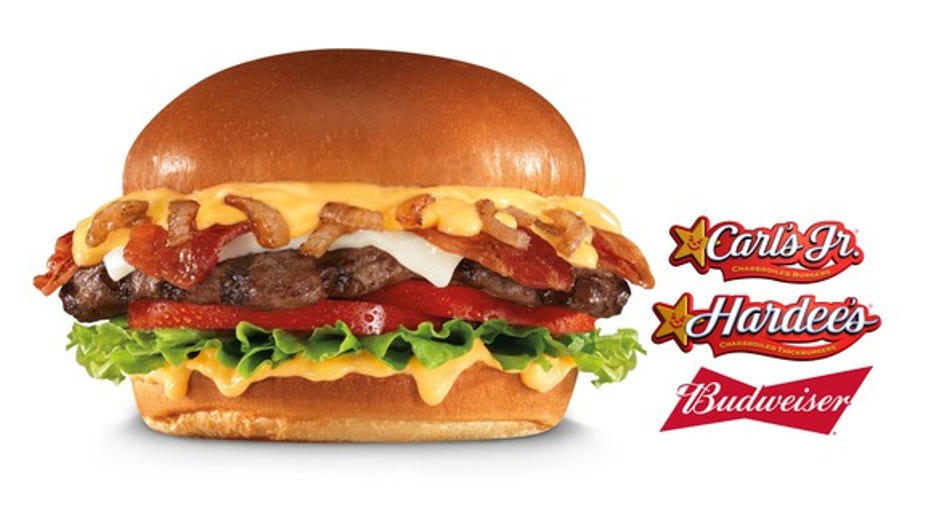 Since the overwhelming success of Taco Bell's Doritos Locos Tacos, fast-food chains have been trying increasingly wacky ideas to repeat that magic.
That has led to Fritos-stuffed burritos, Cheetos appearing in more than one product, and a burger featuring both a hot dog as well as Lay's Kettle Cooked Potato Chips. It's a desperate search for the next big hit, a game-changer like Taco Bell's Doritos line that will captivate the American public.
Carl's Jr. and Hardees, two chains that are the same restaurant operating regionally under different names, may have found the right mix. Those brands, which brought consumers the aforementioned potato chip/hot dog burger, which they called the "The Most American Thickburger," have a new partner, and perhaps an even more American burger.
The fast-food chains, famous for their racy ads starring scantily clad, famous women eating cheeseburgers, have joined forces with Anheuser Busch Inbev (NYSE: BUD) to create the Budweiser Beer Cheese Bacon Burger.
The new burger from Carl's Jr. and Hardees features a Budweiser cheese sauce. Image source: Carl's Jr. and Hardees.
What is a Budweiser Beer Cheese Bacon Burger?
This latest attempt to get people to visit a fast-food chain by adding non-traditional ingredients to a hamburger pairs the mass-market beer that briefly changed its name to America earlier this year with a fairly traditional cheeseburger. And while there is beer used in making the latest Carl's Jr./Hardees publicity stunt/menu addition, the cooking process renders it alcohol-free by the time it gets served to customers of any age.
The new burger features a "charbroiled, grass-fed, all-natural beef patty piled high with thick-cut Applewood-smoked bacon, lettuce, tomato, caramelized onions and Swiss cheese" served on a brioche bun, according to a press release. It's topped with a Budweiser beer cheese sauce, which the chains describe as "a hot and creamy cheddar cheese sauce blended with the classic taste of America's No. 1 full-flavored lager." If that's not enough cheap beer flavor for you, the chains will be offering Budweiser Beer Cheese Fries fries topped with the same hot cheese sauce and crumbled bacon.
"Carl's Jr. and Hardee's have long been pioneers in the [quick service restaurant] space," said Brad Haley, chief marketing officer for Carl's Jr. and Hardee's, in the press release. "Our new Budweiser Beer Cheese Bacon Burger ... really is a beer and burger lover's dream come true."
A one-patty version of the new burger costs $5.59 while a double-patty version sells for $6.89. The chain will also be offering a "Black Angus" beef, 1/3-pound Thickburger for $6.89 and all three versions can be made into combo meals. The Budweiser Beer Cheese Fries sell for $2.99. Prices may vary by location.
The single patty version of the new burger has 710 calories, 48 grams of fat, and 1,430 milligrams of sodium. Make it a double and you will ingest 940 calories, 55 grams of fat, and 1,800 milligrams of sodium.
Is this a good idea?
The fast-food space has become very crowded and Taco Bell and other chains have shown that being outrageous to get attention works. In this case, Carl's Jr. and Hardees have brought an iconic item in Budweiser into its burger. That should work to get fans of the beer -- people who may not be customers of the fast-food chain -- to stop by to sample.
A promotion like this might be a publicity stunt, but if the target audience likes the product, then they may become regular customers. The Budweiser Beer Cheese Bacon Burger is a gimmick, but it's a smart one that could move the needle for the chain.
10 stocks we like better than Yum! Brands When investing geniuses David and Tom Gardner have a stock tip, it can pay to listen. After all, the newsletter they have run for over a decade, Motley Fool Stock Advisor, has tripled the market.*
David and Tom just revealed what they believe are the ten best stocks for investors to buy right now... and Yum! Brands wasn't one of them! That's right -- they think these 10 stocks are even better buys.
Click here to learn about these picks!
*Stock Advisor returns as of October 3, 2016
Daniel Kline has no position in any stocks mentioned. He will not be trying this. The Motley Fool owns shares of and recommends Anheuser-Busch InBev NV. Try any of our Foolish newsletter services free for 30 days. We Fools may not all hold the same opinions, but we all believe that considering a diverse range of insights makes us better investors. The Motley Fool has a disclosure policy.