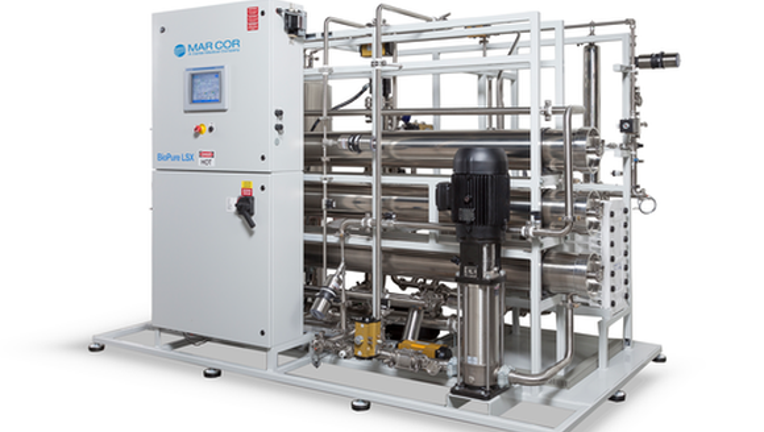 Mar Cor water purification system. Image source: Cantel Medical.
Last week, Cantel Medical (NYSE: CMD) reported solid results from its first fiscal quarter with strong revenue growth, thanks in part to recent acquisitions -- and earnings per share that grew even faster.
Cantel Medical results: The raw numbers
Data source: Cantel Medical.
What happened with Cantel Medical this quarter?
Sales in Cantel's endoscopy segment grew by 31%, boosted slightly by the acquisition of its Canadian endoscopy assets from Vantage Endoscopy, Cantel's former distributor in Canada. The deal, which closed in late September, should boost revenue from direct sales in Canada in future quarters when sales from the acquisition contribute for the entire quarter.
Cantel's healthcare disposables segment also had a nice quarter of growth, up 34.5% year over year, although most of the growth came from products Cantel got in the acquisitions of NAMSA (a sterility-assurance portfolio) and Accutron (disposable nitrous-oxide masks for dental offices). Organic growth for the segment was just 8.5%.
Trailing the other two segments, but still posting double-digit growth, Cantel's water purification segment grew 11.5% year over year.
Overall, adjusted gross margins increased 130 basis points, which is the 12th quarter in a row Cantel has expanded its gross margins.
The bottom-line earnings-per-share number benefited from a lower tax rate, but some of the lower rate came from one-time benefits, such as a catch-up for making the tax credit for research and development permanent.
What management had to say
Joergen Hansen, Cantel's president and CEO, busted out all the business-school catchphrases during the conference call: "We fully expect to realize operational leverage in the back half of our strategic plan horizon, but we will need to make upfront investments to support the future potential." In short, the company has to spend money ("upfront investments") to make money ("future potential"), and revenue increases from current investments will result in more of that money working its way to earnings ("operational leverage").
With potential tax changes under the new U.S. administration, companies might delay solicitation of acquisition bids until there's more clarity. But Seth Yellin, Cantel's executive vice president in charge of strategy and corporate development, hasn't seen any of that so far:
Looking forward
Cantel's goal is to double sales and profits between 2016 and 2021. While we're only one quarter into the plan, investors have to be happy about the progress Cantel is making. To double over five years requires year-over-year growth of 14% to 15% -- which Cantel handily met this quarter.
10 stocks we like better than Cantel Medical When investing geniuses David and Tom Gardner have a stock tip, it can pay to listen. After all, the newsletter they have run for over a decade, Motley Fool Stock Advisor, has tripled the market.*
David and Tom just revealed what they believe are the 10 best stocks for investors to buy right now... and Cantel Medical wasn't one of them! That's right -- they think these 10 stocks are even better buys.
Click here to learn about these picks!
*Stock Advisor returns as of Nov. 7, 2016
Brian Orelli has no position in any stocks mentioned. The Motley Fool recommends Cantel Medical. Try any of our Foolish newsletter services free for 30 days. We Fools may not all hold the same opinions, but we all believe that considering a diverse range of insights makes us better investors. The Motley Fool has a disclosure policy.