Cancun Continues to Drive Growth at Grupo Aeroportuario del Sureste SAB CV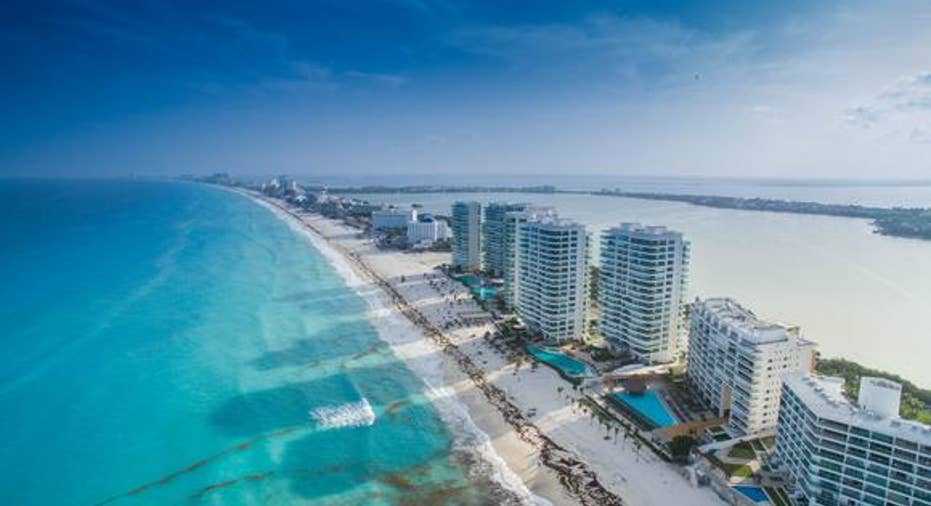 Aerial shot of Cancun's beach. Photo credit: Flickr user dronepicr.
Mexican airport operator Grupo Aeroportuario del Sureste SAB CV , or ASUR, continues to benefit from strong passenger traffic growth at its Cancun Airport. Not only does that airport supply half of the company's domestic passenger traffic, but it's also pretty much the sole driver of international passenger traffic. That strong growth is poised to continue because of strong travel trends as well as new terminals the company is opening up at that key airport.
ASUR's results: The raw numbers
| Metric | Q1 2016 Actuals | Q1 2015 Actuals | Growth (YOY) |
| --- | --- | --- | --- |
| Total passenger traffic | 7.2 million | 6.6 million | 8.9% |
| Total commercial revenue per passenger | $99.35 | $82.59 | 20.3% |
| Earnings per ADS in U.S. dollars | $1.80 | $1.44 | 24.7% |
Data source: Grupo Aeroportuario del Sureste, S.A.B. de C.V..
What happened with ASUR this quarter?ASUR benefited from strong growth at Cancun:
Domestic traffic grew at seven of ASUR's nine Mexican airports and was up 13% year over year to 2.75 million passengers. The Cancun airport was the big driver of that growth. Not only does it account for nearly half of ASUR's domestic traffic, but it also grew its traffic by 16.4% to 1.36 million passengers. That performance helped to offset some weakness at Veracruz and Villahermosa, which are its third and fourth largest airports by domestic traffic.
International traffic was also very solid, up 6.5% year over year. Again, this growth was primarily driven by Cancun, accounting for 93% of international passenger traffic and the bulk of international traffic growth, which rose by 6.9%. That performance helped offset weakness at its next largest international traffic destination, Cozumel, which saw its traffic slide 6.4%.
ASUR also continued the trend of capturing more revenue per passenger, as seen in the 20.3% jump in total commercial revenue per passenger. This performance was driven by a 31% increase in commercial revenue, led in turn by a 72.2% increase in car rental revenues and 30%-plus revenue growth in retail operations, duty-free, and banking and currency exchange services.
Total operating costs and expenses increased onlt 2.9% despite a 10.8% rise in cost of service because of the opening of the company's Terminal 3 expansion, as well as higher technical assistance fees paid to ITA and higher concession fees paid to the Mexican government.
What's driving this growth?Cancun continues to be Mexico's top tourist destination. That's been good news for ASUR as well as some of its rivals, which are benefiting from travelers going to Cancun. Grupo Aeroportuario Del Pacfico , for example, recently noted that traffic at its key airport in Guadalajara is being partially driven by travelers going to Cancun. Groupo Aeroportuario Del Pacifico specifically noted that during the Easter holiday, travel frequencies increased to Cancun.
Travel to the Cancun area continues to be not just tourists hitting the beach, but also business groups going there for meetings. In fact, Cancun/Riviera Maya ranks as the second most popular meeting spot in Central and South America, according to a survey by American Express. That survey also projected that meeting spending in Central and South America would increase 1.4% in 2016, which should drive additional traffic to the Cancun airport.
Looking forwardThose travel trends are why ASUR recently completed the new Terminal 3, which will increase its capacity for international passenger traffic by 4 million passengers. Meanwhile, it's scheduled to open Terminal 4 next year, to further boost its capacity to handle international traffic.These expansion projects will enable the company to handle additional tourists that are projected to flock to the region in the years ahead, which should drive continued bottom-line growth as well.
https://cms.fool.com/dashboard/edit/203521/
The article Cancun Continues to Drive Growth at Grupo Aeroportuario del Sureste SAB CV originally appeared on Fool.com.
Matt DiLallo has no position in any stocks mentioned. The Motley Fool recommends American Express, Grupo Aeroportuario del Pacifico S.A.B (ADR), and Grupo Aeroportuario del Sureste (ADR). Try any of our Foolish newsletter services free for 30 days. We Fools may not all hold the same opinions, but we all believe that considering a diverse range of insights makes us better investors. The Motley Fool has a disclosure policy.
Copyright 1995 - 2016 The Motley Fool, LLC. All rights reserved. The Motley Fool has a disclosure policy.