Can Zynga Keep Going After Last Week's 12% Pop?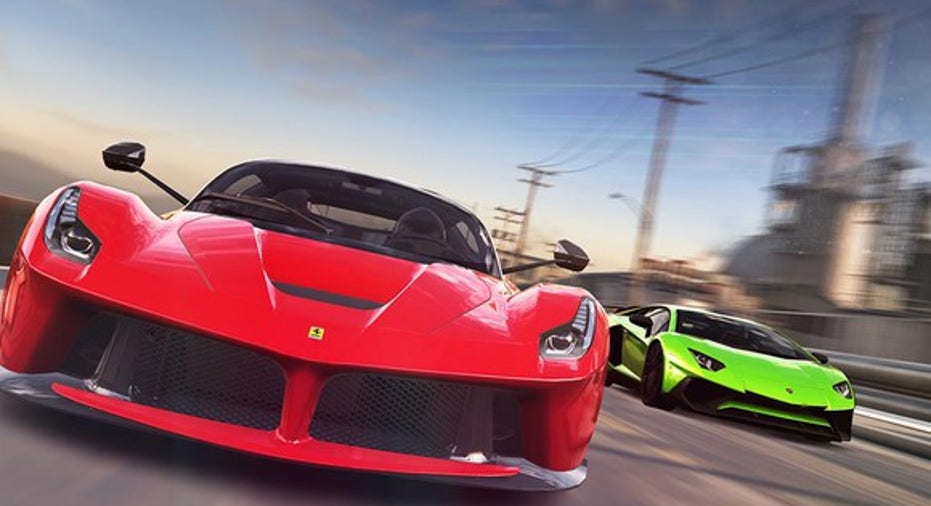 Image source: Zynga.
One of the biggest social gaming busts is starting to bounce back. Shares of Zyngamoved 12% higher last week. The stock had risen for eight consecutive trading days, soaring 23% in the process and hitting a new 52-week high on Friday.
The rally kicked off late last month when Zynga rolled out CSR Racing 2, the mobile drag racing game for iOS and Android devices. The original CSR Racingand CSR Classics were good for a combined 190 million downloads.
CSR Racing 2 is off to a hot start. The game was No. 15 on iOS and Android popularity charts among free downloads as of this weekend, according to mobile app tracker App Annie. That's not too shabby for a game trying to stand out two weeks after its release.
The rise and fall and rise of Zynga
Zynga is used to having hot games. It's the social gaming publisher behind FarmVille, Draw Something, and Words With Friends. It's also used to seeing hot games fade quickly in popularity. The level playing field has created a steady diet of free-to-play apps, and that glut encourages social gamers to be fickle.
This makes it a challenge for developers including Zynga that rely on in-app purchases to drive revenue. Folks are hesitant to invest money on a platform that they may abandon once their friends do several weeks later.
This is why Zynga flopped shortly after its late 2011 IPO. It peaked at $13.41 in early 2012, only to come crashing in the low single digits a few months later.
Zynga has evolved over the years, and despite the buzz around CSR Racing 2, we're seeing the gaming pioneer lean more on web-based gambling titles.Zynga Poker,Hit It Rich! Slots, andWizard of Oz Slotswere its three biggest titles during the first quarter, accounting for19%, 15%, and 15% of its online gaming revenue, respectively. That's nearly half of its revenue tied up in three gambling-related games.
Suitors or later
The release of an already anticipated game would seem to be an odd springboard for the strong rally in Zynga stock these past two weeks. There could be more to what's going on here. As doomed as the social gaming model may seem, this hasn't stopped other companies from snapping up leaders in the niche with hot franchises.
We've seen Candy Crush Saga parent King Digital and Clash of Clans publisher Supercell receive buyout offers in recent months. Suitors on bended knee for Zynga wouldn't come as a surprise. Its more iconic releases may be fading in the rearview mirror, but it's still a compelling acquisition candidate. Zynga's pipeline continues to pump out new offerings, above and beyond last month's CSR Racing 2.
Taking out Zynga would also be cheaper than its $2.5 billion market cap would seem to suggest. Zynga closed out the first quarter with $857 million in cash, equivalents, and marketable securities, accounting for more than a third of its current market cap.
The recent rally may not be sustainable. The drag racing game's popularity could fade. Gambling titles can get tripped up in a regulatory blur. New releases may not pan out. However, as a cash-rich company, Zynga has the means to wait out the opportunity to go out on top the next time it scores a monster hit.
The article Can Zynga Keep Going After Last Week's 12% Pop? originally appeared on Fool.com.
Rick Munarriz has no position in any stocks mentioned. The Motley Fool has no position in any of the stocks mentioned. Try any of our Foolish newsletter services free for 30 days. We Fools may not all hold the same opinions, but we all believe that considering a diverse range of insights makes us better investors. The Motley Fool has a disclosure policy.
Copyright 1995 - 2016 The Motley Fool, LLC. All rights reserved. The Motley Fool has a disclosure policy.