Can You Name All 18 of Anheuser-Busch InBev's Billion-Dollar Beer Brands?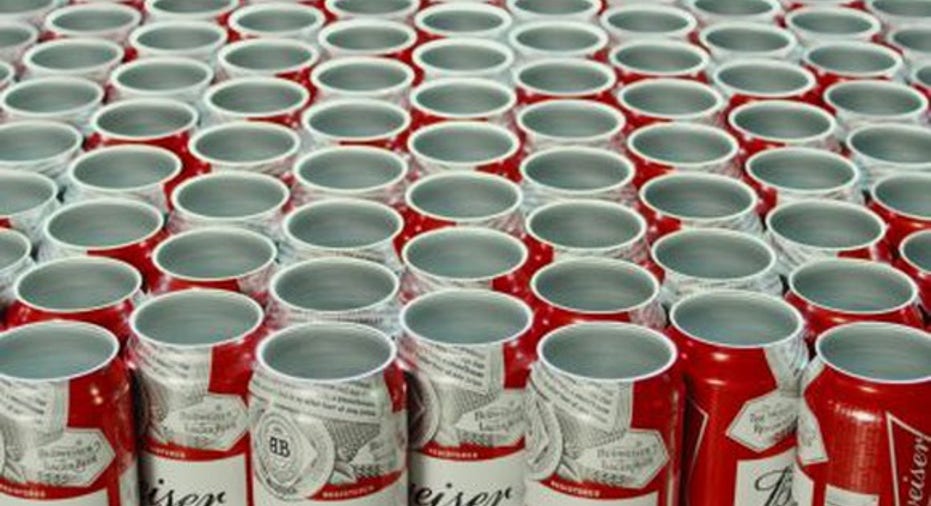 Beer production keeps going flat for the big brewers as consumers expand their taste palates to include a broader array of alcohol, including hard liquor and spirits, but Anheuser-Busch InBev (NYSE: BUD) has a deep bench of suds to keep its business frothy.
The global brewer recently noted that with its acquisition of SABMiller complete, its portfolio ofmore than 500 beers includes seven of the top 10 global beer brands. It also claimed ownership of 18 brands that each generate over $1 billion in annual retail sales. That makes it a brewing powerhouse with the ability to withstand any changes in drinking fashion.
Image source: Anheuser-Busch.
Beer production on the decline
Certainly the U.S. beer market is in a funk. According to the Treasury's Alcohol and Tobacco Tax and Trade Bureau, beer production in 2016 fell to 188.6 million barrels, a 1.2% decline from 2015's 190 million barrels.
With one barrel the equivalent to 31 gallons, that's still a heck of a lot of beer, but production has been steadily falling and is down 6% from 2002 when it exceeded 200 million barrels. Last year, in fact, was the first time in decades that production was below 190 million barrels.
Data source: U.S. Treasury Dept.'s Alcohol and Tobacco Tax and Trade Bureau. Chart by author.
Even the market segment that has been reporting double-digit percentage gains for years -- craft beer -- has started to show weakness: The industry trade group Brewers Association, which represents independent craft brewers, said their segment's production expanded by only around 8% last year. That still indicates the niche is growing, but it's largely small-batch brewers that are doing the heavy lifting while the big craft brewers like Boston Beer (NYSE: SAM) stumble. The leading craft brewer reported depletions (shipments to distributors and retailers, a proxy measure of consumer demand) had fallen 5% last year.
It's really becoming a market delineated between true craft brewers and what is being called "mass craft" beer. As drinkers search out the latest in new, local flavors, the big craft brands -- and the mega brewers like Anheuser-Busch, which have their own mass craft brews such as A-B's Shock Top -- suffer.
Importing growth
Yet theslowdown in beer sales is not an across-the-board phenomenon, either. According to industry site BevNet, the market researchers at Nielsen say off-premise sales of imported beer rose 6.8.% last year while dollar sales were up 9.1%, with almost all Mexican beers showing strong growth.
Image source: Modelo USA.
Unfortunately, that doesn't help Anheuser-Busch, which had to sell the U.S. distribution rights to the popular Corona brand to Constellation Brands (NYSE: STZ) in order for its acquisition of Mexican brewer Modelo to pass regulatory muster.
A rich portfolio of brands
Still, it bodes well for the brewer elsewhere, as the company's global distribution of Corona and its sister beer Modelo Especial are two of the beers in its billion-dollar sale portfolio. Here are all 18 of AB-InBev's biggest selling brands.
While these brands generate a sizable percentage of Anheuser-Busch InBev's $45.5 billion in annual revenues, it should also be noted that fully half of those brands are from the U.S. and Brazil, two markets that are experiencing turmoil.
Brewing up trouble
The shakeout going on in the U.S. we mentioned above, but Brazil has its own local issues: Due to economic problems, its currency was devalued, which has led to an increased cost of sales for the brewer. Still, Anheuser-Busch says it remains upbeat about the prospects for the market. It has done business in Brazil for 30 years, and with favorable demographics suggesting the likelihood to future growth, it foresees a turnaround in its fortunes there.
Image source: Anheuser-Busch.
Plus, with the Miller merger now behind it, Anheuser-Busch InBev has strengthened its position in developing markets and sees itself poised for growth in Asia, Central and South America, and Africa, markets it says will play a key role in its plans.
Although investors tend to focus on how beer trends in the U.S. will impact a brewer, given its global reach, and its portfolio of hundreds of brands beyond its $1-billion-a-year sellers, it would be short-sighted to bet against this company based on its domestic woes.
10 stocks we like better than Anheuser-Busch InBev NVWhen investing geniuses David and Tom Gardner have a stock tip, it can pay to listen. After all, the newsletter they have run for over a decade, Motley Fool Stock Advisor, has tripled the market.*
David and Tom just revealed what they believe are the 10 best stocks for investors to buy right now... and Anheuser-Busch InBev NV wasn't one of them! That's right -- they think these 10 stocks are even better buys.
Click here to learn about these picks!
*Stock Advisor returns as of February 6, 2017
Rich Duprey has no position in any stocks mentioned. The Motley Fool owns shares of and recommends Anheuser-Busch InBev NV and Boston Beer. The Motley Fool has a disclosure policy.