Can Vertex Pharmaceuticals Incorporated Bounce Back From Its 28.9% Drop?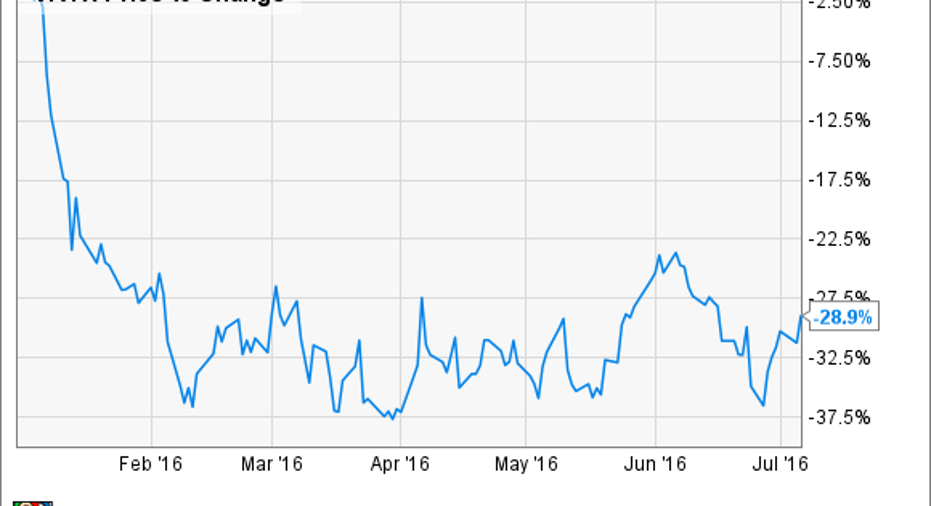 Image source: VertexPharmaceuticals.
What:So far, 2016 has been pretty rough on investors in Vertex Pharmaceuticals . Shares of the cystic fibrosis (CF) leader have fallen drastically in the first half of the year, down more than 29% according to data fromS&P Global Market Intelligence.
So what:So why has the stock been bludgeoned this year? Here's a review of the most important news items to come out of the company so far this year:
In January, Health Canada gave the green light to Orkambi, Vertex's newest CF treatment. The drug was approved for use in patients age 12 and older who have two copies of the F508del mutation. Roughly 1,200 patients in the country currently meet this labeling.
In February, Vertex received a Complete Response Letter from the U.S. Food and Drug Administration on its label expansion claim for Kalydeco, its other CF drug. The company was seeking approval for patients age two or older with one of 23 specific mutations, but the agency stated that they could not approve the request as filed.
In March, Australia approved the sale of Orkambi in the country. This added another 1,000 potential patients to the drug's addressable market.
The FDA has accepted a label expansion claim for Orkambi under priority review. Vertex is pushing for Orkambi to be approved for use in children ages six to 11 who have two copies of the F508del CF mutation. This could potentially add another 2,400 patients to Orkambi's addressable market in the U.S. A decision date of Sept. 30 has been set.
Vertex reported revenue of $398 million in the first quarter, up 187% over the prior year. On a non-GAAP basis, the company even produced a profit of $0.09 per share. Unfortunately, both of those numbers came in far short of the $437 million in revenue and $0.27 in earnings that Wall Street was expecting. A higher-than-expected discontinuation rate for Orkambi appears to be contributing to the company's revenue and profit shortfall.
Wall Street hasn't reacted well to the news about Kalydeco's FDA rejection or Orkambi's high discontinuation rate. As a result, analysts have drastically cut their forecasts for the company's future profits, which has put a lot of pressure on Vertex's share price. Analysts now believe the company will produce $1.10 in earnings per share in 2016, ramping to $3.32 for 2017. Rewind the clock 90 days and, as a group, they predicted more than $2 in earnings per share this year and $5 by 2017.
Now what:Management has done its best to convince the markets that Vertex still has a huge growth runway ahead of it. CEO Jeff Leiden stated that Orkambi and Kalydeco are currently approved to treat roughly 27,000 people around the world, but only about one-third of those patients are currently using the drugs. That mismatch is a big reason why the company is forecasting that sales of Orkambi will eclipse the $1 billion threshold in 2016. Kalydeco should also add at least another $685 million to the top line.
Vertex also has plans to continue to expand the drug's addressable markets. Vertex has a handful of clinical studies underway that it believes could grow the patient pool to over 44,000 patients from here. There's upside potential from that number if Vertex's next-generation CF treatment -- VX-661 -- continues to perform well in clinical trials. Investors should get another data readout on this compound in 2017.
While it's been a rough start to the year, I think that there are plenty of reasons to be excited about Vertex's stock, especially from today's discounted price. It's also worth remembering that thethe biotech sector in general has been under a lot of selling pressure year to date.If Vertex can keepOrkambi's discontinuation rate steady while it simultaneously expands access to the drug, then revenue and profits should grow rapidly from here. Investors who are willing to invest against the grain might want to give this stock a closer look.
The article Can Vertex Pharmaceuticals Incorporated Bounce Back From Its 28.9% Drop? originally appeared on Fool.com.
Brian Feroldi has no position in any stocks mentioned. The Motley Fool recommends Vertex Pharmaceuticals. Try any of our Foolish newsletter services free for 30 days. We Fools may not all hold the same opinions, but we all believe that considering a diverse range of insights makes us better investors. The Motley Fool has a disclosure policy.
Copyright 1995 - 2016 The Motley Fool, LLC. All rights reserved. The Motley Fool has a disclosure policy.