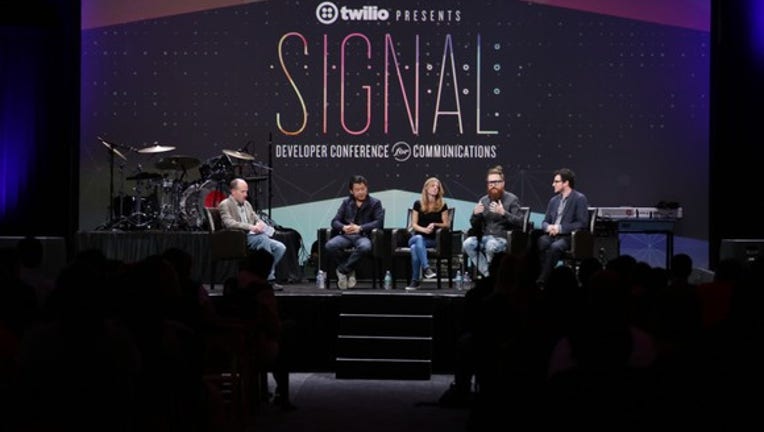 Twilio(NYSE: TWLO)shares keep rolling, gaining another 7.53% last week on momentum following an analyst upgrade near the end of the prior week. The fast-growing provider of in-app real-time communications functionality saw its stock close above $30 on Friday, the first time investors have seen that happen in nearly a month.
It was Mark Murphy at J.P. Morgan who upgraded Twilio stock, on Friday a week earlier. He bumped his rating from "neutral" to "overweight." Murphy is also reiterating his $36 price target on the shares, representing 34% of upside at the time of the upgrade, but now implying just 19% more in headroom after five strong trading days.
Image source: Twilio.
There's a big test coming next month
The only significant news out of Twilio itself last week came on Tuesday, when it announced that it would be reporting its first-quarter results after the market close on May 2. Wall Street's holding out for another period of heady top-line growth. Analysts are targeting $83.6 million in revenue, 41% ahead of the $59.3 million it rang up during last year's freshman quarter. This will probably be the seventh quarter in a row with decelerating revenue growth, but it's hard to feel let down about 41% top-line growth.
Wall Street pros are also bracing for another loss, eyeing an adjusted deficit of $0.06 a share. The red ink isn't a big deal. Twilio's been posting losses for years, and the annual deficits have widened in each of the past three years. Analysts see the deficits starting to narrow this year, and ultimately turning the corner to become profitable come 2018.
J.P. Morgan's upgrade earlier this month emphasized the value in the shares. Murphy thinks Twilio has earned the right to command a healthy premium relative to its cloud-computing peers. Twilio is growing, armed with a base of 36,606 active customers that keeps growing with every passing quarter.
Trading at a market premium often leaves littleroom for error, and that's why May 2 is so important for investors. Twilio can't afford to fall short of expectations. The good news is that Twilio has been pretty good about living up to the hype. It has posted a smaller-than-expected loss in its first three quarters as a public company.
Twilio stock has now more than doubled since going public at $15 last year, but it's trading well short of last year's post-IPO's highs. We're now a little more than two weeks away from learning if the stock will move closer to its IPO levels or its all-time highs. Momentum is in its corner now, but it will have to earn its recent gains.
10 stocks we like better than TwilioWhen investing geniuses David and Tom Gardner have a stock tip, it can pay to listen. After all, the newsletter they have run for over a decade, Motley Fool Stock Advisor, has tripled the market.*
David and Tom just revealed what they believe are the 10 best stocks for investors to buy right now... and Twilio wasn't one of them! That's right -- they think these 10 stocks are even better buys.
Click here to learn about these picks!
*Stock Advisor returns as of April 3, 2017
Rick Munarriz has no position in any stocks mentioned. The Motley Fool recommends Twilio. The Motley Fool has a disclosure policy.