Can Twilio Stock Bounce Back From Last Week's 13% Drop?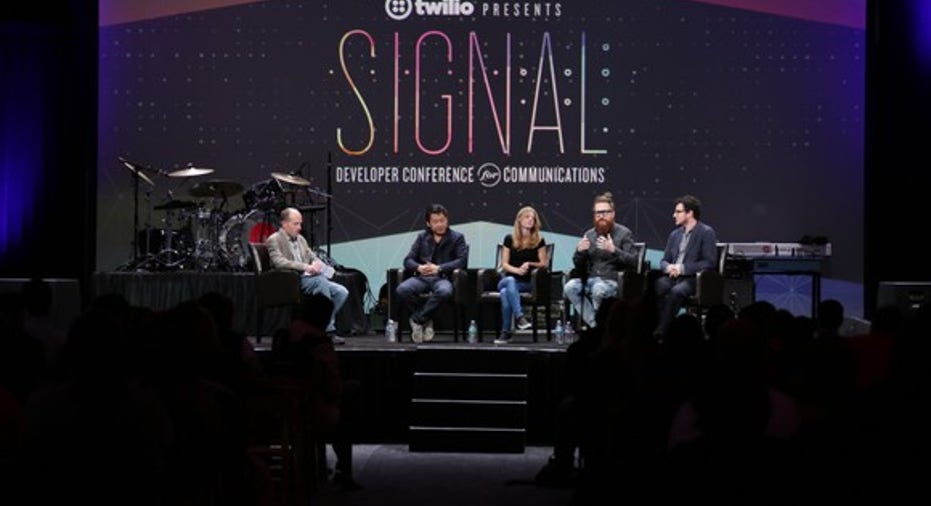 Image source: Twilio.
One of this year's most volatile IPOs keeps the stock gyrations coming. Shares of Twilio (NYSE: TWLO)declined 13.4% last week. There wasn't any company-specific news triggering the sharp drop, but a weak quarterly report out of a fellow cloud-based applications provider didn't help.
Twilio's stock was already trending lower before shares of Workday (NYSE: WDAY) took a big hit on Friday following the company's disappointing financial results. Workday stock declined in six of the seven previous trading days ahead of Friday's nearly 5% slide, in sympathy with Workday's unsettling report.
Workday exceeded Wall Street profit targets for its fiscal third quarter, something it's done in all but two of its quarters since going public four years ago. Unfortunately for tech investors, Workday also offered problematic guidance for the current quarter. Its guidance implies decelerating growth, and while 32% to 33% year-over-year top-line growth is nothing to sneeze at, it's less than what analysts were forecasting.
Workday would reveal during its earnings call that it was experiencing some delays in closing out some of its large contracts on Brexit fears and concerns about international trade under President-elect Donald Trump's watch. Twilio and Workday aren't direct competitors. Workday offersenterprise-level software applications for human resources and financial management, while Twilio is a cloud communications specialist with a hand in many of the market's hottest online platforms. However, if companies are hesitant to close out big deals with Workday on visibility fears, it could very well carry over to Twilio's business.
A wild rookie season
Twilio hit the market at $15 in late June. The stock nearly doubled in its first day of trading. It would more than quadruple by the time it peaked two months later, only to shed more than half of its peak value.
The growing popularity of Twilio's platform made it a hot debutante this summer. Revenue soared 88% last year, and there are over a million developers utilizing Twilio. Uber, WhatsApp, and Airbnb are just some of the companies leaning on Twilio's real-time communications solutions.
Growth has slowed in 2016, but it's still climbing at a heady pace. Twilio chimed in with $71.5 million in its latest quarter, 62% ahead of the prior year's fiscal third-quarter showing. Red ink is still the norm at Twilio, but at least the adjusted losses are narrowing. Twilio's guidance for the current quarter calls for top-line growth to slow to a 41% to 45% clip. It will be Twilio's sixth consecutive quarter of sequential slowdowns in year-over-year revenue growth, but it's still moving at an impressive clip. The stock's volatility will continue, and we've now seen the stock swing without any company-specific news.
10 stocks we like better than Twilio Inc. When investing geniuses David and Tom Gardner have a stock tip, it can pay to listen. After all, the newsletter they have run for over a decade, Motley Fool Stock Advisor, has tripled the market.*
David and Tom just revealed what they believe are the 10 best stocks for investors to buy right now... and Twilio Inc. wasn't one of them! That's right -- they think these 10 stocks are even better buys.
Click here to learn about these picks!
*Stock Advisor returns as of Nov. 7, 2016
Rick Munarriz has no position in any stocks mentioned. The Motley Fool owns shares of and recommends Workday. Try any of our Foolish newsletter services free for 30 days. We Fools may not all hold the same opinions, but we all believe that considering a diverse range of insights makes us better investors. The Motley Fool has a disclosure policy.