Can Twilio Stock Bounce Back After Last Week's 10% Drop?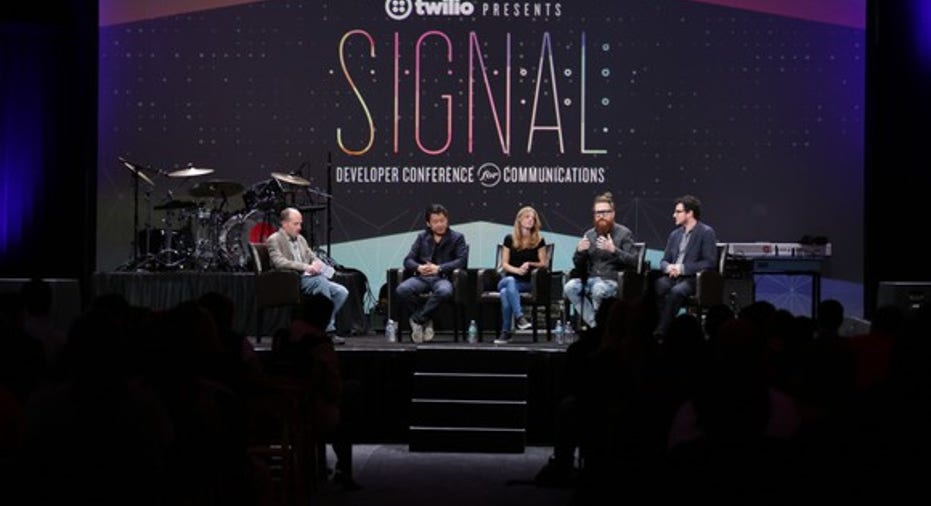 Image source: Twilio.
It was easy come, easy go forTwilio (NYSE: TWLO)shareholders through the final two trading weeks of 2016. Shares of the cloud-based communications specialist declined 10.46% last week, more than reversing the 9.6% pop it delivered a week earlier.
There were no negative Twilio-specific news stories breaking during the final week of 2016, but the lock-up period -- the time company executives and large stakeholders of a recent IPO are restricted from selling any of their shares -- did end on Dec. 20. There is unlikely to be a massive wave of insider selling, but since the stock price has nearly doubled off its late June IPO at $15, it may prove tempting for early investors to take some chips off the table. Whether there was any actual lock-up-related selling or retail investors were unloading stock ahead of the potential for insider sales, debutantes can be volatile around the expiration of the 180-day lock-up periods.
Some year-end tax-loss selling also could've come into play. The shares may have closed out 2016 92% higher for those who got in at the $15 IPO price, but this is also a stock that soared north of $70 by late September. It's closing out the year 59% below its peak, and dumping the stock last week may have been tempting for investors with beefy realized gains elsewhere.
Reflecting on merrier times
Twilio investors would prefer to wax nostalgic on the positive developments that happened a week earlier. Last week's dip offset the gain from the prior week, when Drexel Lambertinitiated coverageof the stock with a "buy" rating and a report indicated that Twilio was expanding its presence on Amazon.com's (NASDAQ: AMZN) AWS platform.
Drexel Lambert's Brian White acknowledges that Twilio is apioneer in the nascent cloud communications realm that's bustling with potential. He feels that Twilio is the fastest-growing company -- based on 2016 revenue -- among the companies covered by his firm. White's bullish rating comes with a $45 price target, suggesting a hearty 56% of upside after last week's drop.
The expanded deal with Amazon makes sense given the growing popularity of AWS as a cloud-hosting platform and Twilio's pole position in offering real-time communications solutions. Twilio was already providing the software used to fuel text messaging delivery through AWS, and the expanded partnership -- originally reported onBenzinga-- claims that Twilio's platform is now also powering voice notifications on Amazon's AWS.
Twilio's appeal is apparent to more than just Amazon. Its account base has grown by 45% to 34,457 clients over the past year alone. Growth may be slowing. Revenue growth is decelerating, but its guidance still calls for 41% to 45% top-line growth in its recently concluded fourth quarter.
The stock will continue to be volatile in 2017, but you have to give more credence to the 10% pop two weeks ago on actual news than the 10% decline a week later on no material news. Twilio's prospects remain bright for 2017.
10 stocks we like better than Twilio Inc. When investing geniuses David and Tom Gardner have a stock tip, it can pay to listen. After all, the newsletter they have run for over a decade, Motley Fool Stock Advisor, has tripled the market.*
David and Tom just revealed what they believe are the 10 best stocks for investors to buy right now... and Twilio Inc. wasn't one of them! That's right -- they think these 10 stocks are even better buys.
Click here to learn about these picks!
*Stock Advisor returns as of Nov. 7, 2016
Rick Munarriz has no position in any stocks mentioned. The Motley Fool owns shares of and recommends Amazon.com. The Motley Fool has a disclosure policy.