Can Trump Solve Pfizer's $80 Billion Problem?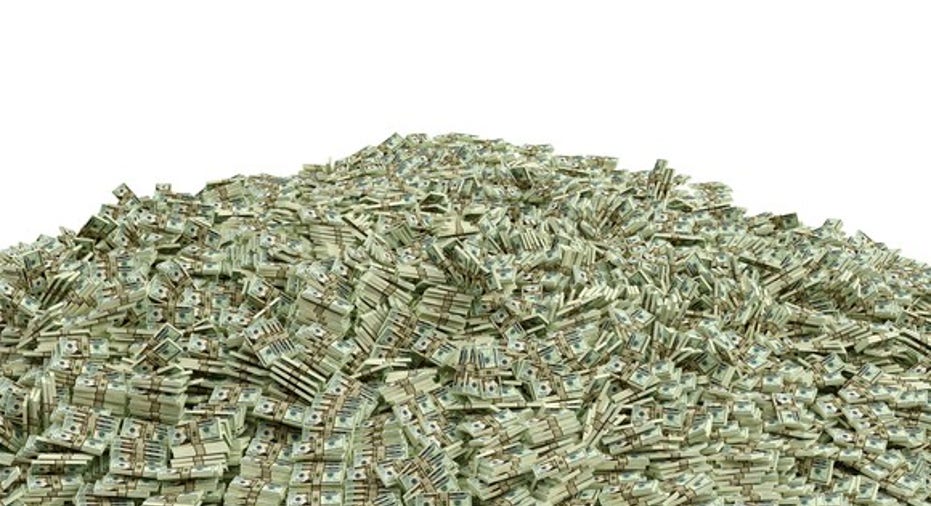 Among publicly traded U.S.-based companies, pharma giant Pfizer(NYSE: PFE)has outshined nearly all of its peers in terms of stockpiling cash overseas. Specifically, the drugmaker divulged in its 2015 annual report that it had a staggering $80 billionof unremitted foreign earnings.
To put this figure into context,Pfizer's shares are essentially trading at around 2.4 times its backlog of foreign profits right now.
Image source: Getty Images.
Pfizer's foreign profits are stuck... for the moment
The long and short it is that Pfizer has literally shown no interest in repatriating these funds. And instead, the drugmaker has repeatedly attempted to perform a so-called tax inversion by buying a more tax-friendly address abroad to unlock these trapped monies.
So if you're still wondering, Pfizer's failed attempted to merge with Ireland's Allergan earlier this year really was all about the taxes, and this ginormous cash pile underscores why -- regardless of what the drugmaker's management may have said to the contrary.
Now that the U.S. Treasury Department has put some rather aggressive measures in place to discourage companies like Pfizer from moving abroad, though, tax inversions may no longer be all that feasible. Pfizer, after all, abandoned its merger with Allergan as a direct result of the Treasury's actions, and the company has yet to openly consider alternative buyout targets to lower its effective tax rate.
As things stand now, Pfizer basically has a boatload of cash stored overseas and very few ways to put it to work. That's a regrettable situation for the drugmaker and its shareholders for obvious reasons.
But that may all be about to change with President-elect Donald Trump
Donald Trump's proposed tax plan for businesses of all sizes implies a fundamental shift in policy moving forward. Digging into the details, the Trump plan is to reduce corporate taxes from 35% to 15%, putting the U.S. on par with tax havens such as Ireland. Most importantly for companies like Pfizer, though, his plan also includes a one-time tax rate of 10% on profits stored overseas.
Image source: Flickr via Disney
Can Trump push his tax agenda through Congress? What seemed at first like an unpopular idea has gained some support in Washington D.C. as Trump's political appointments are made and his ideas more fully fleshed out. It seems completely likely that the Trump tax proposal could see the light of day.
Why lower corporate taxes matter to Pfizer's shareholders
Pfizer is headed by CEO Ian Read, and that's extremely important to keep in mind. Cutting to the chase, Read's background is steeped in accounting, which is why he has run Pfizer like an accountant for the most part.
Under his stewardship, Pfizer has placed a major emphasis on its bottom line, often at the expense of its top-line growth. In 2013, for example, the drugmaker spent $16.3 billion on share repurchases, compared with a mere $6.67 billion on R&D -- even though the company was facing on onslaught of patent losses.
While Pfizer has revved up its R&D budget closer to $8 billion since then, the drugmaker still kicked off 2016 with a ginormous $16.4 billion in authorized share repurchases, perhaps revealing where Read's heart truly lies. And at the risk of beating a dead horse, Pfizer's somewhat questionable decision to call off its merger with Allergan over the loss of the upfront tax benefits drives this point home, especially as this merger would have brought in a diverse mix of new growth products.
So the real question is whether a 10% one-time tax rate on foreign profits is enough to entice Read into bringing some or all of Pfizer's overseas cash back home. After all, these monies could be used for a diverse array of value-creating purposes, such as a special dividend payment or an acquisition bonanza.
Take-home message
The bottom line (pardon the pun) is that Read may balk at paying even an $8 billion tax bill because of his particular background -- implying that the drugmaker may attempt to hold out for a tax holiday on all foreign profits. Pfizer's stated position on the matter, after all, is that this $80 billion of unremitted foreign earnings is to be "indefinitely reinvested overseas." And that may, in fact, be the position of Pfizer's mega-large-cap peers as well. Stay tuned.
10 stocks we like better than Pfizer When investing geniuses David and Tom Gardner have a stock tip, it can pay to listen. After all, the newsletter they have run for over a decade, Motley Fool Stock Advisor, has tripled the market.*
David and Tom just revealed what they believe are the 10 best stocks for investors to buy right now... and Pfizer wasn't one of them! That's right -- they think these 10 stocks are even better buys.
Click here to learn about these picks!
*Stock Advisor returns as of Nov. 7, 2016
George Budwell owns shares of Allergan and Pfizer. The Motley Fool has no position in any of the stocks mentioned. Try any of our Foolish newsletter services free for 30 days. We Fools may not all hold the same opinions, but we all believe that considering a diverse range of insights makes us better investors. The Motley Fool has a disclosure policy.