Can This Little-Known Gold Stock Double Again in 2017?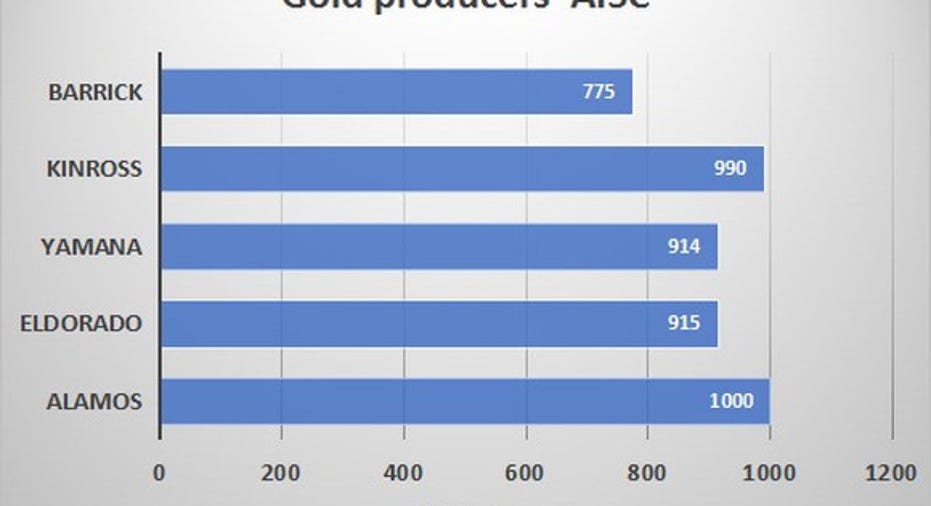 Alamos Gold Inc. (NYSE: AGI) may not be as popular as its big-cousinBarrick Gold (NYSE: ABX), but the little gold stock earned investors nearly as much as Barrick last year by doubling in value. In fact, Alamos also hugely outperformed its similarly sized rival Eldorado Gold Corp (NYSE: EGO), which ended 2016 with just about 9% gains.
Image source: Getty Images
The good news is that Alamos' rally wasn't entirely misplaced, and there are strong catalysts in sight that could propel the stock ever higher in 2017.
2016 was among Alamos' best years
Whether Alamos can inch higher depends a great deal on what the future holds for the company. Fortunately, there was more to Alamos' surge in 2016 than just gold prices, as the miner not only reported strong production numbers but also managed to cut down costs to a considerable extent.
Alamos' gold production improved 3% to 392,000 ounces, as it ramped up mining at two of its largest mines, Young-Davidsonand Mulatos, even as production at its third mine declined. Alamos currently operates three gold mines, one in Canada and two in Mexico. Meanwhile, Alamos brought down its all-in-sustaining costs (AISC) substantially in Q3 to $979 per ounce from $1,155 per ounce in the year-ago quarter. As production bumped up and costs declined, Alamos earned $2.7 million in profit during the nine months ended Sept. 30. That may appear insignificant unless you realize that the miner incurred losses worth $448 million during the comparable period of 2015 as it booked one-time impairment charges.
Given the backdrop, it isn't surprising to see why investors bid Alamos shares up. The miner is expected to report strong profit and cash flow numbers for 2016 later this month, including AISC of around $1,000 per ounce, which would be an improvement of nearly 10% over 2015. While that could drive Alamos' stock up, there are better reasons for investors to be optimistic about the miner going forward.
Alamos is on a solid growth track for 2017
Alamos started 2017 on a strong note until about a week ago when the miner announced a secondary stock offering of 31.45 million shares at $7.95 per share to a syndicate of underwriters. The underwriters have an option to buy upto 36.16 million shares, which could result in a significant dilution of existing shareholders' capital given that Alamos currently has only about 267 million shares outstanding. Not surprisingly, investors weren't too happy with the announcement and sent Alamos shares tumbling.
However, Alamos' move may not be as bad as it appears as my fellow Fool Rich Smith pointed out here. Alamos aims to top up the share sale proceeds worth $250 million with cash to repay long-term debt worth $315 million. That should fortify Alamos' balance sheet significantly, as it'll almost wipe out debt from its books while still leaving a good amount of cash in hand. A clean balance sheet is one of the strongest pillars of a company's investment thesis.
Moreover, Alamos expects its gold production to improve 6% at midpoint and AISC to fall further to $940 per ounce in 2017 as it brings its low-cost La Yaqui project within Mulatos online later this year. Meeting its AISC target is vital for Alamos to boost profits, as it still remains one of the highest-cost producers in the industry today. The following graphic shows how Alamos lags peers such as Eldorado and Yamana Gold in terms of costs, and the huge gap it has to fill to catch up with the industry's lowest-cost producer, Barrick.
AISC based on last reported or the higher end of preliminary 2016 estimates, as applicable. Chart by author.
As Alamos improves its AISC, it should also be able to weather the volatility in gold prices better. Overall, Alamos has stepped into 2017 on a strong note and I expect the miner to deliver another strong year in terms of operational performance, which should also reflect in its stock price. With analysts even projecting Alamos' earnings per share to more than double this year, the stock appears to have a lot of room to run higher in 2017 and beyond.
10 stocks we like better than Alamos Gold When investing geniuses David and Tom Gardner have a stock tip, it can pay to listen. After all, the newsletter they have run for over a decade, Motley Fool Stock Advisor, has tripled the market.*
David and Tom just revealed what they believe are the 10 best stocks for investors to buy right now... and Alamos Gold wasn't one of them! That's right -- they think these 10 stocks are even better buys.
Click here to learn about these picks!
*Stock Advisor returns as of January 4, 2017
Neha Chamaria has no position in any stocks mentioned. The Motley Fool has no position in any of the stocks mentioned. The Motley Fool has a disclosure policy.